Speedcar Series - The End...
June 28, 2009
After only 2 Seasons, Speedcar Series ends... Just not enough interest 'yet'. :-) April 25, 2009
Herbert wins Race 1 in Speedcar Series' last Event weekend. He's now second in the season's standings. MorApril 24, 2009. Morbidelli leads for now. The final race will determine this year's winner. With a miracle, Frentzen is third but still has a slight chance.



They are now talking about the possibility of a sand storm over the weekend in Bahrain. Not so bad for the Speedcar Series race but not so good for F1.
Have a great race weekend JVistes!
April 24, 2009
J. Herbert won the Pole position after a great qualifying session earlier today.
Frentzen, Alesi and Liuzzi followed right behind. It will be a great final event and the winner with 20 extra points leaves the Speedcar Series Championship up for grabs between the Top 3.
Best of luck guys and have fun in Bahrain.

April 22, 2009
Stop the press! The Speedcar Series Final Race weekend is on. lol
The Speedcarseries.com site is back up and running at my end anyway... So, did JV make it home or did they turn the plane around?
Nothing can break my good mood. I'm guessing there will be news from the Villeneuve camp soon. The best is yet to come!
Special thanks to Anila and the Speedcar Series Team. You managed a full season quite nicely.
April 21, 2009
Well he was in Europe but should be almost home now. :-)
And, if you're looking for Speedcarseries.com, the site has been down for several days now. No updates to the media access/photos either.
Is there a race this weekend? Who knows but we do know JV was done with the Series following Event #3.
Fingers crossed that we'll be seeing him racing soon in North America again. :-)
April 15, 2009
JV's mobile postings confirm he's already overseas. Hmmmm last train to London? :-)
And, he's missing his boys... Must be on his way to the Middle East for the final Race Event of the Speedcar Series.
Go JV Go! :-)
Speedcar Series Dubai Round 4 Race 1
February 27, 2009
Alesi gagne la première course de l'évènement 4 à Dubai.
Je vous avoues, sans la participation de Jacques Villeneuve, la course était moins interessante pour moi. Mais, JV récupères et se reposes. Ola! :-)



Images courtoisie de Speedcar Media.
Jean Alesi gagne aujourd'hui à Dubai.
Et, le podium de course #1 Ronde 4,
Christopher Zoechling (AUT) Continental Circus, Jean Alesi (FRA) HPR and Heinz-Harald Frentzen (GER) Team Lavaggi on the podium. Speedcar Series 2008-09, Rd4, Dubai Autodrome, Dubai, UAE, Friday 27 February 2009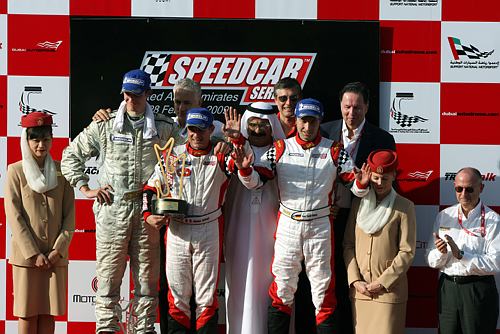 Jacques Villeneuve Speedcar Series - Round 3 Qatar
Samedi, le 14 février,
La Course No 2 pas aussitôt commencé et Jacques confirmes que la transmission a brisé. Le titre de ses commentaires JVWAP aujourd'hui est, Broken Dreams. :-(
Il expliques que la pratique avant-course, la voiture semblait parfaite pour une bonne course. Il était tellement optimiste et avais hâte.
Il prennait l'avion pour son retour à la maison et sa belle famille. Inquiètes toi pas JV, ta fais de ton mieux et cette semaine tu nous a fait vibrer encore.
À prochaine.
Merci Speedcar Series Media, super job. La meilleur photo de la fin de semaine, Jacques Villeneuve qui portes un casquette du CH.Pas la sienne mais il porte bien les couleurs de nos Canadiens.
On reste positif, le meilleur est a venir...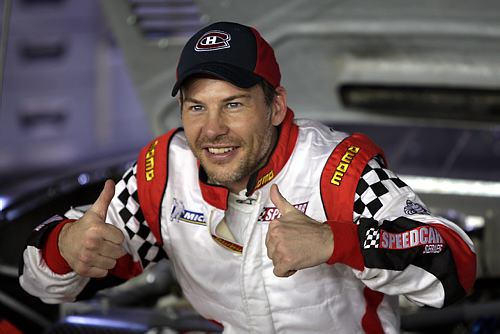 Résultats Qatar, Course 2
Pos Driver Team Laps Time / Gap


1 V. Liuzzi UP Team 19 40:03.661
2 G. Morbidelli Palm Beach 19 4.554
3 T. Biagi Palm Beach 19 14.021
4 C. Zoechling Durango 19 16.459
5 H. Frentzen Team Lavaggi 19 18.372
6 J. Herbert JMB 19 23.400
7 M. Lee HPR 19 39.058
8 D. Pasini JMB 19 47.788
9 N. Al Attiyah Team Barwa 19 63.061
10 F. Al Thani QMMF Team 18 1 LAP
11 M. Melandri Team Lavaggi 14 DNF


Not Classified


J. Alesi HPR 4 DNF
A. Al Kuwari QMMF Team 2 DNF
H. Al Maktoum UP Team 1 DNF
J. Villeneuve Durango 0 DNF


Drivers' Championship Standings in Round 3, Race 6


1 Gianni Morbidelli 37
2 Johnny Herbert 30
3 Vitantonio Liuzzi 29
4 Heinz Harald Frentzen 25
5 Jean Alesi 18
6 Thomas Biagi 17
7 Hasher Al Maktoum 13
8 Damien Pasini 8
9 Jacques Villeneuve 7
10 Christopher Zoechling 5
11 Marchy Lee 4
12 Giovanni Lavaggi 1
13 Marco Melandri 1

vendredi le 13,

Les commentaires de Jacques Villeneuve sur la Course No. 1 à Qatar sont disponibles sur JVWAP.
En bref,
Il est très satisfait de finir 5ième et a hâte a demain.
Il avoue que le départ était pas trop bon.Frentzen a ralentit avant le drapeau a damier et Jacques s'en attendait pas. Il a vite changer de vitesse, mais a tout de même perdu 2 positions.
Jacques dit que la voiture va bien,encourageant pourJacques que l'équipe Durango commence a mieux performer ,
Go JV Go!
---
Beaucoup de fans de JV ont suivit la course en live-streaming sur le Net.
Jacques Villeneuve finit 5ième à Qatar Course 1.
Après le 'rolling start' Jacques Villeneuve perds 2 positons. Quelques laps plus tard, il se retrouves 6ième. Go JV!
A demi-course,Jacques retrouves la 5ième position.
Bravo Bravo Morbidelli. Super course entre lui et Liuzzi toute au long. Même chose pour Herbert/Alesi.
Jacques gagnes 4 points et a maintenant 7 total. Bonne chance demain JV.
Via JVWAP, on aura les commentaires à Jacques pour Course 1 bientôt. Sans vous donner tout les détails on vous tiends au courant en bref(exculsif a JVWAP malgré le fait qui en a, qui l'utilise comme étant leurs commentaires exclusifs LOL il prends les jvistes pour des cons quoi? Encouragez JV et JVWAP.)

Pos Driver Team Time

1. Gianni Morbidelli Palm Beach 41:58.910
2. Vitantonio Liuzzi UP Team + 2.861
3. Johnny Herbert JMB Racing + 10.144
4. Jean Alesi HPR + 12.598
5. Jacques Villeneuve Durango + 27.029
6. Hasher Al Maktoum UP Team + 43.593
7. Thomas Biagi Palm Beach + 43.806
8. Marco Melandri Team Lavaggi + 51.354
9. Christopher Zoechling Durango + 53.757
10. Nasser Al-Attiyah Team Barwa +1:28.523
11. Ahmad Al Kuwari QMMF Team + 1 lap
12. Fahad Al Thani QMMF Team + 4 laps

DNF:V

Driver Team Laps

Marchy Lee HPR 9
Heinz-Harald Frentzen Team Lavaggi 6
Damien Pasini JMB Racing 2


Jacques Villeneuve Speedcar - Qatar Race 1 photos

Frentzen gagne la Pole. Bravo.
Mais, les super bonnes nouvelles... Jacques Villeneuve partira 2ième pour la course No. 1 ce soir. Bravo Jacques.
Go JV Go.
Alesi paritira 3ième.
Résultats Qualifications pour Course #1


Pos Driver Team Laps Time / Gap

1 H. Frentzen Team Lavaggi 12 2:03.967
2 J. Villeneuve Durango 12 0.134
3 J. Alesi HPR 10 0.460
4 M. Melandri Team Lavaggi 13 0.630
5 G. Morbidelli Palm Beach 12 0.668
6 J. Herbert JMB 13 0.669
7 V. Liuzzi UP Team 7 1.119
8 D. Pasini JMB 13 1.430
9 M. Lee HPR 13 1.854
10 H. Al Maktoum UP Team 14 1.919
11 T. Biagi Palm Beach 13 2.061
12 C. Zoechling Durango 10 2.430
13 N. Al Attiyah Team Barwa 13 4.475
14 F. Al Thani QMMF Team 11 8.713
15 A. Al Kuwari QMMF Team 13 8.901

Une journée parfaite... beau soleil, peu de vents, et assez beau pour s'y rendre au circuit en Chameau :-)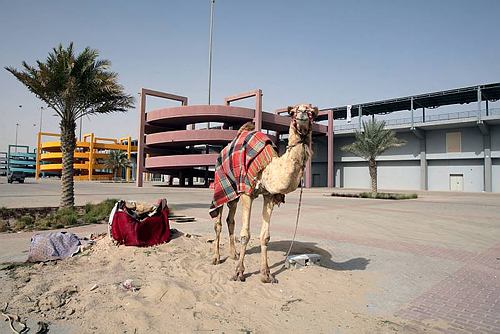 12 février 2009
Les commentaire de Jacques Villeneuve du nouveau service JVWAP, nous informes...
- La voiture roule beaucoup mieux
- bien équilibré, bon Power
- petit problème avec son steering mais tous devrait être en ordre pour demain. Aujourd'hui ça lui a causés des problèmes dans le courbes bien sur.
- il est optimiste pour demain
- il mentionnes que la tempête de sable hier, a laissé beaucoup de sable sur le circuit.

Pout tous les détails, abonnez-vous a JVWAP.
---
Jacques Villeneuve (CDN) Durango. Speedcar Series 2008-09, Rd3, Losail International Circuit, Qatar.
Alesi dominait depuis le début de la session de pratique... Dans les derniers minutes/laps, Liuzzi réussit le meilleur Temp. Et, bravo pour Melandri qui a réussit le 5ième meilleur Temp aujourd'hui.
Session Pratique Libre Qatar


Pos Driver Teams Laps Time

1. V.Liuzzi UP Team 19 2:04.818
2. J. Alesi HPR 12 2:04.867
3. G. Morbidelli Palm Beach Racing 20 2:05.323
4. J. Herbert JMB 21 2:05.946
5. M. Melandri Team Lavaggi 23 2:06.146
6. H. Frentzen Team Lavaggi 18 2:06.171
7. T. Biagi Palm Beach 22 2:06.397
8. H. Al Maktoum UP Team 22 2:06.462
9. J. Villeneuve Durango 19 2:06.778
10. M. Lee HPR 16 2:06.882
11. C. Zoechling Durango 25 2:07.133
12. D. Passini JMB 7 2:07.622
13. N. Al Attiyah Team Barwa 23 2:09.478
14. A. Al Kuwari QMMF Team 16 2:15.225
15. F. Al Thani QMMF Team 10 2:22.627

Le Pit Board pour Jacques Villeneuve Pratique Libre.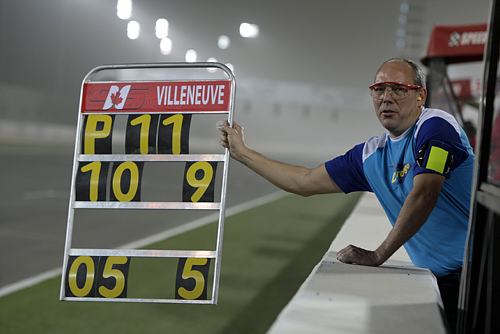 Speedcar Series - Photos Qatar 12 février, 2009

February 11, 2009 11AM
For Canadian fans who have a cellphone... be sure to keep up to date on Jacques Villeneuve's Speedcar Series Round 3 in Qatar.
Already, via the new service JVWAP, Jacques has let us know how excited he is for the upcoming race weekend. Be sure to subscribe and have J Villeneuve's comments at your fingertips.
In a nutshell...(but join because there's much much more)
He mentions having raced twice at night, LeMans of course and also Nascar. And, he recalls it is where he and beautiful wife Johanna found out they were becoming parents. They were there for a PR function for BMW. :-)
Of course, he's hoping everything runs smoothly with the car. Otherwise, it should be a great race weekend in Qatar.
Stay tuned JVistes via JVWAP on your cell phone. To join, simply text "Join"(without quotes) and send to 58326.
Thanks Jacques Villeneuve and JVWAP for keeping us posted in real-time. :-)
February 11, 2009 7AM
Yesterday Jacques Villeneuve actually had time to catch up with a few people via e-mail. Finally he also spilled the beans about his Nascar future. It ain't over until the Phat Lady sings or posts song lyrics. lol
Not sure he flew out yesterday but he's either in the air or resting in a beautiful Suite in Qatar...
Best of luck JV. Go Jacques Villeneuve Go!

---

Melandri joins Speedcar Series.
It will be interesting to see Melandri racing in a car on a track he's familiar with. Hope he doesn't lean over too much in the turns. ;-)
As with any rookie, just finish the race. Drive safe and stay out of Jacques Villeneuve's way. :-)
Courtesy Speedcar Media,
Melandri may be new to car racing but he is familiar with the Losail International Circuit having ridden on the track in the MotoGP. It will be of interest to see how his biking experience will help him in a Speedcar.
Fourteen drivers and seven teams will compete in Speedcar Series' first night race over the race weekend. The third leg of the season will also see 2 other new drivers, Qataris Ahamad Al Kuwari and Sheikh Fahad Al Thani join the fray.
The two local drivers will form the QMMF (Qatar Motor and Motorcycle Federation) team. Both drivers will have the advantage of having raced on the track before when competing in the Qatar National Road Racing Championship (QNRRCH).
The driver entry list Speedcar Series Season 2, Round 3 in Qatar is as follows:
Driver Country Car No. Team

Jacques Villeneuve CAN 96 Durango
Christopher Zoechling AUT 25 Durango
Jean Alesi FRA 27 HPR
Marchy Lee CHN 50 HPR
Johnny Herbert GBR 69 JMB
Damien Pasini FRA 13 JMB
Gianni Morbidelli ITA 10 Palm Beach
Thomas Biagi ITA 04 Palm Beach
Ahamad Al Kuwari QAT 95 QMMF Team
Fahad Al Thani QAT 59 QMMF Team
Marco Melandri ITA 33 Team Lavaggi
Heinz Harald Frentzen GER 80 Team Lavaggi
Vitantonio Liuzzi ITA 20 UP Team
Hasher Al Maktoum UAE 85 UP Team



---
Jacques Villeneuve Speedcar Series - Event 2
Johnny Herbert wins Race 2 in Bahrain. Italians, Gianni Morbidelli and Thomas Biagi join him on the Podium finishing second and third respectively.
Bravo! Bravo! :-)
We'll update you soon on final results and JV's race.
Have a good one!

Jacques Villeneuve finished 10th today in Race 1 of Event #2 of the Speedcar Series in Bahrain.
Best of luck in Race 2 JV! :-)
Results


Pos, Driver, Team, Laps, Time/Gap

1 J. Alesi HPR 19 40:37.701
2 H. Frentzen Team Lavaggi 19 1.409
3 J. Herbert JMB 19 14.841
4 G. Morbidelli Palm Beach 19 22.510
5 H. Al Maktoum UP Team 19 24.050
6 T. Biagi Palm Beach 19 24.975
7 D. Pasini JMB 19 49.126
8 G. Lavaggi Team Siram 19 63.625
9 C. Buncombe Team Lavaggi 19 64.026
10 J. Villeneuve Durango 19 80.766
11 E. Charles Continental Circus 19 1 LAP


Not Classified
M. Lee HPR 11 DNF
V. Liuzzi UP Team 9 DNF
C. Zoechling Durango 0 DNS
E. Panacci Continental Circus 0 DNS

Speedcar Series Media Video, Bahrain January 2009



Jan. 22, 2009
Jacques Villeneuve is in beautiful Bahrain preparing for Event #2 of the Speedcar Series.
He's been very busy since the year started, which is great news for JVistes. I can tell you something is up. And, not to worry Nascar is on his priority list.



Barry G is probably in Daytona today. I'm sure Paul Morris is hoping to catch up with Barry and try to get JV to sign for his Team racing in the V8 Supercars Australian Series. Paul retired and he's anxious to fill his own seat. :-)
It's great hype. Jacques-talk in all its forms is always good and this rumor can only help Villeneuve's own talks with Nascar.I'm positive I'll be talking to Jacques when he racing here in the Montreal Nationwide this summer. :-)
As for Daytona, dream big JVistes. If I could be there, I would be. It will be a great time.
Oh right! I was going to tell you that Jacques Villeneuve was 10th today in Bahrain.
Frentzen takes the Pole for Race 1 in Bahrain. Good job.
The Qualifying Session Preliminary Classification is as follows:


Pos, Driver, Teams, Laps, Time,

1. H. Frentzen Team Lavaggi 10 2:05.851
2. J. Alesi HPR 13 2:05.924
3. V. Liuzzi UP Team 12 2:06.281
4. G. Morbidelli Palm Beach 12 2:06.522
5. J. Herbert JMB 13 2:06.746
6. H. Al Maktoum UP Team 14 2:06.908
7. T. Biagi Palm Beach 14 2:07.252
8. C. Zoechling Durango 11 2:08.079
9. M. Lee HPR 10 2:08.184
10. J. Villeneuve Durango 9 2:08.492
11. C. Buncombe Team Lavaggi 13 2:08.943
12. G. Lavaggi Team Siram 11 2:09.167
13. D. Pasini JMB 6 2:09.330
14. E. Panacci Continental Circus 11 2:11.265
15. E. Charles Continental Circus 13 2:13.220

Best of luck Jacques Villeneuve.
I've been JVWAPing and can't wait to get your comments from Bahrain.

Canadian Fans, it's time to JVWAP!

Speedcar Series Media Images - Season 2


---
Jacques Villeneuve Speedcar -Season 2, 2008-2009

Race 2 cancelled due to unusual rain 06/12/2008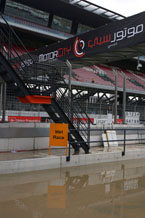 Heavy rain hit Dubai late on Friday night causing floods in and around the Dubai Autodrome. Speedcar Series' second race to be held on Saturday afternoon along with GP2 Asia Series and GT3 at the Grand Racing event was therefore been cancelled.

The Dubai Autodrome released an official statement Saturday morning stating that the weather conditions had forced officials to cancel the final race day. The FIA and Stewards of the meeting confirmed the same in a statement that read, "Following a track inspection by the race directors of the FIA GT3 Championship, GP2 Asia Series and Speedcar Series, it is their collective view that the volume of water on the track and the likelihood of there being any improvement during the day would make it impossible to run the races safely."

Hamish Brown, Dubai Autodrome General Executive commented on the situation, "We accept and agree with the decision of the Stewards and the FIA to cancel the final day of Grand Racing. It is a sad situation as we know thousands of fans were looking forward to this final day, numerous teams and their personnel have out in a big effort to be here to race and of course a large number of support staff have been on hand to make this event possible."

The next Speedcar Series race will be held at the Sakhir International Circuit in Bahrain on January 22-24, 2009.

Be ready to follow Jacques Villeneuve's second Event in the Speedcar Series, signup now for JVWAP

Speedcar Series Season 2, 2008-2009 photos

Speedcar Series Event #1

December 5, 2008

Race 1 Results

1. V. Liuzzi UP Team 16 40:55.976
2. H. Frentzen Phoenix Racing 16 0.839
3. G. Morbidelli Palm Beach 16 3.091
4. J. Herbert JMB 16 12.858
5. H. Al Maktoum UP Team 16 15.815
6. J. Villeneuve Durango 16 34.741
7. M. Lee HPR 16 40.868
8. D. Pasini JMB 16 78.517
9. E. Charles Continental Circus 16 97.722
10. J. Alesi HPR 16 111.563
11. C. Zoechling Durango 15 1 Lap


Not ClassifiedM. Lauda Phoenix Racing 4 DNF
M. Tiemann Continental Circus 11 DNF
S. Johansson Palm Beach 11 DNF


The qualifying session preliminary timings are as follows:
1. V. Liuzzi UP Team 14 2:04.680
2. H. Frentzen Phoenix Racing 9 2:05.134
3. C. Zoechling Durango 13 2:05.380
4. J. Alesi HPR 13 2:05.580
5. G. Morbidelli Palm Beach 11 2:05.630
6. M. Lauda Phoenix Racing 12 2:06.120
7. H. Al Maktoum UP Team 14 2:06.218
8. S. Johansson Palm Beach 11 2:06.439
9. J. Herbert JMB 13 2:06.668
10. D. Pasini JMB 13 2:06.742
11. M. Tiemann Continental Circus 11 2:06.948
12. M. Lee HPR 12 2:07.060
13. J. Villeneuve Durango 10 2:07.282
14. E. Charles Continental Circus 13 2:13.022


December 4, 2008
Practice Session Classification 04/12/2008

Jacques Villeneuve was 6th earlier today in the Practice Session Classification.
1- 20 V. LuizziI UP Team 2:07.056 15
2- 10 G. Morbidelli Palm Beach 2:07.136 13 0.080
3- 27 J. Alesi HPR 2:07.377 10 0.321
4- 25 C. Zoechling Durango 2:07.608 17 0.552
5- 21 M. Lauda Phoenix Racing 2:07:722 22 0.666
6- 96 J. Villeneuve Durango 2:07.748 13 0.692
7- 80 H. Frentzen Phoenix Racing 2:07.933 20 0.877
8- 69 J. Herbert JMB 2:08.152 18 1.096
9- 09 M. Tiemann Continental Circus 2:08.922 20 1.866
10-85 H. Al Maktoum UP Team 2:08.952 24 1.896
11-07 S. Johansson Palm Beach 2:09.209 11 2.153
12-50 M. Lee HPR 2:09.297 17 2.241
13-13 D. Pasini JMB 2:09.365 20 2.309
14-32 E. Charles Continental Circus 2:14..092 15 7.036


December 3, 2008
Speedcar has finally confirmed 7 teams will be racing this week in Dubai.
Several of the 14 drivers are former F1 racers. It seemed to be touch and go that there would be enough participants to race in beautiful Dubai but it came together this week.
Good job Speedcar and thanks to the participants for getting everything together in time for the first race.
As most of you JV fans already know, Jacques Villeneuve Speedcar 2008-2009 will be 1 of 2 drivers for Durango. Go JV Go! :-)
And, the even better news is - Villeneuve can miss races when he's participating in Nascar Series race(s).
A great way to finish off 2008. Big dreams for 2009... may theyall come true. :-)
The driver entry list for Speedcar Series Season 2, Round 1 is as follows:
Eric Charles 32 FRA Continental Circus
Marcel Tiemann 09 GER Continental Circus
Jacques Villeneuve 96 CAN Durango – Laing O' Rourke
Christopher Zoechling 25 AUT Durango
Jean Alesi 27 FRA HPR - Bouygues
Marchy Lee 50 CHN HPR – Multiplex
Johnny Herbert 69 GBR JMB Racing
Damien Pasini 13 FRA JMB Racing - DMN
Stefan Johansson 07 SWE Palm Beach – PBIR
Gianni Morbidelli 10 ITA Palm Beach – Al Futtaim
Heinz Harald Frentzen 80 GER Phoenix Racing
Mathias Lauda 21 AUT Phoenix Racing
Hasher Al Maktoum 85 UAE UP - Motorcity
Vitantonio Liuzzi 20 ITA UP


Jacques was relaxed and enjoying himself upon his arrival at the Grid. Enjoy! :-)


---
Jacques a finit 9ieme hier a Dubai - Saison 1 2007-2008
Jacques Villeneuve Speedcar - Il finit une bonne course hier dans la Serie Speedcar.
Aujourd'hui a Dubai Jaco a ete moins chanceux. Les resultats tout juste poste indiquent un DNF.
Speedcar Serie finit pour cette annee. Un petit repos pour Jacques et c'est en enduro qu'on se reparle.
Entre temps, on vous tiens au courant.
Comme il etait beau hier. C'est super kewl le stock... controle complet de sa bolide,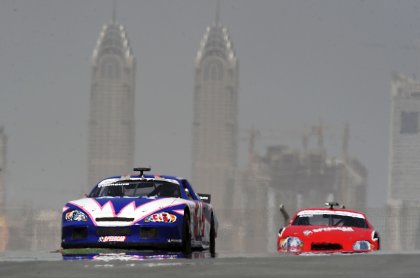 Resultats Dubai Speedcar - Course #10

Photos de Jacques Villeneuve Speedcar Bahrain

Speedcar Series - Bahrain Race 1 Results

Petite Entrevue JV avec SpeedcarSeries.com


---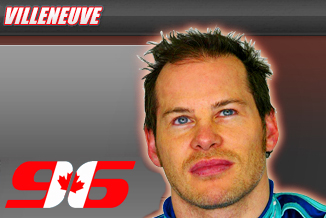 Les PRINCIPES de la Série Speedcar
La même voiture pour chaque équipe:
- même moteur (Speedcar Engines) - même chassis (Speedcar Series - Tubular Stock Chassis) - même carburant - même pneus - 2 types: wet and dry
SPEEDCAR carburant:
- Toutes les voitures roulent avec le même carburant contrôle a 100RON. Cette 100 octane sans-plomb est similaire au carburant haute performance qu'on peut se procurer dans les stations de services publiques.
Le bidon d'essence est un sac flexible(aka fuel cell) qui peut contenir 121 litres(32 gallons) de carburant, assez pour la duree d'une course Speedcar. Le cell-carburant est produit pour être flexible ce qui évite des fuites et le potentiel d'un feu pendant un accident. Le sac se déforme plutôt que percer.
INSPECTION:
- Les inspections servent a assurer que toutes les conducteurs Speedcar participent sous les mêmes conditions.
Des verifications sont faites sur les voitures, les dimensions ainsi que le mélange carburant, et setup. Les verifications ne prennent que 5 a 10 minutes. Ce sont des equipes d'enginieurs et techniciens qui se specialises dans le Speedcar.
Les Courses/Evenements:
- Chaque evenement ce tient sur 2 jours.
Course Jour 1: Session Pratique Officielle Qualifs Course 1
Course Jour 2: Rechauffement Course 2
Chaque course débute en rolling start pour une distance de 200 kilometres ou 45 minutes.
ACUN ARRET pour du carburant. Jamais. :-)
Jacques Villeneuve Speedcar - C'est des super nouvelles... savoir que Jacques ne lache pas et va courser encore bien longtemps.
Meilleurs des chances mais surtout amuses-toi. Quelle chance d'etre la bas mais svp, reviens en Nascar. lol
Ont vous tiens au courant de l'aventure a Jacques Villeneuve Speedcar Series a Dubai et Bahrain.
Specifications Techniques Manufacturier:
- Construction 'Custom'
Moteur: Type: V8 Speedcar Capacite: 6 L Force: V8 620 hp @ 7500 rpms Torque: 680 Nm Gearbox: 4 temps type H Clutch: Embrayage et housin de cloche
CHASSIS et Carosserie: Chassis: Tubulare Carosserie: Metale et fibres de verre System Freinage: Acier, 6 pistons avant, 4 pistons arriere Poids: 1200 Kg (n'inclut pas le poid du chauffeur ni du carburant) Longueur: 5283mm Largeur: 2032mm Hauteur: 1321mm
Concue et fabrique par Speedcar Series.
La protection d'un roll cage fait partit de l'armature pour assurer une bonne protection des courseurs.
DIMENSIONS: Longueur totale: 5283mm largeur: 2032mm hauteur: 1321mm
La hauteur totale peut etre ajuste et modifie dependants des conditions de pistes et de preferences du courseur.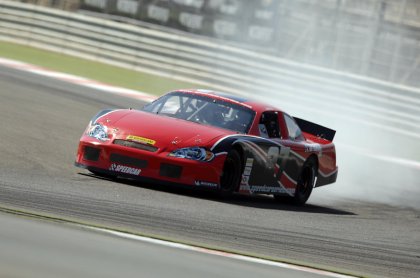 Jacques Villeneuve Speedcar - La 27 de Jean Alesi .




Jacques Villeneuve Speedcar - Narain Karthikeyan qui a fait un bref passage en F1.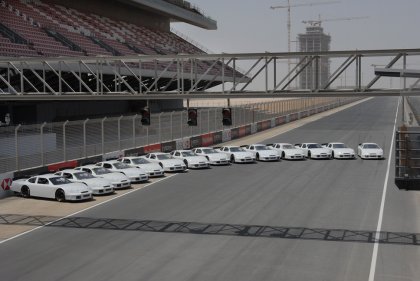 Jacques Villeneuve Speedcar - L'autodrome de Dubai et les speedcar qui font leur arriver a Dubai.




Jacques Villeneuve Speedcar - Course en Malaysie .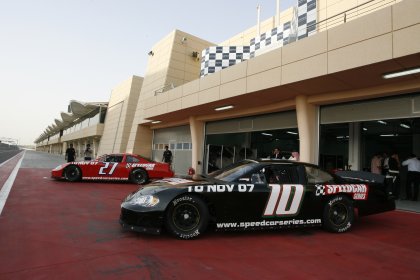 Jacques Villeneuve Speedcar - Session de Testing .

Jacques Villeneuve Speedcar - all material including speedcar series logo is copyrighted material and cannot be used without the expressed permission from speedcarseries.com