Nascar Nationwide Napa Auto Parts 200 Montréal Day 2 ,
Encore une superbe jounée rempli d'action et que dire de nos Quebecois ! je vais etaler mes photos et resumer demain ,Je suis Bruler :)! Alors allons y avec JV qui ma beaucoup impressionner,très rapide et agressif ,il la veut je crois:)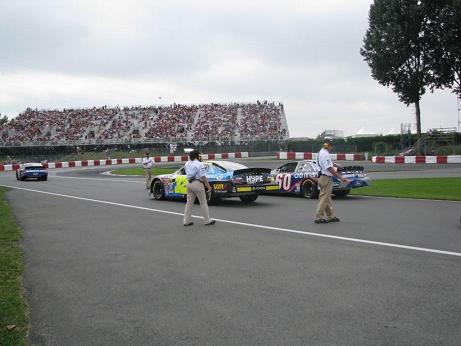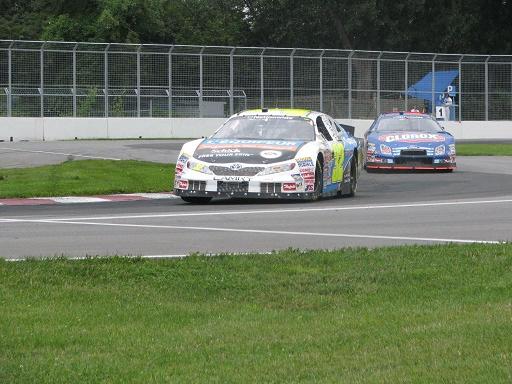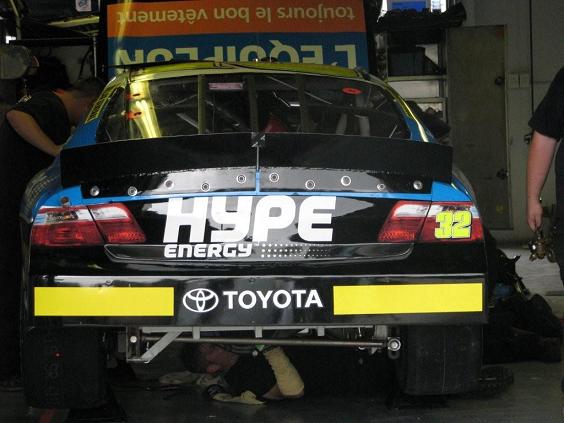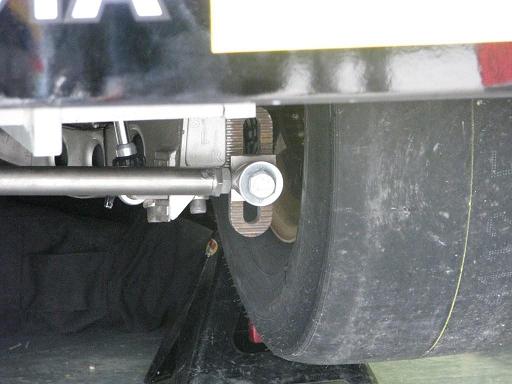 A remarquer içi le setting de la barre antirouli qui donne pas mal plus de rigiditer côté gauche ,necessaire sur cette piste ,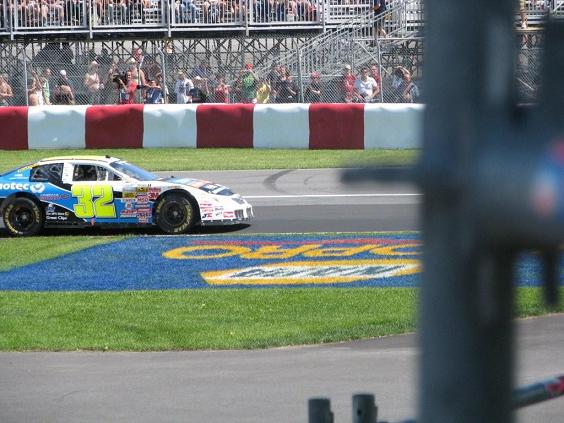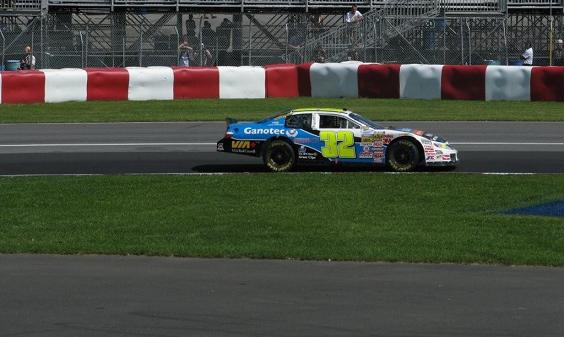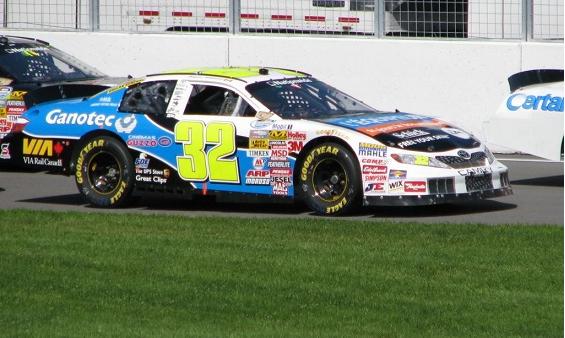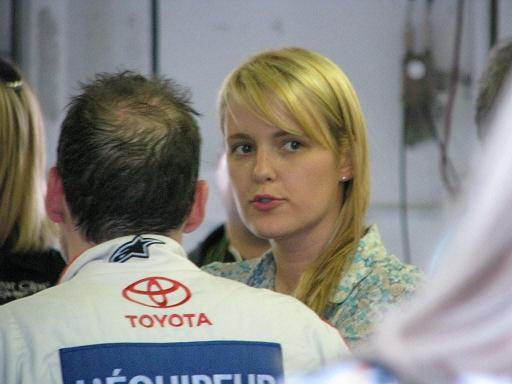 Jacques et Johanna après la dernière séance de pratique ,j'ai bien essayer d'aller le voir et lui serrer la pince ,pas facile , ca sera plus facile je crois avant qu'il commence demain,:)


Quelques une de Pat et Andrew ,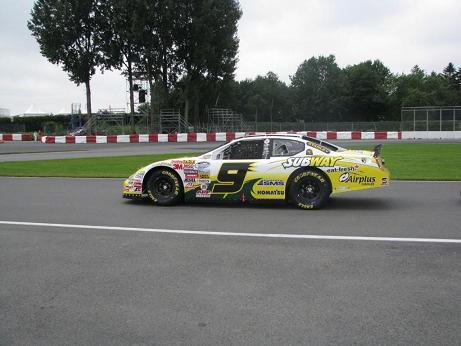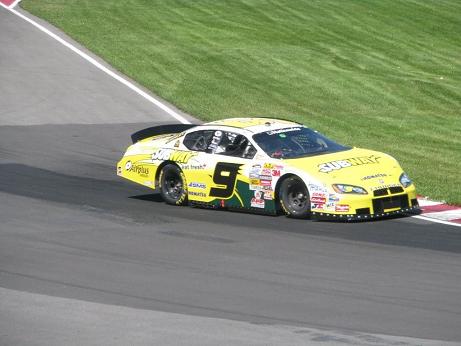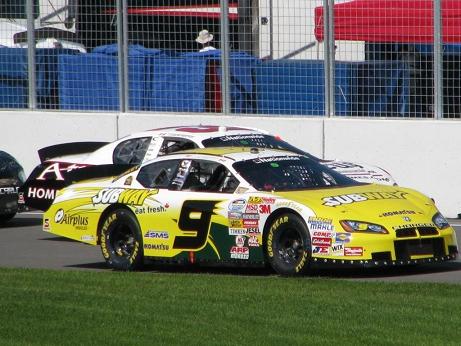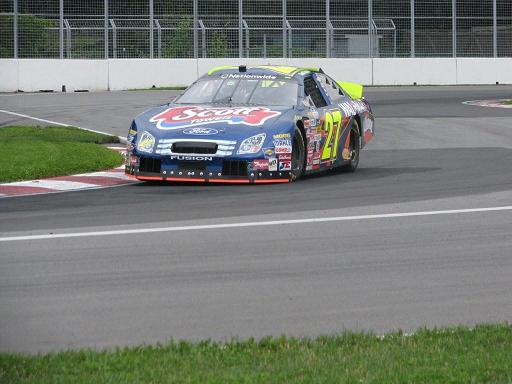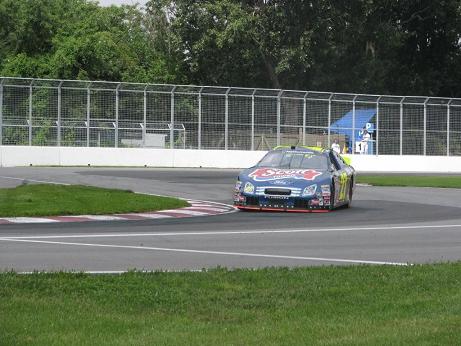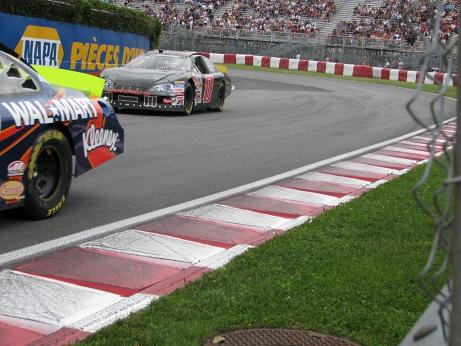 Autres Photo Nation Wide Nascar


---
Nascar Nationwide Napa Auto Parts 200 Montréal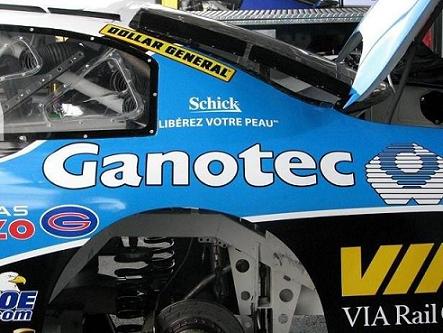 Unicef de retour avec Jacques Villeneuve...
Schick Quattro sajoute aux commandites de Jacques Villeneuve pour la course Nascar Nationwide à Montréal.
Bravo!
Profitez-en les JVistes, $32 pour la #32 "Rapidité et Collecte de fonds de Schick". :-)
Sans oublier Guzzo, qui c'est ajouté. They all want him now! :-)
Et, je vous présente la #32 de Jacques Villeneuve pour la Nascar Nationwide au circuit Gilles Villeneuve,
On a beaucoup de travail a faire et on vous reviens après la pause. Ouf, quelle journée! lol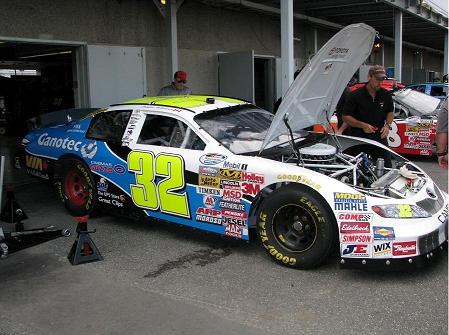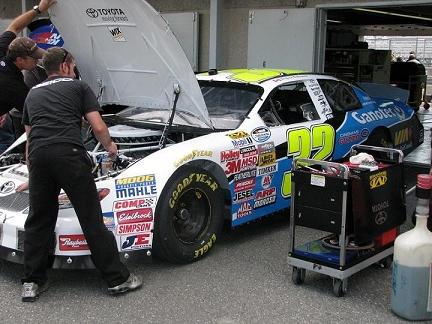 La voici ,isn't she a bute :)


---
Voici la #9 de Patrick Carpentier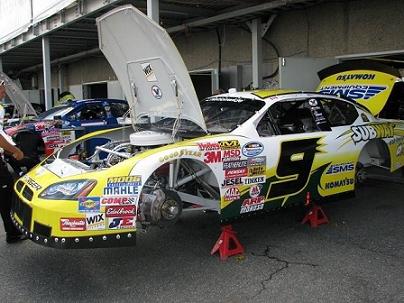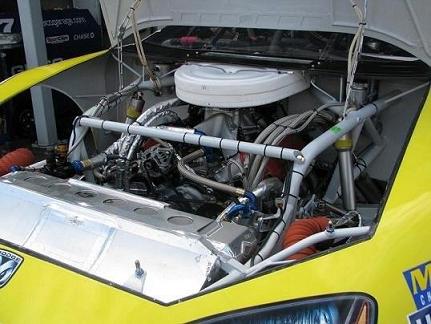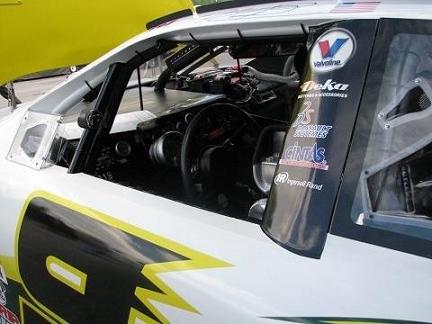 ---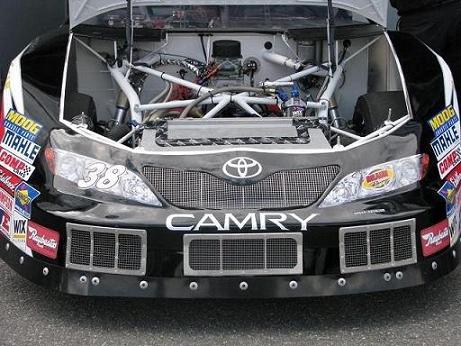 Tres beau devant de la Camry #38 ,


---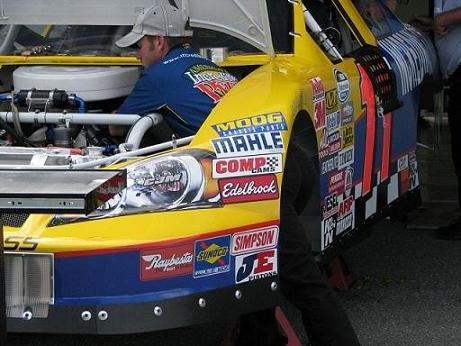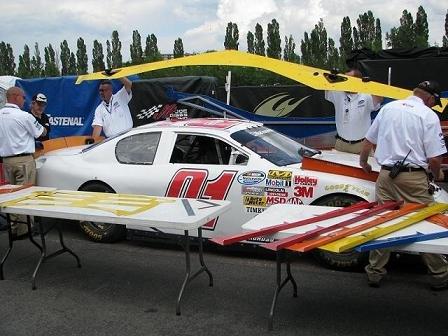 Ont ne peut pas dire que les mecanos manques d'espace pour effectuer ces reglages,,
Les Officielles de Nascar qui inspecte une voiture avec leur gabarits ,
Nous avons bien aimer notre première experience en tant que media accréditer ,j'ai deja hâte a demain ,
Je vous reviens avec d'autres photo :)
J.P.L


---
Nascar Nationwide est en ville!

C'est Fait! Jacques Villeneuve participe au Nationwide en Aout...
Jacques was happy to meet with the six companies that will be sponsoring him and the #32 in this weekend's Nationwide race in Montreal.
As Villeneuve mentioned earlier in July, there is no major sponsor but rather several equal sponsorships for this race.
They are:
Groupe Savoie of Les Résidences Soleil, Schick Canada, L'Équipeur and Marks Work Wearhouse, the UPS Store Canada, Hype Energy Drinks, and Ganotech.
We have full media access to the circuit Gilles Villeneuve starting today but probably won't go down until tomorrow. We'll keep you posted JVistes!
---
Jacques a bien aimé sa renconte avec les six companies qui commandite sa course içi à Montréal dans la #32 Toyota de Braun Racing.
Comme Villeneuve avait mentionné plus tôt en juillet, il n'y a pas un commanditaire majeur mais six companies qui le commandites.
Ils sont: Groupe Savoie de Les Résidences Soleil, Schick Canada, L'Équipeur et Marks Work Wearhouse, UPS Store Canada, Hype Energy, et Ganotech.
Nous avons accès dès aujourd'hui au circuit Gilles Villeneuve mais on compte y aller à partir de demain et on vous tiens au courant les JVistes!
Bon mardi!
28 juillet 2008
Dans quelques jours seulement, JV sera de retour sur le circuit Gilles Villeneuve. Jacques connait très peu les bolides de la Nationwide et les essaies en Caroline la semaine dernière etaient elles assez pour le préparer?
Oui. Absoluement!
Villeneuve devrait avoir une super course ce weekend. Il se qualifira bien et finira cette course Nationwide dans le top 10 et ce, malgré le fait qu'il a eu très peu de préparation avec la voiture Nationwide #32 de Braun Racing.
Il connait la piste. :-)
C'est un vrai courseur, un grand champion.
Préparez vous les JVistes, on en a pour plusieurs années a voir Jacques Villeneuve courser en Nascar.
Et merci Kyle de nous montrer que les changements aux voiture Toyota ne peuvent empêcher un champion de gagner. :-)
17, juillet 2008
Jacques Villeneuve a annoncé sa participation dans la course Nascar Nationwide. Quelle chance pours les fans de la course automobile de le revoir courser sur la piste qui porte le nom de son père.
Il est du pour une victoire ici à Montrèal.
Surtout, il y aura beaucoups de bons compètiteurs... soyez là!
Sur le côté Braun, lui aussi confirme les bonnes nouvelles.
Press Release Nascar
Driver Jacques Villeneuve gets Braun Racing ride
MOORESVILLE, NC (July 17, 2008) – Braun Racing is pleased to announce that former Formula One World Champion Jacques Villeneuve will drive its No. 32 Toyota Camry in the second annual NASCAR Nationwide Series event at Circuit Gilles Villeneuve in Montreal, Canada on August 1-2, 2008. The addition of Villeneuve to the field at the world renowned road course named after his father, Gilles Villeneuve, a legendary Formula 1 racer, adds a special hometown feeling to the event that already includes an array of Canadian drivers.
Though this event will mark his first NASCAR Nationwide Series start at the track which carries his namesake, the road course phenomenon has a tremendous amount of experience on the 2.709-mile road course. In a career that has spanned for more than two decades, Villeneuve has experienced success that can be rivaled by very few. He has captured world championships in both the CART and Formula 1 Series and is logged in the record books as winner of the 1995 Indianapolis 500. To win championships in both the CART and Formula 1 on top of a win in the famed Indy 500 is a feat that has only been accomplished by two other drivers.
"We're excited for the race fans in Montreal that Jacques Villeneuve will participate in this event," said Steve O'Donnell, NASCAR's Vice President of Racing Operations. "His addition increases the competitiveness of the field and brings another Canadian driver to the mix."
For Villeneuve's part, he looks forward to aligning himself with a team as competitive as Braun Racing. "It's always fun to have the opportunity to race for such a competitive team as Braun Racing with great people that show confidence in you. It also adds to my pleasure to be in a car that hosted great pilots such as Kyle Bush and Denny Hamlin."
Braun Racing team owner, Todd Braun, feels that the addition of Villeneuve to his team's efforts in Montreal will give them an extra advantage from a competitive standpoint.
"Jacques has had an incredible career," said Braun. "The type of experience he can bring to our entire organization and road course program is invaluable. We look forward to working with him and to taking advantage of the experience and knowledge he brings with him."
Montreal Nationwide 2008
The 13 day Nascar rule for Race Entry... We'll know soon if JV will be there.
HOWEVER, get your tickets because it will be a great race in Montreal. Fill those seats and we'll be getting a Sprint eventually too. :-)
If you live in Quebec or are just a drive away, please do join us at the Nationwide race at circuit Gilles Villeneuve. Encourageons les gens de chez nous.
July 2008
Today's the 9th and still no confirmation of JV racing the Nationwide in Montreal. The good news is, we'll know soon only because there is the 13 day Nascar rule for Entry in a race. So any day now(July 18 should be a good day :-)) we'll know more.
So many rumors are resurfacing about Jacques with Robby Gordon... the man that stood alone for so long. :-)
Robby's partnered with GEM earlier this year and things were looking up. But are things really looking up? Robby's got a tough road ahead for his own ride let alone a second Nationwide entry. If anyone can do it with this kind of help, it's him. This loner has family now. lol
While GEM works towards being a super-team and talking about running 4 cars in Sprint next year, we wait and hope.
I'd love to see JV in a Toyota but racing for GEM/Gordon in the Nationwide or even Sprint 2009 would be fine with me as well. lol
And, one last note about Gordon's own participation in the Nationwide Montreal. He hopes to be there but has no financing yet confirmed for his own ride let alone a second car. But, things change in a nano-second in Nascar baby.
From an interview with Robby and Motorsport.com a week or so ago.
Q: WHAT ARE YOU NATIONWIDE PLANS REGARDING WATKINS GLEN AND MONTREAL?
A: Right now, we've got two cars set up for Watkins Glen. I'd love to go to Montreal, but that's another open inventory race. It's not 100% guaranteed that we are going to go to that event because of sponsorship. The cars are done. Stuff is going to be ready to go the very next week. I'd like to run Montreal that weekend because I won the race last year. I know it doesn't show it in the record books, but we won Montreal last year. It is a place that we run good at so, we'll see what happens. Chicago and Watkins Glen are the two guaranteed Nationwide races for the rest of the year.
Q: HAVE YOU TALKED TO THE PROMOTER AT MONTREAL ABOUT AN EFFORT TO GET YOU UP THERE FOR THE RACE?
A: I've had a few conversations with Steve O'Donnell of NASCAR. He's asked a couple of times, "Hey, are you running that event?" Obviously it was exciting for everybody there; an unfortunate outcome with the circumstances at the end. As far as a race team, we had the fastest car there all day long. We never got the opportunity to show it until the last couple laps. I think at the end of the day, I'd like to go back there because we should have won Montreal. We didn't get the trophy. Hopefully we'll go back and see if we can get another one.
Always the optimist. :-)
---
June 2008
While waiting for Jacques Villeneuve's participation...
Carl Edwards, Greg Biffle, Clint Bowyer, Patrick Carpentier, David Ragan, and Paul Menard are all confirmed to start this years NAPA Auto Parts 200, with more drivers signing up and expected to be announced soon. The NASCAR Sprint Cup stars will battle it out against the Nationwide Series regulars including up and coming drivers Joey Logano and Brad Keselowski.
This is Nascar Baby! :-)


Buy your tickets for Montreal's Nationwide/Achetez vos billets!


Nascar Nationwide Manufacturers' Standings
Nacar's Nationwide race at Circuit Gilles Villeneue August 2008
June 17, 2008
With another Mans 24hour enduro race under his belt, he should now be getting back to Nascar business.
Since the Montreal Grand Prix, we've reported quotes from JV interviews regarding returning to F1... With rumors of FA leaving Renault, Kimi thinking retirement??, Massa ready for change, all the young guns and Teams(possible new Honda satellite team too?), there will be many surprises for 2009.
However, although I love F1, I selfishly want JV back home racing in Nascar. Think about it North American JVistes - 1 chance to see him in the Canadian Grand Prix or if you don't mind a nice drive, many opportunities to see him race 'live' in 2009.
For starters, JV's participation in the Montreal Nationwide race in August has to be announced very soon. Grandprix.ca who handle the media, promotions, etc... for Nascar's race, have started the ball rolling now for this event in August.
We'll be there either way(big Nascar fans too lol) but a Nascar interview with JV or Crew, would be a dream come true. It will be truly a Canadian event if he's there.
And, ultimate nirvana would be riding a Ganassi or even a GEM car. Dream big. :-)
Jacques,
On se revoit sur le circuit GV,,,

New Plans for Jacques Villeneuve Nascar 2008
Phew! Was worried I'd need to completely overhaul the Web site. lol
Jacques Villeneuve is hoping to race in Montreal's Nationwide race this summer. Good for us fans here in the area and a great experience to get ready for his Sprint Cup 2009 season.
There will be many articles over the next few days. Jacques-talk is back and it's definitely here for a long long time baby!





Toronto Star JV Nationwide article...

JVilleneuve hoping to race in Montreal's Nationwide this summer