Nascar Chase 2009 - The Race is On!
They are on their way to New Hampshire for the first race of the Chase 2009.
Will Biffle repeat last year's performance? Or will Jimmie or Carl win in NH this year. My money is on Carl this year and I'm hoping to see a great race from Juan Pablo. Both are in my Fantasy picks this week. Fingers-crossed. :-)
The Chase 2009 hype is in full swing now. Enjoy!




And Track Talk is now available for the Top 12 2009 Chasers. Here's Mark Martin's...
---
Was quite a race in Richmond.
The Chase is On! And I present the 2009 crew. :-)
The 2009 Chase for the NASCAR Sprint Cup field (From left, top row: Tony Stewart, Carl Edwards, Greg Biffle, Mark Martin, Jimmie Johnson, Jeff Gordon. From left, bottom row: Juan Pablo Montoya, Ryan Newman, Kasey Kahne, Kurt Busch, Denny Hamlin, Brian Vickers) pose after the Chevy Rock & Roll 400 at Richmond International Raceway. (Photos by Rusty Jarrett/Getty Images for NASCAR)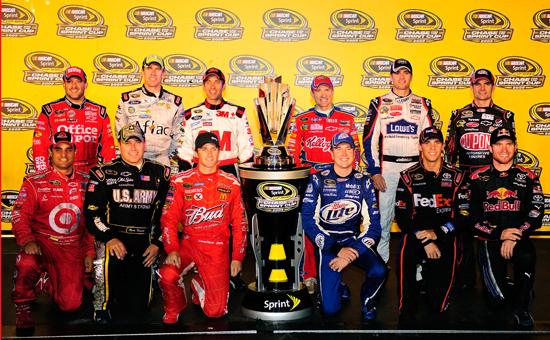 Post Race Richmond NSCS Recap: Virginia Native Hamlin Wins Chevy Rock & Roll 400; Chase Field Set
RICHMOND, VA. – The Chase is on.
Twenty-six races into the NASCAR Sprint Cup Series season, there are now 12 drivers with a chance to win the Chase for the NASCAR Sprint Cup.
The suspense of who would make that field culminated Saturday night at Richmond International Raceway.
Local native Denny Hamlin from Chesapeake finally won a NASCAR Sprint Cup race at his home track after coming "oh, so close" so many times before. He also did it in convincing style, battling door-to-door with Jeff Gordon along the way. It was Hamlin's second win of the season in his FedEx Toyota. He won earlier this year at Pocono.
Hamlin is one of the 12 Chase participants but his Joe Gibbs Racing teammate Kyle Busch didn't make it. Hamlin had locked in a spot before the race but Kyle needed to finish well ahead of Brian Vickers to make it. Kyle finished fifth but Vickers was seventh and wound up grabbing the 12th spot by eight points over Busch.
Kurt Busch finished second and made the Chase. Jeff Gordon was third and in The Chase.
Everybody's favorite, Mark Martin, was fourth and secured a Chase spot and there wasn't a happier man in Virginia on Saturday night when this race ended.
Kyle finished fifth and Clint Bowyer was sixth. Vickers was seventh and former Indianapolis 500 winner Sam Hornish finished eighth. Kevin Harvick was ninth and Ryan Newman 10th, which earned him a slot in the Chase, along with his car owner Tony Stewart, who had a rough night and wound up 17th.
Jimmy Johnson finished 11th and he's in the Chase, along with 12th-place finisher Kasey Kahne and 13th-place finisher Greg Biffle. Carl Edwards and Juan Pablo Montoya also made the Chase. It will be Montoya's first Chase as well as the first for team owner Chip Ganassi.
Former series champion Matt Kenseth finished 25th and failed to qualify for the Chase for the first time.
The first race in the Chase begins Sunday, Sept. 20 at New Hampshire Motor Speedway.
Saturday night's race at Richmond had so many scripts, you couldn't keep up. If so-and-so finished 20th or better, he made the Chase. If another driver finished 32nd, he made it.
This one was one for the record books, as only four drivers were guaranteed spots in the Chase to the NASCAR Sprint Cup and another eleven were in position to make it with either good luck for themselves or bad luck for others.
The ageless Martin, hoping to be one of the 12 contenders, started from the pole position after a late shower wet the track and delayed the start.
Martin kept the lead with local favorite Hamlin in his shadow. Hamlin passed Martin on Lap five.
Scott Speed brought out the first caution when he lost it off Turn 4 and hit the outside wall.
Hamlin maintained the lead after a restart and at 40 laps led Martin, Gordon, Martin Truex Jr., Kahne, Jimmie Johnson, Kyle Busch, Vickers, Harvick and Dale Earnhardt, Jr.
Another caution slowed the field at Lap 46 when David Stremme, Reed Sorensen and Stewart tried to maneuver Turn 4 while three abreast. Sorensen and Stewart spun.
Hamlin went out front again when the race restarted on Lap 50. Another caution was necessary when Regan Smith's Chevy lost power on Lap 57.
On this restart at Lap 67, Hamlin held the lead with Gordon next, followed by Martin, Truex, Kurt Busch, Earnhardt, Harvick, Johnson, Kyle Busch, AJ Allmendinger, Montoya, Kahne, Vickers, Marcos Ambrose and Jamie McMurray. The Roush Fenway Racing drivers, at this point in the race, were pushing it to make the Chase with Edwards 20th, Biffle 24th and Kenseth 25th.
Gordon went back in front of Hamlin shortly before the 100-lap mark. A caution fell again on Lap 107.
Gordon held the lead until Hamlin slipped past on Lap 147. Another caution flew on Lap 173 for debris.
At the half-way point of 200 laps, here's how things stood: Hamlin continued to swap the lead with Gordon and Martin ran a strong third.
Another caution fell shortly after halfway when Regan Smith's bad luck continued and something broke on his car.
---
DAYTONA BEACH, Fla. — When the "Chase for the NASCAR Sprint Cup" format was instituted in 2004, Richmond International Raceway inherited the annual Chase "cut-off" race, the final event before the Chase field is set.
Drama at RIR has been considerable on a yearly basis since then, but clearly, this year shapes up as the most dramatic yet.
Coming into Saturday night's Chevy Rock & Roll 400, only four spots in the 12-driver field have been clinched. Those guaranteed berths in NASCAR's "playoffs" have been nailed down by Tony Stewart (No. 14 Office Depot Chevrolet), Jimmie Johnson (No. 48 Lowe's Chevrolet), Jeff Gordon (No. 24 DuPont/National Guard Wounded Warrior Chevrolet) and Denny Hamlin (No. 11 FedEx Express Toyota).
That leaves eight spots open — and 11 drivers in the running.
Only 217 points separate fifth-place Carl Edwards (No. 99 Aflac Ford) from the last driver in Chase contention, 15th-place David Reutimann (No. 00 Aaron's Dream Machine Toyota).
When the situation is condensed around the 12th-place bubble, the outlook becomes even more uncertain.
Matt Kenseth (No. 17 DEWALT Ford), rolls cautiously into Richmond in 12th place, the second-straight week for the 2003 series champion to hold that position. Kenseth is trying to extend a remarkable streak that he co-holds with Jimmie Johnson; they are the only two drivers who have qualified for the Chase every year. Johnson already has a sixth-straight Chase berth secured, so that leaves it to Kenseth to keep pace.
It won't be easy. Kenseth has one Richmond victory, that coming in September 2002. Saturday night he'll be fighting off three guys close behind in the points. Brian Vickers (No. 83 Red Bull Toyota) is only 20 points behind, while Kyle Busch (No. 18 M&M's Toyota) is only 37 back. The last driver still in mathematical contention is 15th-place Reutimann, an obvious long shot, as he is 132 points behind Kenseth.
Above Kenseth in the standings, there is also nervousness: 10th-place Mark Martin (No. 5 Kellogg's/CARQUEST Chevrolet) is only 69 points ahead of 13th-place Vickers while 11th-place Greg Biffle (No. 16 3M Ford) is 68 ahead of Vickers, a former champion of the NASCAR Nationwide Series champion trying to qualify for the Chase for the first time.
Kenseth comes off a 12th-place finish this past Sunday night at Atlanta Motor Speedway that allowed him to retain his precarious position.
"I just want to run good and be back up front where we belong," Kenseth said. "We have a championship-caliber team as far as personnel … we're capable of much better than this."
Indeed, Kenseth showed that the first two weeks of the NASCAR Sprint Cup season when he captured the Daytona 500 then followed with a victory at Auto Club Speedway in Fontana, Calif. He hasn't won since.
"We've got to beat all the guys we're around to get in the Chase. There are about five or six guys that are really close in the points and whoever outperforms the rest of them will make it in, so we've just got to go out and run as hard as we can and hope our results will be good enough.
"Through certain parts of the year we probably haven't capitalized on all the races we could have and got all the points we could have, so we're in this spot and we just have to race as hard as we can and do the things we know how to do and hope that's good enough."
Chase Seedings To Shake Out, Post-Richmond
Mark Martin and Kyle Busch have a leg up toward earning a potential top seeding at the outset of the Chase for the NASCAR Sprint Cup.
Now, all they have to do is make the Chase.
Strange but true: Because of the increasingly demanding competition in the NASCAR Sprint Cup Series, the guys with the most race victories thus far this year are in danger of not qualifying for NASCAR's "playoffs."
The 12 drivers qualifying for the Chase will have their season point totals "reset" to 5,000. They then will get 10 bonus points for each race victory during the "regular season" — meaning the 26 races preceding the Chase. Those adjusted totals will determine the seedings to start the Chase.
Both Martin and Busch have four victories this season, which would give them 5,040 points. To determine seeding order for the Chase, ties are broken by the traditional NASCAR method — looking at a driver's race results beyond victories.
That means as of now, Martin has an edge on Busch, with two runner-up finishes compared to Busch's none.
Of course, all of that will be moot if they don't make the Chase. The fact that they are even in this sort of predicament underscores the cold hard facts of competitive life in NASCAR's top series these days.
No longer is it enough to only run consistently.
And, no longer is it enough to have only a few great days along with some poor ones.
Nowadays, you need to both challenge for race wins and do so consistently.
Martin, although he has those four victories, also has three DNFs — virtual negation in terms of points, of his trips to Victory Lane.
Busch's four wins are nice, but on the other side he has only eight top 10s overall and two DNFs. Compare that to series points leader Tony Stewart's series-high 18 top 10s and the 17 top 10s by current points runner-up Jeff Gordon.
On The Line: Chase Contenders Vickers, Busch Talk Playoffs, On NASCAR Teleconference
(Note to media: Chase for the NASCAR Sprint Cup contenders Brian Vickers and Kyle Busch were guests Tuesday, on the weekly NASCAR Teleconference, discussing their chances of making the Chase, heading into Richmond. Following are some excerpts from the call. For a complete transcript and audio file of the event, go to NASCARmedia.com.)
Brian Vickers: "I think it's very clear as to what we have to do, which is pretty much go there and win the race. That's not necessarily the only way to get in the Chase, but that's really how we're going to gain the most amount of points. …
"Even if we accomplish our goal, which is to go there, sit on the pole, lead laps, win the race, there's still no guarantee we're going to make the Chase. If Matt finishes second, there's nothing we can do about it. …
"The last thing that myself or anybody on the Red Bull team would do is wish ill upon anybody else. We don't want anything bad to happen to our competitors. But we need them to at least not have a great night, no matter how our performance is. …
"I think our strategy is going to essentially be to gain the most amount of points possible. We can't get tied up in what everyone is doing. I'd be lying if I didn't say we're not going to stay on top of it and be aware of it, no different than Atlanta. When I was racing with Matt and Kyle, I knew I was also racing with guys for a spot in the Chase. …
"The best thing that we can do, the most important thing we can do, is to not make a mistake, not have a bad finish, but we need to have a good one. We sat on the pole earlier this year. Hopefully we can do that again. Lead a lap, get five bonus points, try to win the race, collect as many points as possible, and the rest is going to be up to our competitors."
Kyle Busch: "There's nothing you can do [about the other 'bubble' guys]. You can't change what they're doing. You can't make race calls for those guys and tell them that they need to pit or whatever. There's really no point in going through that frustration and trying to figure out where those guys are. You just see what it boils down to at the end of the day. …
"As far as being championship contenders, the only thing that we can really do is just try to run as consistent as possible. I don't foresee us being the guy that's going to finish first, second or third every single race like you can count on the 14 or the 24 or the 48 on doing. …
"We're more of the guy that's going to be maybe third here but then we might be seventh, eighth, ninth here or 11th or 12th there. If that's good enough to win a championship, then certainly we'll be championship contenders, otherwise we'll just be chasers. …
"I feel good about Richmond. I'm excited about our chances. I feel like we can go out there and try to win another one. That's all we can do to put ourselves in the Chase."
Keeping It Simple: Chase Clinch Scenarios For This Week's Top 12
Carl Edwards — 5th place
Edwards is 105 points ahead of 13th place. Regardless of any other driver's finish, he will clinch if he finishes: 24th or better; 25th and leads at least one lap; 27th and leads most laps
Kasey Kahne — 6th
Kahne is currently 96 points ahead of 13th place. Regardless of any other driver's finish, he will clinch if he finishes: 21st or better; 23rd and leads at least one lap; 24th and leads most laps
Kurt Busch — 7th
Busch is currently 95 points ahead of 13th place. Regardless of any other driver's finish, he will clinch if he finishes: 20th or better; 22nd and leads at least one lap; 24th and leads most laps
Juan Pablo Montoya — 8th
Montoya is currently 88 points ahead of 13th place. Regardless of any other driver's finish, he will clinch if he finishes: 18th or better; 20th and leads at least one lap; 21st and leads the most laps.
Ryan Newman — 9th
Newman is currently 81 points ahead of 13th place. Regardless of any other driver's finish, he will clinch if he finishes: 16th or better; 17th and leads at least one lap; 19th and leads the most laps.
Mark Martin — 10th
Martin is currently 69 points ahead of 13th place. Regardless of any other driver's finish, he will clinch if he finishes: 12th or better 14th and leads at least one lap; 15th and leads the most laps.
Greg Biffle — 11th
Biffle is currently 68 points ahead of 13th place. Regardless of any other driver's finish, he will clinch if he finishes: 11th or better; 13th and leads at least one lap; 15th and leads the most laps.
Matt Kenseth — 12th
Kenseth is currently 20 points ahead of 13th place. Regardless of any other driver's finish, he will clinch if he finishes: second or better and leads a lap; third and leads the most laps.
Loop Data: Hamlin Has Some History At RIR — And A Great Driving Rating, To Boot
Race No. 26, the final race of the NASCAR Sprint Cup Series "regular season," is an anticipated event for every single driver in the series.
But it's something else entirely for Denny Hamlin.
"Anticipation" fails to capture Hamlin's emotions come race time at Richmond International Raceway.
Hamlin grew up in the .75-mile track's shadows, and as such, pines for a victory at his very local short track. Literally, a NASCAR Sprint Cup win at Richmond is at the top of his wish list.
He has come close a number of times, but has yet to break through to Victory Lane.
Oddly, his best Richmond performance ended his worst Richmond finish.
In last season's May Richmond race, Hamlin had the dominant car – by far. He led an astounding 381 of 400 laps. But a late-race tire problem killed his day, ended the dream and resulted in a 24th-place finish. Still, he finished up that race with a number of race-best statistics, including a Driver Rating of 129.1.
Additionally, he had an Average Running Position of 2.3 and 104 Fastest Laps Run, which are personal bests at Richmond's action-packed oval for Hamlin.
The numbers speak for themselves. In all seven of his Richmond races, Hamlin has led at least four laps. He owns series-best stats in Driver Rating (116.9), Average Running Position (5.1) and average Green Flag Speed (117.741 mph). He also has tremendous numbers in Fastest Laps Run (244, third-most) and Laps in the Top 15 (2,754/98.0%).
The trend of hard luck finishes continued into this season for Hamlin at Richmond. Statistically, the last Richmond race was Hamlin's second-best. But in the end, he suffered his third-worst finish (14th). The problem this time: a bad pit stop.
His crew had a problem with the lug nuts, causing Hamlin to lose a number of positions on pit road.
But on the track, he was near-flawless.
In that race, Hamlin had a Driver Rating of 126.5, an Average Running Position of 3.5, 43 Fastest Laps Run and a race-high 148 laps led.
Hamlin's prior success at Richmond, combined with his current momentum make Hamlin a sure favorite this weekend.
Coming into this weekend's race, Hamlin has scored five consecutive top-10 finishes (and seven of the last eight races were top-10 runs).
Over that span, Hamlin has a Driver Rating of 112.5.
Up Next: The Chase Begins At New Hampshire
Next week starts the 2009 Chase for the NASCAR Sprint Cup, with New Hampshire Motor Speedway in Loudon, N.H. again serving as the "launch site," with the Sylvania 300 on Sunday, Sept. 20.
History suggests a strong performance in the first Chase race could be crucial. Kurt Busch started the first Chase, in 2004, with a New Hampshire victory and went on to take the championship. Clint Bowyer won in 2007 and his long-shot championship hopes immediately became legitimate; he went on to finish third in the NASCAR Sprint Cup Series standings.
There also are stories of disappointment, such as last year when Chase favorite Kyle Busch came in as the Chase top seed, but finished 34th. Busch never recovered in the championship battle, ultimately finishing 10th in points.
Fast Facts
The Race: Chevy Rock & Roll 400
The Place: Richmond International Raceway (.75-mile oval)
The Date: Saturday, Sept. 12
The Time: 7:30 p.m. ET
Race Distance: 400 laps/300 miles
TV: ESPN, 7 p.m. ET
Radio: MRN and Sirius XM Radio/Channel 128. Locally, WRVA-AM 1140, WRNL-AM 910)
2008 Winner: Jimmie Johnson
2008 Polesitter: Kyle Busch
Schedule: Friday—Practice 12-1:30 p.m. and 2-3:30; Qualifying 5:40.

Kudos to Kasey K. Great race in Atlanta... and thanks for keeping me on top. :-)


---
Next stop... Bristol.
Short and sweet but she's fast. :-)
Busch Needs To Follow Vickers' Lead To The Chase
DAYTONA BEACH, Fla. — There is a simple equation for drivers rallying to put themselves in position to make the Chase for the NASCAR Sprint Cup – the higher you finish, the more points you receive.



Brian Vickers (No. 83 Red Bull Toyota) fully embraced that concept last weekend in Michigan when he laid his Chase hopes on the line to go for the victory, and the accompanying 185 points. Vickers' gamble worked out to a tee; he gained 115 points on 12th place and moved up one position in the standings. With only three races remaining before the Chase begins, Vickers is in 13th place, only 12 points out of Chase eligibility.
Are you listening Kyle Busch (No. 18 M&M's Toyota)? Not that Busch's style isn't already do-or-die.
Busch was second in the NASCAR Sprint Cup Series with eight wins last season. He currently occupies the same position, with three 2009 victories.
The difference, however is that Busch was the points leader for much of last year and is currently three positions on the wrong side of the Chase cut-off by 70 points. That could be due to the fact Busch has finished 22nd or worse more times this year (10) than he has in the top 10 (seven).
With only three races remaining to secure a berth in the 2009 Chase, Busch must do what he's already done twice in his career – win at Bristol. Busch was dominate at the half-mile oval in March, leading a race-high 378 laps en route to Victory Lane and a near-perfect Driver Rating (149.2). A repeat performance would go a long way in bringing Busch's Chase hopes closer to fruition.
If Busch wins the Sharpie 500 Saturday night and leads the most laps, he will earn 195 points. That would mean drivers in positions 12-14 must finish 12th or better (127 points) to remain ahead of Busch. Looking at history, the advantage would certainly go to Busch. Mark Martin (No. 5 Pop-Tarts/CARQUEST Chevrolet), currently in 12th place, has averaged a 13th-place finish in 41 career Bristol races and has only two top 10s in his last 13 attempts. Vickers' average finish is 26th with two finishes higher than 20th in 10 career starts and 14th-place Clint Bowyer's (No. 33 Cheerios/Hamburger Helper Chevrolet) average finish is 14th in seven races.
Jeff Gordon, Jimmie Johnson Primed To Clinch
Jeff Gordon (No. 24 DuPont Chevrolet) and Jimmie Johnson (No. 48 Lowe's Chevrolet) are the only two drivers who can clinch a spot in the Chase for the NASCAR Sprint Cup after the Sharpie 500 at Bristol Motor Speedway.
Any driver with a 391-point lead over 13th place after the race clinches a spot in the 10-race championship battle. Second-place Gordon currently leads 13th by 437 points, Johnson leads by 418. In other words, Gordon can lose 46 points and Johnson can lose 27 points to 13th place and still clinch.
If the Hendrick Motorsports teammates do clinch Chase berths this weekend, they would join standings leader Tony Stewart (No. 14 Office Depot Chevrolet), whose 17th-place finish at Michigan made him the first driver to clinch a spot in the 2009 Chase. The three are the only active drivers with multiple championships, boasting nine NASCAR Sprint Cup championships, total.
While Gordon and Johnson would certainly enjoy clinching their Chase berths, you can bet that both teams will be focused on their own results, not on where they compare to 13th place.
Using those guidelines, Gordon can clinch his spot by finishing sixth or better without leading a lap, seventh leading at least one lap or eighth leading the most laps, regardless of what any other driver does.
Johnson needs to finish second or better, third leading a lap or fourth leading the most laps, to clinch.
Bristol Three-Peat Would Boost Morale, Shore Up Chase Position For Edwards
Weathering a long winless streak is nothing new to Carl Edwards (No. 99 AFLAC Ford). After all, the 2008 NASCAR Sprint Cup Series runner-up had to endure a 52-race stretch without a victory from Nov. 2005–June 2007 after bursting onto the scene with four wins in his first full season (2005).
His latest streak isn't quite as long, but is just as puzzling.
Edwards last won at Homestead-Miami Speedway to close out the 2008 season. Despite falling short in the championship battle, Edwards won three of the final four races and finished with a series-high nine victories.
He was supposed to continue on the same path in 2009 and contend for the championship. While Edwards has kept himself in Chase contention the entire season, he has yet to find Victory Lane.
"From where I sit, I think I've done as good or better job this season than I had last season," Edwards said. "We don't have the results to show for it, but I feel I've done a really good job."
Edwards pointed out three races that he felt he could have won if circumstances fell another way – Texas, where he had trouble on pit road, Talladega, which ended with a last-lap accident and Pocono, when his fuel strategy forced him to conserve fuel at the end of the race.
"It's funny," Edwards said. "As a driver, I go out and do the very best I can in every race. I mean I drive as hard as I can, I try to get everything I can. And at the end of the race, you get your result. If it's a win, then that's great. If it's 20th and you did your job right, that's all a person can do."
This weekend is as good as any for Edwards to return to his back-flipping ways. He is the two-time defending race winner and is in the top 10 in several loop data categories at Bristol, including Average Running Position, Driver Rating and Fastest Laps Run. A win would give his team an extra confidence boost headed to the Chase, not to mention 10 bonus points.
"Trust me," Edwards said. "If I win the Cup race, it'll be no problem doing a backflip. I'll have lots of energy."
Martin Stands To Gain The Most By Earning Chase Berth
Mark Martin's performance at Michigan this past Sunday epitomized what the No. 5 team has faced all season. When the team is on, they are one of the most unbeatable teams on the track. Martin's series-high four victories easily confirms that premonition.
But when things don't quite line up as planned, Martin's performance plummets. He has finished 30th or worse seven times, including Sunday's 31st-place finish, and worse than 40th three times.
The price of the fuel mileage gamble was approximately 80 points, as Martin was in line for a possible top-five finish. That difference would have given Martin breathing room in his quest to make his fourth Chase for the NASCAR Sprint Cup. Instead, he's teetering on the Chase bubble, only 12 points ahead of 13th place.
Martin has three races left to step up his game and lock in a Chase berth. If he were to hold on, Martin's four wins would make him the top seed entering the Chase and give him 40 bonus points.
The first remaining test is Saturday at Bristol, where Martin will hit a significant milestone, regardless of the outcome. Martin will be making his 1,000th start in NASCAR national series competition. He's had 745 NASCAR Sprint Cup Series, 231 NASCAR Nationwide Series and 23 NASCAR Camping World Truck Series starts in his illustrious 27-year career.
"That's a lot of races," Martin said. "I didn't realize that I was even close to that many. To me, personally, 1,000 starts is not that big of a deal. How many wins I have in those 1,000 starts would be a stat I would be more interested in. Don't get me wrong, I think this is great, but I don't view starting races as a huge accomplishment. I would say, the wins, poles, top-five and top-10 finishes in those 1,000 starts is a bigger deal."
Those numbers are just as impressive.
In his first 999 starts, Martin has 94 wins, 375 top fives and 574 top 10s, not to mention 78 poles.
Despite recent struggles at Bristol, Martin has two wins, 15 top fives and 22 top 10s in 41 NASCAR Sprint Cup Series starts. It is also one of four tracks at which Martin has at least one win in all three national series (Dover, Auto Club, Talladega).
Loop Data Shows Stewart A Bristol Threat, Despite Poor Finishes
Only three races remain before the Chase for the NASCAR Sprint Cup, which means only 30 potential Chase bonus points are left to be had.
The top seed in the Chase is still up for grabs. Mark Martin, the current leader with 40 potential bonus points, is tip-toeing the cut-off line, 12 points ahead of 13th-place Brian Vickers.
That leaves Tony Stewart and Jimmie Johnson. Stewart, who clinched a Chase berth at Michigan, has three wins for 30 bonus points. Johnson also has 30 points, and has a solid shot at clinching at Bristol.
Statistically, Stewart is the favorite of the two for Bristol's 10 bonus points. Though finishing in the top 10 in just two of the last seven races, Stewart's results are deceiving.
In the last seven Bristol starts, Stewart has an average finish of 16.0. The numbers improve from there: a Driver Rating of 101.5, an Average Running Position of 11.8, 206 Fastest Laps Run and 769 Laps Led.
Much of the reason for the poor finishes is bad luck. In three of the last seven, Stewart has led more than 200 laps – and finished in the top 10 in none of them. In March of 2006, he led 245 laps and finished 12th. In March of 2007, he finished 35th after leading 257 laps. Finally, in last year's March race, he led 267 laps in a 14th-place finish.
The same can't be said for Johnson, who struggles at Bristol. Since 2005, Bristol is statistically Johnson's worst track. His 78.7 Driver Rating makes Bristol his worst track – by a healthy margin. Johnson's second-worst track in terms of Driver Rating is Infineon Raceway (80.4).
None of his key statistics rank in the top 10. Johnson's Driver Rating is 18th-best, his Average Running Position of 16.8 is 18th-best, his 99 Fastest Laps Run is 14th-best and his Laps in the Top 15 percentage of 59.3% is 14th-best.
But, Johnson is coming off his best Bristol finish. In a third-place finish in March, he scored a Driver Rating of 123.6, an Average Running Position of 2.2, 37 Fastest Laps Run, 88 Laps Led and ran all 503 laps in the top 15.
Bowyer Inching Closer To Chase Goal
Clint Bowyer's Chase hopes looked bleak leaving Indianapolis Motor Speedway three weeks ago. He was mired in 16th place, 151 points behind the important 12th-place Chase cutoff.
Worse yet, Bowyer had to tackle three difficult tracks – Pocono, Watkins Glen and Michigan – at which he had traditionally struggled.
No problem.
Bowyer stepped up his game, finishing third at Pocono, ninth at Watkins Glen and eighth at Michigan. All three finishes were career highs for Bowyer at each track. In that three week span, Bowyer nipped 93 points off his Chase deficit. He has moved up to 14th place and is only 58 points back.
"We did exactly what we needed to do," Bowyer said after Sunday's race. "We needed a top-10 finish and that's what we got. It was a good finish for us, point-wise. We're still very much alive in the chase to get into the Chase. If we can keep picking up finishes like this and capitalizing on some of the misfortunes of some of the others, we'll find ourselves in this thing come New Hampshire."
Look for Bowyer's streak to continue – he has top-10 finishes in 11 of the 21 races he's run at Bristol, Atlanta and Richmond, the final three races until the Chase begins.
When Double Duty Driving Isn't Enough – Newman To Attempt Bristol Grand Slam
Life is good if you're a Ryan Newman (No. 39 Stewart Haas Racing Chevrolet) fan in Bristol this week. The eight-year NASCAR Sprint Cup Series veteran will be attempting the Bristol "grand slam," adding the Friday night NASCAR Nationwide Series race and both halves of the NASCAR Camping World Truck Series/NASCAR Whelen Modified Series doubleheader on Wednesday night to his schedule.
It will be the first time that a driver will be competing in all three national series races plus a touring series event in the same week.
Newman will kick off his week Wednesday evening driving a modified for a team owned by Kevin "Bono" Manion, crew chief of the No. 1 Bass Pro Shops-Tracker Boats Chevrolet in the NASCAR Sprint Cup Series.
Newman will be making his third appearance in a modified, all three for Manion. He finished 20th at New Hampshire in 2008 and 34th there earlier this season.
Newman will be joined in the Whelen Modified and Whelen Southern Modified combination race by Kasey Kahne (No. 9 Budweiser Dodge). Kahne finished 31st in this year's New Hampshire Whelen Modified race.
In addition to the duo racing modifieds, three drivers – Newman, Kyle Busch and Aric Almirola (No. 09 Miccosukee Indian Gaming & Resort Dodge) – will be racing in Wednesday night's NASCAR Camping World Truck Series race and 12 will be competing in Friday night's NASCAR Nationwide Series race.
Newman has 21 career Bristol starts, 15 in the NASCAR Sprint Cup Series and six in the NASCAR Nationwide Series. His only victory there came in the NASCAR Nationwide Series in 2005.
Where To Next? A Fan's Guide To Bristol-Area NASCAR Happenings
Plenty To Do Thursday Despite Dark Track
For those looking to keep occupied in the Tri-Cities area on Thursday, don't wander far from the streets of downtown Bristol. Food City Family Race Night returns to Bristol with a full day of driver autograph sessions, racing simulators and live entertainment.
The action kicks off at 1 p.m. on State Street in downtown Bristol. Tickets are available in advance for $5 at area Food City locations or for $6 at the event with proceeds benefiting The Paramount Center for the Arts. Children 12-and-under are admitted free.
The event runs until 9 p.m. but is immediately followed by the popular Ford Presents the BMS Transporter Parade.
The NASCAR Sprint Cup Series transporters that carry cars and equipment to each race will parade down the 10-mile stretch from the Bristol Mall to Bristol Motor Speedway for the 13th consecutive year.
Thousands of fans line the route each year to watch the haulers make the stretch-run to BMS. Inside, hauler drivers will help in making dreams come true as many of them will carry a child from either the Make-A-Wish Foundation or the Children's Miracle Network.
Fans Have Options Inside, Outside BMS
Despite approximately 10 hours of on-track activity on Friday, Bristol Motor Speedway has offered outside alternatives to the 160,000+ fans expected in "Thunder Valley" this weekend.
An example is the new Scotts Turf Builder Cornhole Classic, matching fans in the popular bean-bag tossing game often seen in track infields.
Tournaments are being held at 9 a.m. and 1:30 p.m. on Friday and Saturday for a $40 entry fee. All proceeds benefit the Bristol Chapter of Speedway Children's Charities. Top prizes include BMS season suite tickets for 2010 and a free camping space for the 2010 season.
On Saturday morning, fans can start their race day with a walk around the famous half-mile race track as part of the NASCAR Foundation/Speedway Children's Charities Track Walk. Information is available Thursday, Friday and Saturday at the Gate 9 Registration Location in the fan zone area.
Loyal Fans Extend Sellout Streak To 55
While the race is always unpredictable, one thing you can always count on at Bristol Motor Speedway is a full house.
Track President and General Manager Jeff Byrd announced the track's 55th consecutive NASCAR Sprint Cup Series sellout on Aug. 11.
The streak began Aug. 28, 1982 when Darrell Waltrip edged Bobby Allison by less than a second before an estimated crowd of 30,000. The track now holds 160,000 fans.
The crowd will try to enter the Guinness Book of World Records for the "World's Largest Group Karoake" attempt. The track, which has pulled off similar stunts in the past, will ask fans to sing Garth Brooks' 1990 hit "Friends In Low Places" before the race.
Up Next: Atlanta Motor Speedway
Teams have one final weekend off to work on their cars before hitting Atlanta Motor Speedway for the Pep Boys Auto 500 on Sept. 6. The race was moved from it's previous October date to Labor Day weekend during the off-season. The race will be the 25th of the NASCAR Sprint Cup Series season, making it the penultimate event before the 2009 Chase for the NASCAR Sprint Cup.
Carl Edwards held off polesitter Jimmie Johnson in last year's race to extend his championship hopes another week.
Fast Facts
The Race: Sharpie 500
The Place: Bristol Motor Speedway (.533-mile concrete oval)
The Date: Saturday, Aug. 22
The Time: 7:30 p.m. ET
Race Distance: 500 laps/266.5 miles
TV: ESPN, 6:30 p.m. ET
Radio: PRN and Sirius Satellite (Local)
2008 Winner: Carl Edwards
2008 Polesitter: Carl Edwards
Schedule: (All times local ET) Friday—Practice, 12-1:30 p.m., 2-3:30 p.m. Qualifying, 5:40 p.m.
2009 Top 12 Drivers
Driver Points
1 Tony Stewart 3,500
2 Jeff Gordon 3,216
3 Jimmie Johnson 3,197
4 Carl Edwards 2,995
5 Denny Hamlin 2,986
6 Kurt Busch 2,957
7 Juan Pablo Montoya 2,887
8 Kasey Kahne 2,884
9 Ryan Newman 2,845
10 Greg Biffle 2,821
11 Matt Kenseth 2,811
12 Mark Martin 2,791
Yes JVistes, it's that time of year again...
The Race for the Nascar Chase is on and there are only a few weekends left before the Fall. To get everyone in the mood for the Chase, we'll be publishing Nascar's pre-race news and reports.
Next stop - Michigan.
Race To The Chase: Stewart's Almost In; Bubble Drivers Want Win
Fresh off a win at what he considers his "house," Watkins Glen International, Tony Stewart (No. 14 Office Depot Chevrolet) merely needs to start Sunday's CARFAX 400 at Michigan International Speedway to become the first owner-driver to earn a Chase for the NASCAR Sprint Cup berth.
But that doesn't mean Stewart will ease up any when he runs this weekend at MIS, the sixth event in the "Race to the Chase."
"We keep the eye on the prize at the end of the year," Stewart said. "And those 10 bonus points (for winning at Watkins Glen) could be a big factor at the end."
Another factor is likeability – and Stewart likes MIS.
"We look forward to going there obviously because the manufacturers are there and it's a driver's track," Stewart said. "You can help yourself out as a driver by moving around on the race track. It does give you that flexibility as a driver to not be just stuck with whatever your balance is. You can search around and try to find a spot that's better for it."
Stewart's not the only one who can clinch a spot in the 12-driver Chase for this weekend at Michigan. Any driver 586 points ahead of 13th place leaving Michigan clinches a spot.
Jimmie Johnson (No. 48 Lowe's Chevrolet), 496 points ahead of 13th-place Kyle Busch (No. 18 Interstate Batteries Toyota), needs at least a 90-point gain on 13th to secure a place in the Chase. Johnson – who is second in points – has made every Chase since its inception in 2004. Only one other driver has qualified for every Chase: Matt Kenseth (No. 17 DEWALT Ford), currently 12th in points.
The battle to make the Chase is heating up just behind Kenseth.
A few drivers just outside the top 12 not only want to make the Chase, but are looking for their first trip to Victory Lane this season. Those just below the "Chase bubble" include:
Kyle Busch, 13th in points. Busch has one second-place finish (August 2008) at MIS.
Brian Vickers (No. 83 Red Bull Toyota), 14th in points. Vickers earned his first pole of the season at Michigan last summer and followed with a pole at Michigan in June. On the other hand, he has only had one top-five finish at the track, a fourth in June 2008.
Clint Bowyer (No. 33 Cheerios/Hamburger Helper Chevrolet), 15th in points. Bowyer's best finish at Michigan in seven NASCAR Sprint Cup Series races is his solo top-10 finish (10th in June 2009).
Michigan Sweep Should Help Carl Edwards Find Victory Lane
A third-place finish this past Monday at Watkins Glen International. …
A sixth-place spot in the series standings, as the Race to the Chase winds down. …
Now, as Carl Edwards (No. 99 AFLAC Ford) returns to Michigan International Speedway, there's a good chance he could finally nab his first win of the 2009 season.
After all, he's earned two NASCAR Sprint Cup Series wins at the track, in June 2007 and August 2008. He swept the August 2009 weekend with a win in the NASCAR Nationwide Series race in addition to the NASCAR Sprint Cup Series win.
This time last year, Edwards was on a tear – Michigan marked his fifth win of the season and the beginning of a three-win streak.
And this past June at MIS, Edwards finished fourth.
"It's a real special track," Edwards said. "That will be the five-year anniversary of my first Cup start – which blows my mind. I can't believe I've been doing this for five years. I'm very fortunate."
Mark Martin Aims for Back-To-Back Wins At 'Comfortable' Michigan
Returning to Michigan International Speedway, Mark Martin (No. 5 Kellogg's/CARQUEST Chevrolet) is going for back-to-back wins and what would be his fifth trip to Victory Lane at the track he calls "comfortable."




"I think about Michigan and I think: 'Ahhhhh, that will be fun'," Martin said. "It's always been a great race track, and our car ran really well up there for the first race."
Fuel mileage was Martin's best friend this past June when NASCAR Sprint Cup Series drivers took to the two-mile oval.
In the final two miles of the 400-mile race, Martin clinched his third win of the season as LifeLock 400 race leader Jimmie Johnson and second-place runner Greg Biffle (No. 16 3M/Scotch Tough Ford) ran out of gas.
"I can't believe we won this thing," Martin said at the time.
Martin now sits in 11th place in points with four poles, four wins, six top-5 finishes and 11 top-10 finishes.
Looking ahead one week, Mark Martin will make his 1,000th NASCAR national series start at Bristol Motor Speedway, joining only Richard Petty and Michael Waltrip as the only drivers with 1,000 national series starts.
Roush, Wood Brothers Have Rich Histories at Michigan – Thanks To Some Legendary Drivers
Folks can debate indefinitely that Michigan International Speedway is Jack Roush territory or Woods Brothers stomping ground – that's a given with both team owners chalking up 11 wins at the Brooklyn, Mich. 2-mile-oval.
And while both are worthy of the title of most winning team owner there, they had a little help from some talented drivers to get those record-setting wins. Here's a look at some facts about the current drivers and famed ones of the past that have helped bring team owners Jack Roush and the Woods Brothers to MIS's Victory Lane:
Cale Yarborough captured the track's inaugural checkered flag in 1969, earning the Wood Brothers the first of two wins there with him as driver.
David Pearson dominated the track in the 1970s, bringing the Wood Brothers to Victory Lane eight times between 1972 and 1978. Three of those wins came from the pole.
Pearson's last win at MIS for the Wood Brothers was the Champion Spark Plug 400 in 1978. The team then went through a winless 1980s. A first-winner – Dale Jarrett – broke the streak at the 1991 Champion Spark Plug 400.
Drivers in the Roush Fenway Racing stable to win at MIS? Mark Martin gave Roush his first NASCAR Sprint Cup Series Michigan checkered flag in 1993, and continued to bring home the wins two more times in 1997 and 1998. Kurt Busch (No. 2 Miller Lite Dodge) has given Roush a win, and Greg Biffle, Matt Kenseth and Carl Edwards each have earned two.
On the entry list for this week's CARFAX 400 at Michigan for the Wood Brothers will be Bill Elliott (No. 21 Motorcraft Ford). Two Roush Fenway drivers, Edwards and Biffle, will vie for a third win at MIS and their first wins of 2009.
Dale Earnhardt Jr. Return To Michigan Marks Site Of Last Win, 350th NASCAR Sprint Cup Series Start
Heading back to the track where he had his most recent win, Dale Earnhardt Jr. (No. 88 National Guard/AMP Energy Chevrolet) will mark his 350th NASCAR Sprint Cup Series start.
Earnhardt's first (and only) trip to Victory Lane at Michigan International Speedway came in June 2008, breaking a 76-race winless streak.
Here are some interesting firsts associated with the NASCAR Sprint Cup series six-time "Most Popular Driver."
Beyond Earnhardt's NASCAR Sprint Cup Series success, he was a back-to-back NASCAR Nationwide Series champion (1998 and 1999) who battled fiercely for the titles with rival Matt Kenseth. His first title in 1998 made him NASCAR's first third-generation champion coupled with his father Dale Earnhardt's record-tying seven NASCAR Sprint Cup titles and grandfather Ralph Earnhardt's 1956 NASCAR Sportsman Division title.
The site of his first NASCAR Nationwide Series victory – Texas – also was the track where he earned his first NASCAR Sprint Cup victory (April 2, 2000).
In 2000, he became the first rookie to win the NASCAR Sprint Cup All-Star Race. That same year, he came up only 42 points shy of winning the Raybestos Rookie of the Year title behind former NASCAR Nationwide series foe Kenseth.
First win of 2001 – and arguably the biggest win of his career – was the emotional July 2001 win at Daytona International Speedway, just under five months after the death of his father, following an accident in the Daytona 500.
He first earned the title of NASCAR's Most Popular Driver in 2003, marking the first time a father and son received the award (Dale Earnhardt won posthumously in 2001).
Loop Data: Jimmie Johnson May Have Stellar Statistics At Michigan, But Still Battles Bad Luck
Jimmie Johnson, with 43 career wins, has captured victory at 16 of the 22 active NASCAR Sprint Cup Series tracks.
Of the six tracks Johnson has yet to conquer, two are immediately on tap: Michigan and Bristol. Statistically speaking, Michigan seems the most likely to fall.
Though the actual finishes might not suggest a Johnson win, his performances certainly do. His June Michigan race might be the best example of his hard luck at Michigan.
In that race, Johnson battled for the win but ran out of gas in the closing laps – relegating him to a 22nd-place finish. But as is often times the case, the finish doesn't tell the entire story of a driver's race. That's where Loop Data comes in.
Johnson owned some of the race's top Loop Data statistics. He had a race-best Driver Rating of 131.2, a race-best Average Running Position of 1.6 and a race-high total of 91 Fastest Laps Run.
A similar trend occurred in last season's August Michigan race. Johnson finished 17th, but posted a strong Driver Rating of 97.8. In his 19th- place finish in June of 2007, he posted a 121.8. So it's little wonder that though Johnson has only two top fives in 15 races, he owns some of the best statistics in the series at Michigan. Mainly, it's been bad luck.
In the past nine races at Michigan (which have played to an average finish of 12.8 for Johnson), Johnson has a Driver Rating of 109.6 (second-best), an Average Running Position of 8.5 (third), a series-high 205 Fastest Laps Run and a Laps in the Top 15 percentage of 81.7 % (third). Though Michigan is on the list of Dale Earnhardt Jr. victories, a win this weekend would end a prolonged drought of another kind. Earnhardt has gone 43 NASCAR Sprint Cup races without a win, his last being in the 2008 June Michigan race.
The 2-mile track seems as good a place as any for Earnhardt to end the slide. He owns solid statistics there, including a Driver Rating of 99.3 (fifth), an Average Running Position of 10.9 (fourth), 99 Fastest Laps Run (fifth) and a Laps in the Top 15 percentage of 73.9% (sixth).
Michigan Natives Fill The Garage With Chase-Contending Talent
No. 24 team engineer Kevin Meendering (No. 24 car engineer) isn't the only NASCAR Sprint Cup Series crew member with a Chase-contending team to call Michigan home.
Other Michigan natives include:
Brad Keselowski (Rochester Hills) – No. 25 driver/GoDaddy.com Chevrolet.
Gary Frost (Romeo) – No. 31 mechanic
Bobby Clark (Wyandotte) – No. 18 mechanic
Eric Bilyeu (Waterford) – No. 42 front tire carrier
Bill Ferguson (White Lake) – No. 33 jack man
Andrew Turner (Coloma) – No. 39 jack man
Jake Brzozowki (Sterling Heights) – No. 82 rear tire carrier
Jonathan Billy (Detroit) – No. 83 rear tire changer
Up Next: Short-Track Action Under The Lights At Bristol Motor Speedway
Saturday nights are made for short-track action – and short-fuse tempers.
Last year's Sharpie 500 provided both as Kyle Busch led 415 of 500 laps only to get the "bump" from Carl Edwards who went on to win. Tempers flared afterwards, and Busch retaliated after the checkered flag with a bump of his own – on Edwards.
Going into next weekend's Sharpie 500, be sure to keep an eye on Edwards to go for his third consecutive Sharpie 500 win.
In other notes:
Busch didn't settle for second when he returned to Bristol Motor Speedway in March for the Food City 500. He dominated the race, leading 378 laps, to earn his second victory of the 2009 season.
Fastest qualifying record is held by Ryan Newman (No. 39 Stewart Haas Racing Chevrolet), who went 128.709 mph on March 21, 2003.
Chevrolet has the most wins at Bristol Motor Speedway with 41 (Ford is second with 23), and Darrell Waltrip still holds the record of most wins with 12, seven of which were consecutive.
Fast Facts
The Race: CARFAX 400
The Place: Michigan International Speedway (2-mile oval)
The Date: Sunday, Aug. 16
The Time: 2 p.m. ET
Race Distance: 400 miles/200 laps
TV: ESPN, 1 p.m. ET
Radio: MRN and Sirius Satellite; local affiliate WITL-FM 100.7
2008 Polesitter: Brian Vickers
2008 Winner: Carl Edwards
Schedule: (Times local ET) Friday—Practice, 12-1:30 p.m., Qualifying, 3:40 p.m. Saturday—Practice, 12:30-1:15 p.m., 1:50-2:50 p.m.
2009 Top 12 Drivers
Driver Points 1 Tony Stewart 3,383 2 Jimmie Johnson 3,123 3 Jeff Gordon 3,041 4 Kurt Busch 2,902 5 Denny Hamlin 2,847 6 Carl Edwards 2,830 7 Juan Pablo Montoya 2,781 8 Kasey Kahne 2,754 9 Ryan Newman 2,727 10 Greg Biffle 2,718 11 Mark Martin 2,716 12 Matt Kenseth 2,685