Nascar's Kyle Busch
September 13, 2009
It's a tough one... Kyle didn't make the Chase this year. A bitter-sweet moment for the Team as they watched Hamlin clinch a win for JGR. And Kyle did a great job finishing 5th.
Not to take anything away from Denny, I was hoping for the same Team result but I would switch the drivers having Kyle finish first. Although he didn't make the Chase, I'm sure we'll see some great racing from him in both the Sprint and Nationwide series this Fall.
There will be many more Chases where Kyle will be the star. For sure, for him, the best is yet to come. :-)
See you in New Hampshire!
---
September 8, 2009 1PM - Nascar Teleconference Media/Kyle Busch
DENISE MALOOF: Good afternoon, everyone. Welcome to this week's NASCAR teleconference in advance of the events at Richmond International Raceway. Those are significant. Saturday's Chevy Rock'n Roll 400 is the final event in the Race to the Chase, the 10-race stretch that precedes the Chase for the NASCAR Sprint Cup. Saturday's Richmond race is a cutoff event. Following it the top 12 drivers in the standings will compete for the NASCAR Sprint Cup Series title during the season's final 10 races.
Joining us today are two divers who are hoping they are in that group, Kyle Busch and Brian Vickers. They're among the 11 still eligible for eight remaining Chase spots. The top four drivers in the current standings, Tony Stewart, Jimmie Johnson, Jeff Gordon, and Denny Hamlin respectively are in.
We'll begin with Kyle, who drives the No. 18 M&M Toyota. He's 14th in the standings, 37 points behind Matt Kenseth.
Kyle, it's a simple to-do list this weekend, isn't it?
KYLE BUSCH: It pretty much is. We just go to Richmond with this weekend's task at hand, try to do the best we can. Ultimately win the race if we can or get the best possible finish and try to get the most points out of there in order to get ourselves into the Chase.
DENISE MALOOF: We'll now go to media questions for Kyle Busch.
Q. For the Chase to be a success, is it important for it to have the drivers with the most wins, like you and Mark Martin? Do you think the Chase has gotten past the point where it feels like you have to have the post popular driver in the sport, Dale Earnhardt, Jr., in there?
KYLE BUSCH: I think we've seen the past few years that there have been guys that have had a lot of wins, won races, not make the Chase. We've also seen Dale Earnhardt, Jr. miss it a couple times. He's made it a couple times, but he's missed it a couple times. I think you still have a successful season in the Chase, in the sport and the recognition it deserves if I'm not in it, in Mark Martin is not in it, if Dale Earnhardt, Jr. is not in it, it's still a success. You have great drivers like Tony Stewart, Jeff Gordon, Jimmie Johnson, Denny Hamlin who will be fighting for a championship, among others. It will still be a great fight down to the end.
Q. How do you handle the pressure of this? When you get in a racecar, that's usually when you're most at peace. How do you handle not overthinking this, pushing yourself into something, getting too aggressive? The pressure really is on.
KYLE BUSCH: Yeah, the pressure is on for sure. We just have to do what we need to do. It's not these two races, Atlanta or this race coming up at Richmond, that's what's going to put us in the Chase. It's more of the season that we've had that's kept us out of it.
We've struggled a little bit this year. We haven't been as good as we've needed to be. Unfortunately we're in this predicament. But last year we were one of the best cars all season long. We were solidly locked in within the Chase. Sometimes things change in a year.
But we're trying to get ourselves back in position to get ourselves a place this weekend, run strong, hard, and come out of Richmond with a good finish.
Q. Are you afraid if you change anything that would maybe switch things around or do something that would hurt your effort?
KYLE BUSCH: Yeah, possibly. I mean, I don't think there's anything we can change. We just go every week to try to run the best we can and try to ultimately contend for the win if possible or just get the best finish that we can get.
Unfortunately we haven't had some of the best cars this year. I haven't done some of the best driving I've needed to do this year. But we're trying to get back on par with the way we need to do things. If this weekend is a success, we win the race, still don't make the Chase, we did all we could.
Q. Do you think victories should be weighted more? You could finish the season with more victories than anyone except Mark Martin and not get in. Should there be an exemption for guys who have won the most races? You seem to be a driver that people love to dislike. Does that bother you? Do you feel misunderstood? Do people not know you?
KYLE BUSCH: I think, you know, the first question, I really don't know how you can give more points for a win or make sure that those guys are in the Race to the Chase or whatever. Unfortunately, that's the way the sport goes sometimes. You got to be consistent in order to make it in. If you're not consistent, if you just can go out there and win races, who is to say that a guy that can win five races and have the most wins out of the year, but yet he sits 10 races out, he picks his five best tracks, wins at those places, he's guaranteed a spot in the Chase. It won't really work.
I don't know. As far as being the most disliked driver, I feel like I've got a lot of fans out there that do like who I am and how I drive. I do have a good, strong following. There's, of course, the legion of fans that may not like me for what I say on TV, for what I do on the racetrack or whatever sometimes. But that's a part of the sport. You can't please 'em all. Dale Earnhardt certainly didn't do it. Darrel Waltrip, Rusty Wallace didn't do it. Jeff Gordon right now can't do it. Even Jimmie Johnson, who is probably one of the best drivers on the racetrack as well as off the racetrack, knowing how to handle difficult situations, he gets boos, too. You're not going to be able to please the whole legion of everybody.
Q. Would you have imagined yourself in this position last year, sitting on the bubble? Do you kind of look at it as every season being different?
KYLE BUSCH: Every season's different, that's for sure. This season, the way it's gone, has kind of been a struggle. But, you know, a lot of people picked us to be the champions this year because of the year we had last year. We fell off in the Chase a little bit.
But for some reason we just haven't been able to hit our stride. We need to get back to being able to be consistent week in and week out. Even during a race, being consistent.
This past weekend at Atlanta, we were really, really good the first four runs of the race, and then we kept getting looser and looser all night. I kept falling back a little bit. At the end of the race we got tight. We just couldn't keep up with the racetrack the way we needed to do. It didn't work out for us.
Q. There's been some frustration from you during races about what the 11 is possibly doing better than you guys. Do you have any feel for that? Do you and Denny work well together or share information, try to get you two doing the same thing?
KYLE BUSCH: Yeah, it's kind of a struggle a little bit because it seems like whenever Denny finds something that he can really run well with, and we try to put it in my car, I can't drive it. I'm not very good at being able to put in what Denny can put in his car and run well with it.
So Denny and I talk. We share information all the time. Our teams work real closely together. All the Gibbs teams do, as a matter of fact. We were pulling Logano in there and using his notes, now that he's getting to the tracks a second time, stuff like that. It's hard because these cars are so temperamental, trying to find the right setup and the right thing that works is hard to do.
But we do talk and we do try to share information as much as possible.
Q. A lot of teammates say that, particularly the Hendrick guys, Dale Jr. can't drive a car the way that Jeff does. If something works for one guy, why doesn't it work for another?
KYLE BUSCH: It's just the way that drivers are. It's the way that a driver enters the corner, which is different than the next guy. All of us have different driving styles. There's not one driver out there that has the same driving style as another. Everybody is different.
That's the thing, 'cause sometimes when we go to test, Denny and myself, I've pushed myself to drive more like him, and I've become a little bit better at learning the ways that he does drive his car, so it helps me sometimes. While we're in a race, I can go back and think to that, try the things I know Denny is doing. It seems to help sometimes. It's hard to carry that every single lap because it's not the way you were brought up driving or the way you drive your cars. You're trying to pick up somebody else's traits. Sometimes it's good, sometimes it's bad. If you can get a car that drives really, really good, that fits you, then ultimately that's who wins every week.
Q. As you look back on the season, is there one particular race where you might say you really wish you had another shot at that one, where you had a great car, didn't get everything out of it you needed to?
KYLE BUSCH: Uhm, that's a good question. I haven't thought of that really. I'm trying to think. I mean, I know Infineon was a track that I missed out on. We fell back I don't even know how many times through the field the last couple cautions that came out, then we raced our way back up through there, but still ended up finishing like 23rd or something like that or 25th maybe.
When you look at it, I mean, the Daytona 500, I wish I had that one back, for sure. We ran 41st, getting in a wreck with the 88 and the 83 there. Unfortunately, you know, that was probably the biggest race that I'd love to have back.
Another one would be Chicago. Just to try to figure out what went wrong there. We know we lost some spring rubbers during the race. If I could have maybe felt that or if I could have maybe communicated that something different was within the car that maybe we could have got a better finish out of there, too.
Q. How do you like your chances at El Dora tomorrow?
KYLE BUSCH: I don't like 'em. It's supposed to rain. I don't think anybody is going to have a very good race if we're going to be raining. If it's dry, I'm looking forward to it. Looking forward to driving Bloomquist's car. I drove one of his chassis owned by Rick Eckart (phonetic), driven by Rick up in Kasey Kahne's foundation, ran second up there. So that was fun. To get my feet wet back on the dirt again was definitely cool. I'm looking forward to going up there tomorrow.
Q. A couple weeks ago after Bristol you said your target numbers with 3160. That would be 14th place this week if you don't lead a lap. Is that still your target or have you had to adjust that at all?
KYLE BUSCH: I mean, I still think that's a pretty good target. It's going to be tough, though, because not only do we have to beat the 83, but we also got to beat the 17. We need those guys to finish worse than 25th or something like that.
I mean, it's going to be hard. It's definitely not going to be easy. All we can do is do the best we can do. If we win the race or if we win top 10 or even 14th, we did all we could do. That's all we're gonna have. It's not going to be Richmond that keeps us out; it's going to be the rest of the year that we've had our struggles that's going to be what kept us from being in the Chase.
Q. Everybody around that bubble spot is going to have a little bit different strategy in this race. Can you describe your strategy and how it may change during the race.
KYLE BUSCH: Yeah, I mean, our strategy is just going to be the same as it's been the whole year. We just go out there and try to run the best we can. Fortunately we won the Richmond race in the spring there, so we feel like we can go back there and do well there. I'd run there about every time I've been there.
If we have another good, solid run, like a top-10, a top-five run, we really don't need to change anything. During the race, we'll have to do everything we can to try to win the race. If there's gonna be, like last time, there was a caution with 50 to go, some people in the back came in and put tires on and raced their way up through there. Fortunately the race went green the rest of the way, where I had enough of a lead where I didn't have to race any of those guys.
If something like that comes around this time again, we'll have to see where we're at in the running order, how many laps to go, see if we need to make a pit stop to get ourselves the finish we need or if we just stay out. It all just boils down to how the race is looking.
Q. Do you keep an eye on the guys around the bubble spot?
KYLE BUSCH: There's nothing you can do. You can't change what they're doing. You can't make race calls for those guys and tell them that they need to pit or whatever. There's really no point in going through that frustration and trying to figure out where those guys are. You just see what it boils down to at the end of the day.
Q. Sunday night at Atlanta, last 11 laps after the restart, you made up five spots. 15 points. That restart from that point on, was that desperation, controlled desperation, or just typical run at the end of the race?
KYLE BUSCH: It was just typical go as hard as you can go. You know you didn't have to save tires for the long run, 11 laps to go. It was basically all or nothing those last laps.
Unfortunately there, when we took the green and we were racing down into turn one, some guys got jumbled up. I was going to go to the high side but a car pulled up in front of me and broke my momentum so that sort of hurt a little bit of my run towards the front. Then we had been fighting tight, real bad tight the previous run before that. We made some adjustments there on pit road for that to try to free up the car.
It helped a little bit, but I still got a little bit tight towards the end of that race so I wasn't able to make up the ground I was hoping to. I was hoping to finish ninth. I think we had a car that was capable of getting back to seventh, eighth or ninth. If we could have got up there, then I would have been much happier with that than where we ended up in 13th.
Q. If you make the Chase this weekend, what makes your team a title contender?
KYLE BUSCH: That's a good point. Like I said, we've struggled this year some places and sometimes it's been me, sometimes it's been the car, sometimes it's been both not being able to hit it. I hope that we can be serious title contenders. We ran well at Loudon earlier this year. I don't remember where we finished there. I think we were like seventh or something like that.
But, you know, we feel like we can run well there. We've always had good cars at Dover. Unfortunately earlier this year we had a bump stop failure that put me back to 23rd. Then we go to Kansas, where we were running well last year until we had fuel issues. Talladega is in there. California, we really like that place. There's some good tracks for us in the Chase that we can really well run well at and shine.
As far as being championship contenders, the only thing that we can really do is just try to run as consistent as possible. I don't foresee us being the guy that's going to finish first, second or third every single race like you can count on the 14 or the 24 or the 48 on doing. We're more of the guy that's going to be maybe third here but then we might be seventh, eighth, ninth here or 11th or 12th there. If that's good enough to win a championship, then certainly we'll be championship contenders, otherwise we'll just be chasers.
Q. The Truck Series, can you imagine yourself competing and leading a series at age 51 as Ron Hornaday is?
KYLE BUSCH: Yeah, possibly. I thought the standalone event at Chicago was kind of fun. There was a lot of people there. The garage area was kind of calm. It was weird to be in just in the Truck Series garage for the whole weekend. Normally I'm runningback and forth between Truck, Nationwide, Cup, all that stuff.
I feel like the Truck Series is a little bit more laid back. Hornaday likes it there. He's got a good home there at KHI, they're running really well. If I had the opportunity when I was 51 years old, I'd love to do it.
Q. Are you impressed by what he's done?
KYLE BUSCH: For sure. This year definitely they've really stepped up their game. Even though they may not have needed to step up their game, they did. They won five or six races in a row, whatever they did, I don't remember. Rick is a smart individual. Ron is a good driver. KHI is a good organization, a good company to work for. DeLana and Kevin have done a good job there, given a lot of people a start in racing or have carried on their racing résumé. It's cool to see them guys running well. I love the Truck Series. It would probably be something for me to go back and do when I got up there in age.
Q. You're having another great season in Nationwide. Given your position on the bubble, are you going to go back and maybe rethink all the racing you've been doing the last two years? Perhaps it's cutting into your Cup program.
KYLE BUSCH: I mean, the only thing it's really cutting into my Cup program is me being able to spend time with Addington at the racetrack without having to run back and forth between the garages and stuff like that. That's just the biggest part of it. The racing on the racetrack really isn't that big a deal. I don't get tired. So it's not that.
I actually feel like I learn a lot of things when I'm out there racing on the racetrack every day.
It's just not being able to spend time in the shop as much with the guys, spend as much time with Steve trying to discuss things.
But Joe Gibbs Racing is a smart organization. They're great at what they do. They build awesome racecars. We just need to get a little bit better sometimes at some racetracks that we go to and making calls during the race and stuff that we can actually keep going forward. Sometimes I feel like we make good calls and we think about it, it's like it sounds good, but it doesn't work. We need to figure out why things aren't working.
We work as hard as we can at trying to make everything better. I don't think it's my racing that is what has caused us to be where we're at.
Q. Do you find yourself more at ease in the Nationwide car, does it suit your style more?
KYLE BUSCH: Yeah, I love the Nationwide cars. They're fun. They're a blast to drive. They don't have as much horsepower, which I don't like. I wish they still had the open motors. They have a tapered spacer that restricts horsepower. I wish they were still open. The downforce of the cars, the way they drive, the way the chassis are, it's all really cool. It's kind of the way I've grown up in racing, being able to get the most grip out of a racecar. These COTs, you try to do the same thing, but it's so hard to find any. We do all we can every week. But the Nationwide stuff just seems to fit more to my driving style for whatever reason. I love those cars and can really hustle them and drive them through the corner.
Q. You talked about inconsistency in racetracks, inconsistency in the calls that go on throughout the race. If there's somebody possibly you've worked with in the Nationwide or Truck Series that is attune to giving calls or making decisions during the race that might better suit your style, strategize with Addington on race day?
KYLE BUSCH: We have our engineer who is up there. It's not just Steve that's up there. We have Chris Gale, our team engineer, for the last two years. Has been with Steve since Steve was the crew chief there. We've had another guy that's come in these past couple weeks from JGR working behind the scenes more as an engineer. He's been on the box, too. We've had some guys that we've been trying to get better with, trying to understand the car more, why the changes go the way that they go. We're trying to understand it exactly.
But I've had some of the same things in the Truck Series. I'll make a call to Richie or whatever to change this or change that, and it either won't work as much as I expected or it doesn't do at all what I thought it would. The same goes to be said with the crew chief calls. They'll make calls. I'll agree with it. It won't work.
It happens in Trucks, it happens in Nationwide. Seems like it happens more in Cup because of this car. It's so hard to get a handle on this car. I have the utmost respect for Steve and the guys he chooses to put up on the box with him. I feel like those guys are the best guys I can work with. It's just maybe us getting a little bit better at something, whether it's communication or whether it's spending more time at the shop figuring things out or answering more questions. Sometimes when you try to answer more questions, you come up with more questions, so it's hard.
Q. Is there anyplace you'd rather go this weekend than Richmond?
KYLE BUSCH: Bristol. Bristol or Richmond, that's about it. Those seem to be our places that we can really run strong at. Charlotte is another one. At least it's not a place like Pocono or somewhere that I might struggle pretty bad, the Brickyard or something like that.
I feel good about it. I'm excited about our chances. I feel like we can go out there and try to win another one. That's all we can do to put ourselves in the Chase.
DENISE MALOOF: Kyle, thanks very much for joining us today. We appreciate your time. Good luck this weekend.
KYLE BUSCH: Appreciate it, no problem. Thanks, everybody. See you this weekend.



September 3, 2009
I'm just catching up to this week's 'Kyle' news. Not much really. I hope he's forgotten about Montreal. :-)
If you read the stats, or have seen him race in Atlanta, you know it's not the best track for him. However, he has won there and, he really needs to finish well there this week. He needs it for a chance in the Chase.
Good luck Kyle. Make me some Nascar Fantasy points. :-)
---
Race winner Kyle Busch treats the fans to a burnout on the frontstretch after being the first winner at Chicagoland Speedway in the NASCAR Camping World Truck Series. Busch now has wins in all three of NASCAR's national series at Auto Club Speedway, Bristol Motor Speedway, Dover International Speedway, Phoenix International Raceway and now Chicagoland Speedway. (Photo Credit: Donald Miralle/Getty Images)
August 28, 2009
He did it and he got to kiss the bricks. :-)
Kyle did post on his facebook that he planned on kissing the bricks in Chicago yesterday. Great race and good job Kyle! Now back on that plane and next stop Montreal's Nationwide.---
JOLIET, Ill. -- Kyle Busch won his second straight race in the NASCAR Camping World Truck Series, passing Todd Bodine with 19 laps remaining to take the inaugural EnjoyIllinois.com 225 on Friday at Chicagoland Speedway.
It was Busch's fourth win of the season in 10 starts in the Billy Ballew Motorsports Toyota. Busch also made Chicagoland the fifth track in which he has won a race in each of NASCAR's three national series. He won the NASCAR Sprint Cup and Nationwide Series races there last season.
"It was a fun night," Busch said. "My parents are from just outside Chicago and my girlfriend is from just over the border in Indiana, and it was cool to come back and win before the home folks in the Midwest."
Busch also has won in all three national series at Phoenix, the Auto Club Speedway in California, Dover and Bristol.
"It's definitely an accomplishment," Busch said. "I'd love to get some more."
Bodine finished second, .580 seconds behind. It was his first top five in the last six races.
"Second is pretty good after the last two months," Bodine said. "We'll take it."
Bodine took the lead on Lap 98 of 150 when Busch made his final pit stops for tires and fuel, on consecutive laps. Busch was fifth for the restart with 50 laps remaining.
Bodine then pulled out to a commanding lead. Busch steadily climbed and passed Timothy Peters for second just before a caution came out on Lap 122.
"Bodine had the race won until that caution came out," Busch said.
Busch wasn't able to overtake Bodine on the next restart, but there was another caution three laps later. The restart was on Lap 132, calling for it to be single-file. It left the bottom of the 1.5-mile track open for Busch.
"I got too good a restart," Bodine said. "This place is so much like Daytona and Talladega and he was able to get a draft on me and drafted past me."
Busch stuck to the bottom through Turns 1 and 2 and passed Bodine going into Turn 3.
"I didn't have that good a restart, but I got through (Turns) 1 and 2 really good," Busch said. "I pulled low on the back straight and alongside to break his momentum a little bit. He gave me room going into Turn 3, raced me clean. If he hadn't, it could have gotten ugly."
Colin Braun was third, followed by Rick Crawford and Johnny Sauter.
Points leader Ron Hornaday Jr. finished 11th, but still gained points on second-place driver Matt Crafton, who finished 14th. Hornaday leads Crafton by 220 points with nine races remaining. Mike Skinner ran 13th and is 316 points back in third.
Hornaday and Crafton were trapped a lap down just past the halfway point. Busch, Bodine, Braun and several others pitted on Lap 22, and a 62-lap green flag run forced Hornaday and Crafton to pit twice under green. A caution on Lap 97 put those two a lap down. Hornaday didn't get back on the lead lap until the final caution that fell on Lap 139.
August 24, 2009
Bravo Kyle! Il gagne à Bristol.
Kudos to Kyle for his great win at Bristol. What a race and just in time. Will he make the Chase? I bet he will and he'll give the other chasers a real run for the money this year.
The race in Tennessee was sold out for awhile and fans were ready for great racing. You can never figure out what's louder, the cheering or the engines. Bristol Rocks!
And so does Mark Martin, who had his 1000th race. He gave Kyle a run for it at the very end but nothing could keep Rowdy Man Busch from taking the checkered flag. He worked hard all weekend and deserved the win.
Bristol is one of those tracks, only the best can win let alone lead the last 68 laps to do it.
It will be exciting here in Montreal this week. If you have some time off, Friday would be a great day to take yourself down to the magical Island, Circuit Gilles Villeneuve.
Nascar rocks and so does Kyle Busch!
Kyle Busch celebrates winning the Sharpie 500, completing the season sweep at Bristol Motor Speedway. (Photo Credit: John Harrelson/Getty Images)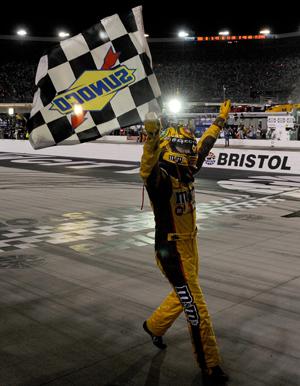 August 17, 2009
DAYTONA BEACH, Fla. (Aug. 17, 2009) – Currently 15th in the NASCAR Sprint Cup Series standings, Kyle Busch is at his lowest points position since the second race of the season.
Things went south for Busch at Chicagoland Speedway, where a 33rd-place finish knocked him from eighth in the standings to 10th.
A 38th-place run the following week booted Busch from the top 12 altogether – and he has yet to return.
But it was at Chicagoland where the tailspin began. The difference pre- and post-Chicagoland is statistically eye-opening.
In the season's first 18 races, Busch had an average finish of 16.1, a Driver Rating of 103.1, an Average Running Position of 11.1, 253 Fastest Laps Run, a Pass Differential (passes minus times passed) of plus-50 and 809 laps led.
Since then, his stats have fallen dramatically. In the last five races – where he has fallen from eighth in the points to 15th – Busch has an average finish of 22.8, a Driver Rating of 81.3, an Average Running Position of 17.9, eight Fastest Laps Run, a Pass Differential of negative-3 and 15 laps led.
But Busch need not panic. History is on his side.
He is now 70 points outside the Chase for the NASCAR Sprint Cup cutoff with three races remaining. In 2005, Matt Kenseth was 104 points outside with three races remaining and made the Chase – and it was only a 10-driver field.
Also, Busch is strong at the remaining three tracks (Bristol, Atlanta, Richmond). At those three tracks, he has four wins, 13 top fives, 15 tops 10s, an average finish of 12.1 and a Driver Rating of 101.6.
August 16, 2009
Well, where do I begin. lol
Kyle was having a hell of a race in the Nationwide and the only thing they have found to write about is his frustration and the 'story' that he gave Vickers a piece of his mind when the race was over. Hmmm, and he did call him stupid during a post-race interview? He may have mentioned what he did was stupid. Nothing personal. :-)
The only important thing for Kyle to remember is he potentially is the best right now in Nascar. Superman is still around reminding the still-young-gun that time brings experience, patience, and the realisation that good attention is always better than bad even if it means no attention at all.
May you keep racing the Nationwide and may your Sprint Cup win be only days away. :-)
Kudos to Vickers.
August 8, 2009
Ouch! Number 2 again for Kyle.
It was a great Nationwide race yesterday at the Glen. I thought that Kyle finally had this one in the bag but with 17 laps to go, Ambrose makes a gutsy move and I think Kyle was off guard for a nano-second.



It just wasn't the spot where he thought Ambrose would make his move. Luckily Kyle is a more disciplined racer this year and reacted immediately. He made a full stop(for missing the bus stop) which put him third for a few laps but he just couldn't take back the lead on the last restart.
Don't you just love the double-file restarts! A great race and today's should be even better. I'm really hoping Kyle wins to put a stop to the nonsense of limiting his Nationwide participation next year.
Understandably, his Sprint sponsors feel perhaps Kyle would have better results if he concentrated on the Mother series. At a certain point, what's good for the goose is good for the gander. His performances in the Nationwide keep him the most popular driver. Hey! It ain't easy dethroning Dale. lol
Kyle still leads the Nationwide Series but my Carl is only 207 points behind. Super-rookie Keselowski is a close third. Brad is really starting to remind me of a young superman.
Lally and Perez raced in the American Nascar series for their first time. The road races are exciting and there's always a need for road-racing experts. They attract great racers from around the globe now.
As always, the Said Heads were out in droves. Was great to see. Boris is a fantastic ambassador for road-circuit Nascar racing. As is Ron Fellows.
Best of luck today to Canadians Carpentier and Fellows. The best has yet to make his appearance but like I always say, the best is yet to come.
And, he's coming soon. :-)
August 1, 2009
Yes JVistes, you read right. :-)
Nascar has had a few great ones who started out as wild younguns. Kyle Busch is Nascar's current bad boy. The Wild Child rookie is now a Rowdy young man but mostly, he's a brilliant racer.
He always drives to win the race. Finishing second for the 7th time in a row(btw, he made history) in the Nationwide race in Iowa yesterday keeps him in the lead. Most racers would be more than satisfied with such results.
Not Kyle. At least not yesterday immediately following the race. A brief interview and it was clear he didn't need to verbalize his frustration with finishing second again, and again.
He wanted to win and in his mind, 2nd was not a consolation.
And that's exactly why Canadians love Kyle Bush. And it's also why we dedicate a spot for him on jvistes.net.
It's obvious he's growing up and really trying to follow the 'rules' but Nascar will never change his Champion spirit. Like Jacques Villeneuve, yes, he often causes or is involved in a crash but it was the only way to go for that better position up front. Spotters have a hard job with racers like them.
Eat my rubber so to speak. Forgiveness always beats permission. lol
For anyone who follows Nascar, there have been bad boys before Kyle and they'll be others eventually. But, for now, Kyle is #1.He's good for Nascar and when he's bad, he's very very good. :-)
Best of luck today Kyle at Pocono. You're my pick this week for the Sprint race. You are overdue. Show them sponsors what you're made of. Give them a win and plead your case to remain in all 3 major Nascar series. May today be the beginning of a long winning streak(but don't mess with my Carl :-))
And, as with our own JV, for Kyle Busch, the best is yet to come.
Future Nascar Sprint & Nationwide Champion(probably a few times over, watch out Jimmie & Jeff), and a future Kyle Busch Racing Team of his own. Jacques would fit right in. :-)
Dream big JVistes and enjoy the Sprint Cup race in Pocono today.
Oh, and before I go... Goodyear says the rain tires are ready. :-)