Jacques Villeneuve - Time to sign on the dotted line...


Nov. 24, 2008
It's a cold grey day here and we're hoping for snow. Christmas is just around the corner and 'tis the season to be jolly so it's high time we see JV celebrate this one with us. :-)
Within the next week, Jacques is finalizing some legal issues. And then, he's all ours again. lol
This will be something different and I'm looking forward to the launch of JVWAP once 'business' is out of the way. The people that work with Jacques, are excited and very anxious for what's about to come.
Stay tuned JVistes, Santa will be coming early this year.


Nascar Media
DAYTONA BEACH, Fla. (Nov. 14, 2008) – In an effort to help teams manage costs, NASCAR is suspending testing for its three national and two regional racing series for the 2009 season.
Testing for the NASCAR Sprint Cup Series, the NASCAR Nationwide Series, the NASCAR Camping World Truck Series, as well as the NASCAR Camping World East and West Regional Touring Series at tracks hosting any of those events are included in the 2009 policy.
NASCAR reached this decision following several months of discussion with the teams regarding testing, coupled with the current economic conditions. The suspension of testing should save the industry millions of dollars.
"This is a significant move during an unusual time for all of us," said NASCAR President Mike Helton in making the announcement. "NASCAR has routinely adjusted its test policy over the years to reflect current conditions. This is another example of that."
---
Times are tough... and it's time for the tough to get going on their sponsorship for 2009. :-)
Enjoy the last weekend of Nascar National Series' races.
Go Jimmie and go Carl. :-)


Le Retour de JV sur le circuit Gilles Villeneuve
On est lundi, le 28 juillet et on se prépare pour la Napa Auto Parts 200 de Dodge içi à Montréal. Les billets presque touts vendues surement grâce à la participation de JV mais surtout parce qu'il y a beaucoup de fans Nascar au Québec et le reste du Canada.
Je crois que cette 2ième course Nascar Nationwide sera parmit une favorite pour des années à venir. Une super bonne façon de promovoir toutes les séries Nascar chez nous. Mr. France!, un Sprint Cup Canadien dans le proche avenir? :-)
Avec la participation de Carl Edwards, Clint Bowyer, et plusieurs autres grands courseurs Nascar, seront de la partie. Villeneuve a du travail devant lui. Go JV Go!
Il fera beau et chaud vendredi et samedi et on aura le privilège d'y être... le jvissme a son meilleur. On vous tient au courant les amis.
Bonne course Napa 200 les JVistes!
Gentelmen, start your engines!

Circuit Gilles Villeneuve - Nascar Nationwide Napa 200

---


Jacques Villeneuve travail tres fort pour une longue carriere Nascar
Pas de nouvelles... Bonne Nouvelles?
Ce qu'on sait:
- JV engage BG(Barry Green)
- Bronfman est souvent chez lui a Westmount lol
- BDR toujours interessé si JV reviens avec $$$
- Ganassi ou Red Bull? Et GEM? On veut des nouvelles!
- Sera a Montreal pour la course Nationwide cette été mais pas de confirmation encore. Pat est confirmé pour la #9 avec le sponsor Subway pour Montreal.
- Jacques planifie une tres longue carriere en Nascar
- Toyota prend la Nascar tres au serieux. Il veulent des bon resultats en 2008 et les equipes s'entraident.

Alors, quand tu mets, JV/BG/Bronfman ensemble a discuter d'affaires:
- seulement du positif
- Bronfman la meilleur connection pour un Sponsorship Canadien d'une compagnie qui a un marche Americain.
- BG, veut autant connaitre Nascar que Jacques
- BG comprend bien le marche Americain

Et, que des rumeurs:

- chance chez Red Bull comme remplacement Allmendinger
- chance eventuelle avec GEM(si Pat ne fait pas l'affaire)
- coursera pas en Sprint 08 sauf a Montreal

Mais, d'ici 2 semaines, il va falloir annoncer les plan BDR pour la #27. En attendant, je preferes Skinner a Benson comme remplacement mais les dernieres nouvelles confirment qu'Allmendinger est remplace a Atlanta par Skinner. Benson prend la releve dans la #27 cette semaine.

Le temps avance et, pas de nouvelles bonne nouvelles? :-)



Feb. 26
Les nouvelles confirment que Bill Davis est ouvert, qu'il n'y a rien de certain encore pour la #27, et meme Skinner et Benson ne savent pas les plans BDR pour cette voiture dans la serie Sprint 08.
On vit au jour le jour...
Alors, comme Jacques, nous esperons le voir a Montreal dans la course Nationwide(a confirmer) et peut etre meme autre courses Sprint... En 2008 on ce prepare pour 2009 et une tres longue carriere Nascar.
Barry Green de retour avec Jacques. Des bonne nouvelles et bonne chance a vous deux.
Toyota veut continuer si possible avec Jacques. Slugger est perdue sans son partner. Bill Davis aime Jacques mais il porte aussi un chapeau de patron d'equipe, quoi faire?? Et nous, les JVistes de ce monde, on attend avec impatience le retour de JV dans une course Nascar en 2008.
Jacques, start my engine! ;-)


---


Jan. 27, 2008
From gossip to predictions to reality...
Jacques will be back on the track tomorrow testing round 2 in Vegas.
Let's focus on the fundamental reason we love JV and just enjoy his time in the #27 this week.
First it's Vegas and then California. A long way from home and this time, he's alone. He won't be toting a super-agent.
Jacques the bossman has his own bossman to please now because that's just the way it is. All drivers work for teams of course but mostly, Nascar itself has final say. A self-governing, managing, spinning, big business wheel that runs as smooth as a big block motor on Nytrol fuel.
Villeneuve will be fine. Craig will be fine. It's much ado about nothing. :-)
Best of luck Jacques and thanks Craig for everything... let me drive you to the airport. There's something I want to talk about. lol
Jacques Villeneuve really is the rookie from Canada now and as the very entertaining little miss sunshine would say, it's time to "Shut up and drive!".


Prediction: JV is interested in Nascar Team ownership... That's all I need to say right now :-)


Craig Pollock negotiating for Jacques Villeneuve Nascar Ownership
Craig is busy as usual, representing Jacques Villeneuve Nascar interests in Team ownership. I'm optimistic things will turn out okay and any rumor is good news. As long as there's Jacques' Talk, there's building interest. :-)
A few blogs(non-official) news claim Jacques said it wasn't true. Yeah Right! Jacques the business man wants nothing to do with Nascar ownership.
Great article:

Craig explains to AutoSport.com...

Mayfield is being replaced in Atlanta but it won't be Jacques Villeneuve.
Bill Davis Racing has confirmed that they will soon announce Mayfield's replacement for Atlanta but it's not Jacques Villeneuve.

Mayfield's replacement for end of 2007 not JV


Let Jacques finish up in Martinsville and then we'll shop-talk
Well the rumors are really rolling in French media, an industry that exists for itself. Most involved have never been to any type of autoracing event. They watch it on film and comment from their news desks.
They pick up off the international and local newswires and add their own spin.
Yes, Jacques wants ownership in Nascar. Yes he wants to race and win. Yes Craig is talking to Bill Davis but Jacques did spend a few days here at home in Montreal before leaving for Martinsville. His mind was on his family and some R & R.
He spent his time with lovely wife and son. Installed a few new toys for both Dad and Jules. Unpacked a few more personal things. Caught up with buddies at Newtown and then off he went to board his chartered flight.
Let the guy race, let negotiations happen without spinning rumors. It will happen. :-)


Jacques Villeneuve will be watching the Cup race from the Tower
Jacques Villeneuve will be watching the upcoming Cup race from the best seat in the house. :-)
This guy is amazing! He'll be a Nascar Master by the end of this season and ready to win for HIS team in 2008.
Read full article:

Jacques Villeneuve will be watching race from the Tower


Jacques Villeneuve racing and more testing for Bill Davis Racing
October 17, 2007
GEM wraps up testing at the Gateway. For full article which also mentions Jacques testing there soon, is available at GatewaySpeedway.com.

GEM wraps up and BDR yet to test Jacques at Gateway


---
Latest News from GatewayRaceway.com, Oct. 16, 2007
October 15, 2007
MADISON, Ill. - Due to a Goodyear Tire test at Lowe's Motor Speedway, Jacques Villeneuve and Dave Blaney of Bill Davis Racing have rescheduled their Tuesday test session at Gateway International Raceway for a future date.
Defending NASCAR Nextel Cup Series Champion and 2006 Daytona 500 winner Jimmie Johnson is still confirmed for Tuesday and Wednesday here and GIR's Select-A-Seat event is still on for those two days as well. Kasey Kahne and Elliott Sadler of Gillet-Evernham Motorsports and Clint Bowyer of Richard Childress Racing are still scheduled for testing here Wednesday.
Continue to monitor GatewayRaceway.com for further announcements.
Hmmmmmm, sure Goodyear Tire issue... sounds like other things are taking priority. :-)

Gateway Raceway News


---
Oct. 12, 2007
Now, this is a rumor you like to read about!
When we all first heard the rumor about Jacques Villeneuve in Nascar, we all thought he was buying his own team...
Well, today on Fox Sports, they have announced discussions of co-ownership between BDR and JV. Yes!
Full article available through the link below:
---
12 oct. 2007
Ca c'est des nouvelles super!
Fox Sports ont announce qu'il y avait des discussions entre Bill Davis et Jacques Villeneuve. Jacques co-proprietaire d'une equipe Nascar. BDR + JV. :-)
Article complete:
Jacques Villeneuve discussions with Bill Davis... Team Owner & Racer?


---
October 10, 2007
Jacques Villeneuve and Blaney confirmed to test for BDR Cot at the Gateway, next Tuesday Oct. 16 & 17.
Bill Davis Racing is hopeful that with this testing, Jacques would be more than ready to enter another Cup race before season's end.
The Teams have 13 days to confirm entries to races so we know any news of another race would be announced soon after testing at the Gateway.
--- Le 10 octobre 2007.
Jacques Villeneuve et Blaney seront au Gateway le 16 et 17 octobre pour des essaies CoT.
BDR aimerait bien une autre course dans la serie Cup pour Jacques.
Les Equipes ont 13 jours pour confirmer la participation d'un(e) courseur/automobile... Et bien sur, dans le cas a JV, la permission de l'organisation Nextel Cup Series.
On aura des nouvelles surement la fin de la semaine prochaine si pas avant.
Gateway Baby!
------- Oct. 3, 2007
Jacques Villeneuve and BDR team mate Blaney are scheduled for some testing at the Gateway on Oct. 16.
Bill Davis Racing is really moving forward now trying to move up the Nascar Team ranks.
Go BDR!
le 3 octobre 2007
Jacques Villeneuve et son co-equipier Blaney sont schedule pour des essaies au Gateway le 16 octobre.
Bill Davis Racing travail fort avec les nouveaux prospects qu'ils ont maintenant pour retrouver leurs forces en Nascar.
Go BDR!
--- September 10, 2007
Jacques Villeneuve Talladega time in comparison with the good ole boys:
Bobby Labonte Dodge 52.061 183.938 59 99A
Carl Edwards Ford 52.192 183.476 60 09A
Sterling Marlin Chevy 52.370 182.853 61 21A
Ken Schrader Ford 52.659 181.849 62 27
Jacques Villeneuve Toyota 59.605 160.658 ...
Way to go Jacques! For someone's first time in the 'pack' that's pretty darn good. Just a question of time and confidence...
---
Sept 2007
It's official, Jacques Villeneuve is part of the Bill Davis Racing Team. He'll be driving the new #27, symbolic to his Dad Gille's #27 in F1.
Finally! JV's testing with Bill Davis Team in Truck series and CoT(in Kentucky as I write this). And, he'll be on the roster for the last 7 races this season. Enough to win rookie of the year? lol
I predicted great things for Toyota in all the racing series. Will Jacques be their #1 driver next year in Nextel series?
Or, is he leaving ALL his options open.
And, it opens the door to any Team interested in JV racing for them. i.e., Red Bull or my Fav Mr. Gillett's new baby > GEM.
Great article about Jacques Villeneuve in Nascar on our blog page(left hand navbar button JV Blog). Jacques Villeneuve Testing in Truck Series for Davis
---
August 23, 2007
Jacques Villeneuve testing Monday for Bill Davis Racing Nascar Truck series in Chicago.
Go JV Go! Nascar here he comes!
Personally, I like Toyota but the Team he's testing for would not have been my first choice. It will be hard for this Montreal Canadian fan to root for BD Racing versus GEM.
Fingers still crossed he'll end up in GEM or Red Bull Teams. Hey! a girl can dream can't she?
Aug. 14, 2007
Is today the big day? At least may it be the day Jacques Villeneuve calls Mr. Gillett back.
It's been a long lonely summer without JV. We miss you Jacques! Hoping to hear from you today. :-)
With all the talk about Patrick Carpentier's first Busch and Nextel races, it only reminds us we're desperate for an announcement that Villeneuve will join the new GEM Team.
Will he ride a lesser series? Trois-Rivieres?
---
August 11, 2007
Best of luck to Patrick Carpentier this weekend who'll be riding for GEM(Gillett/Everham Motor Racing) in his second Busch race and of course, his first Nextel Cup race(tomorrow, Aug. 12).
Also, lots of luck to Juan Paul Montoya... a win this weekend would be a super Nascar record. He would be the first driver to ever win on 3 different road coarses in Nascar racing. Go JPM Go!
And, keep the faith JVistes, Jacques has just finished up his family vacation and he does plan on getting the Nascar ball rolling for next year's season.
It's obvious, many Jacques Villeneuve fans are now interested in Nascar but have very little knowledge of this series. Not to worry, there are great Nascar sites and NewsFeeds(see below) to catch up.
---
August 3, 2007
Mr. Gillett is just hours away from signing on the dotted line... The CH in Nascar. It's wonderful news for Canadians but it's especially important for Jacques Villeneuve.
Will Jacques be confirmed as driver #1 for the CH? Jacques, give us a bone here! lol
Other news in Nascar this week: - mergers and super teams - Montoya taking the week off, will not appear in Montreal's race. Canadian Valiente from Vancouver will drive the 42. "What an honor". Best of luck. - Will Ron Fellows take the pole? - Patrick Carpentier, not quite at the top of this field yet - More fans/ticket sales than expected
Start your engines! Great races in Montreal!
Go Canucks Go!

Rumor still unconfirmed... July 10, 2007
Great article today about Carpentier participating in Nascar race. The article also reminds us we're still waiting to here from JV and his first race in Busch series, JV in Nascar soon?

July 6, 2007
Not a rumor anymore... ?
We've all heard the rumors... Jacques Villeneuve driving in upcoming Montreal's Nascar race so let's speculate. :-)
- We know Jacques is in Montreal for a few days. He attended the Montreal Canadiens/Florida Panthers Hockey game last night, Feb. 13, 2007. He gave no interviews and was simply out having a great time. Exposure to his greatest fan base?
JV loves Hockey and he's a great business man.
- This Sunday, French-Canadian TV network, RDS, is televising a full exclusive interview with JV. It will be interesting to see the ratings on Monday. If you as me, it will be one of their highest ratings for a Sunday night. Bravo RDS!
- Is Jacques Villeneuve preparing a 'leak'? Will the next few days reveal more to the Nascar rumors?
- If all the JVistes here in Quebec are waiting for news before purchasing their Nascar Mtl tickets, will they be disappointed with JV driving in Truck series?(purely speculation)
April 16, 2007... Still no news. In this case, is no news good news? Certainly hope so. We're really looking forward to The Mans win this June and hopeful we'll enjoy watching him Nascar too.
---
August 7, 2007
Bravo Patrick Carpentier
In an effort to move closer to securing a top-35 position in owner's points, Valvoline Evernham Racing has reached a one-race agreement with Patrick Carpentier to drive the No. 10 Dodge in Sunday's Nextel Cup Series race at Watkins Glen International.
And next... ??
The next big news in Nascar has to be about Jacques joining the series soon. :-)
Villeneuve gets a Trial with Bill Davis Racing in the Crafstman Truck series !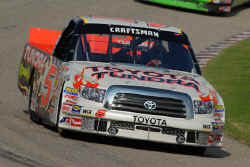 23/08/07
Villeneuve, Davis Racing near deal on truck ride, COT testing By Marty Smith
BRISTOL, Tenn. -- Bill Davis Racing is expected to announce a partnership with former Indianapolis 500 winner and Formula One world champion Jacques Villeneuve, general manager Mike Brown said Thursday.
Brown said the team was "working on some stuff" with Villeneuve and hoped to issue a news release detailing the situation by Friday morning.
Brown would not get into specific details of the arrangement, but sources close to Bill Davis Racing said Villeneuve was fitted for a racing seat Thursday morning at the team shop, with the intention of competing in several Craftsman Truck Series events later this season.
Those same sources also said Villeneuve will extensively test Bill Davis Racing's Car of Tomorrow program.
Villeneuve, a Canadian citizen, won the CART championship and Indianapolis 500 in 1995. He then moved to Formula One and won the 1997 world driving championship. Only two other drivers, Mario Andretti and Emerson Fittipaldi, have achieved the feat.
Marty Smith covers Nextel Cup racing for ESPN.com.
________________________________________________________________
24/08/07
Villeneuve Announces First NASCAR Test
HIGH POINT, N.C. (August 23, 2007) – Following an invitation from Toyota NASCAR team Bill Davis Racing, former F1 World Champion Jacques Villeneuve will make his NASCAR debut behind the wheel of a Toyota Tundra truck on Monday, August 27 at Chicagoland Speedway in Illinois.
Having won both the IndyCar series and the legendary Indy 500 event, Villeneuve is no stranger to oval racing, although he last did so in 1995. For a driver with an almost unequalled resumé, the 36-year-old father of one is fully accepting of his 'rookie' status, and is focused on learning as much as he can, as quickly as he can.
Speaking from Bill Davis Racing's High Point, N.C. HQ, Jacques Villeneuve commented, "We have spent the last few months considering a number of NASCAR options and were in agreement that the truck offers the closest reference point to the Car of Tomorrow. Bill Davis Racing was aware of my interest in NASCAR and approached my management team with a view to allowing me to test within its truck program. I'm glad we were able to work that out, and having spent the day with the team for my seat fitting, I am really looking forward to working with Bill and his staff."
Villeneuve's long-term manager, Craig Pollock, added to the picture, stating, "There's been a lot of speculation about when Jacques would arrive in NASCAR. Bill Davis' kind invitation coincided with our decision to start within Craftsman Truck, so the fit was both timely and natural."



Tell us what you think and we'll publish it.




Partagez vos commentaires, Parlons Jacques! Let's Jacques-talk!
Rumors, rumors... Is that all they are? Will Jacques Villeneuve ever join Nascar? If you have a story or some news, please do share them here.

Rumeurs, rumeurs... Ce sont ils que des rumeurs? Est que Jacques Villeneuve se joindra a Nascar?

Thanks! Merci!