Craftsman Truck Series 2007 -- Hornaday takes title at Homestead-Miami

The Truck Series title went to Hornaday... Skinner, who should have won it last week, didn't have luck on his side yesterday night in Miami.
What was said during the BDR meeting with all 4 drivers, 30 minutes before the last race of the 2007 season, we'll probably never really know.
Villeneuve, Blaney, Benson & Skinner all looked very serious leaving BDR HQ. They certainly were told they had a job to do... ensure Skinner gets the title he so deserved. Not being a huge fan of Mr. Davis's communication skills, did he make sure Skinner knew how grateful he was for all those bonus points? :-)
It's hard not to be heart-broken for Mike but that does not compare to the heights of excitement I felt with Jacques Villeneuve Qualifying 3rd!!! THANK YOU JV for that!
From the get go, Jacques was riding really loose. There was a sense of urgency in his first radio communications. Okay, he's capable of figuring out how much he needs to be sideways to take the corners. Not bad, dueling it out with Busch. His momentum seemed to be getting him to move forward again until, a slight tap but too loose to recover. JV hit the wall hard enough to end his Nascar season.
Let me tell you, as a JV fan, I couldn't recover. lol
Thanks again Jacques for just a small taste of all the exciting races yet to come. Love the trucks but love Nextel more baby! :-)
Results of Homestead-Miami:

Results - Craftsman Truck Homestead-Miami


---
nov. 16
Down to the wire for the Craftsman Truck Series... Place your bets!
Jacques is 3rd in final practice 2 Homestead-Miami, nov 16
Great job earlier in first practice. JV was 5th.
AND...
The practice 2/final just finished and Jacques Villeneuve was third. Bravo JV! And kudos to Benson and Skinner. :-)

Pratice 2, 16 nov, Craftsman Truck Homestead-Miami

Pratice 1, 16 nov, Craftsman Truck Homestead-Miami

Qualifying Order
Be there! At 5PM EST on Speed TV, Sirius or Nascar.com's trackpass live.
Qualification Order Truck Homestead-Miami

Nov. 16, 2007, Homestead-Miami
Hmmmmm,
Skinner? Benson?
JV!!!! Top 10 qualifying and finish with the lead pack.
I wish I could pick Skinner to win with a warm fuzzy feeling in my heart, but I cannot. ;-)
Seriously, of course, go Skinner go.
I'm a bit sad today seeing it will be the last JV race this year. However, always the optimist, 2008 is just around the corner. I'll have time to put up the tree, shop, have Christmas and ring in the beautiful new year of 2008.
Time again for a full year of Nascar Nextel Baby!
In the meantime, will be seeing you soon Jacques. Just can't wait to go up against you on the F1 simulator in a couple of weeks. See ya then! lol

-------
Nov. 15
Jacques Villeneuve's last race of Nascar Craftsman Truck Series
JV will race his last Craftsman Truck Series 2007 tomorrow, Friday Nov. 16th at 7PM Eastern Standard North American Time.
I'm hoping he'll finish this one and really hoping to see something incredible at the Homestead-Miami.
What better place to finish up a season. Great social affairs, Mickey and friends not that far away... and of course fantastic shopping.
Jacques, better get those early Christmas presents for Jules and your beautiful wife. I wouldn't be surprised if they started looking for a vacation home. lol
Great article and comments by JV on his last Truck race today in Miami(see link below)
and,
The Homestead-Miami Entry List via link below:

JV talks to Paddocktalk.com about last 07 race in Miami

Entry List Craftsman Truck Homestead-Miami

Jacques finished 19th in Phoenix. Bravo JV! He saw and was really part of the action in this race. The way I see it, he's learning the ropes and doing a damn good job now recovering and plowing through.
I guess it's in the eye of the beholder. An article in our own Canadian Press had a negative spin to Jacques' school of hard knocks. lol(article via link provided below).
---
When the smoked cleared in the desert, everyone was shocked at how this race ended. I'm sure they'll be alot of talk in Truck Series World about Team dynamics.
You can't help but feel for Skinner but hey, this is Nascar baby! We'll see how he holds up following his big disappointment.

School of Hard Knocks? I say Bravo JV!

Craftsman Truck Series Results in Phoenix
---



It's the 150 Casino Arizona Phoenix Truck Race Baby!
TGIF!
AND, what a weekend it will be for Jacques Villeneuve fans.
It's time for Phoenix Baby! Please find the qualifying order for Craftsman Truck race via link below.
We are proud of the Quebec/Canadian participation in Nascar. JV will certainly put on quite a show. But Wow! he'll also be racing in the final Chase. A race that will surely be historical for several reasons.
Best of luck too to GEM Racing. Pat, where the CH proudly as you wave to JV when he passes you on the track. :-)

Qualifying Order Craftsman Truck Phoenix Baby!

Jacques fastest among the rookies... Texax Truck Race Baby!
Villeneuve was at the top of the speed chart in the rookie practice for the November 2nd Chevy Silverado 350 at the Texas Motor Speedway.
Villeneuve's lap of 181.886 mph in the #27 UNICEF Toyota Tundra was the fastest of the ten rookie drivers running in this separate practice session leading to Friday night's event. #7-Jason White was the slowest truck in this session. Nov. 2 - 12:16 am
Source: Rotoworld.com
AND...
Jack be nimble,
Jack be quick,
Jack...
Another great newspaper article at the Star Telegram

Jack be nimble, Jack be quick...
JV is ready for 5th Craftsman Truck race in Texas
Jacques is ready for Texas Baby!
It will be his 5th Nascar Craftsman Truck series race and JV says with recent races and testing, he feels the momentum is good. :-)
Read about it and so much more... Great mention of early childhood memory of Texas.
Full article at BDR(Bill Davis Racing Web site),

Jacques Villeneuve ready for next Truck race in Texax

Jacques finishes 14th in Atlanta Truck Race
It was a fantastic Craftsman Truck race yesterday in Atlanta. Wow! And, Jacques Villeneuve finishes a respectable 14th.
He'll be very busy all week and we're hoping for official entry for Phoenix race is announced early this upcoming week(13 day entry rule).
Of course, there's also the buy-in of BDR to be confirmed by press release.
In the meantime, here are the results of yesterday's Truck race in Atlanta.

Jacques Villeneuve finishes 14th in Atlanta Baby!


Jacques Villeneuve Practice 1 & 2 in Atlanta Baby!
Considering the field, Jacques Villeneuve did very well in Practice sessions yesterday in Atlanta.
Practice 1 > 11
Practice 2 > 16
Get excited people! Today JV will show us just how much fun Craftsman is. It really really is. :-)
What some may call 'bullying', Nascar fans know it's pure competition in the raw. Bullies pick on defenseless people. Craftsman truck racers pick on anyone in the way. Everyone on the track is your competitor. It's part of the race.
Since the dawn of time, competition has always been about the biggest, strongest, smartest or fastest. This is Nascar Baby! Move aside, Jacques is coming through!
I'm feeling optimistic this early in the day... I say Jacques qualifies 2nd and finishes 9th.
Atlanta Baby!
At Nascar.com, they have JV listed as 2nd for Qualifying. :-)

JV Qualifying in Atlanta Truck Race

The InsideTrackNews has a nice article about Atlanta Truck Rack Preview.
Atlanta Baby!
And, best of luck Jacques with testing this week.

Jacques Villeneuve -- Atlanta Truck Race Preview


Martinsville, great race for Villeneuve despite being taken out.
In Nascar, accidents happen. Great article about what happened.


---
Jacques Villeneuve in Craftsman Truck Series
October 16, 2007
Jacques Villeneuve will be back in his Truck seat, this time, attempting something new.
Great article at, SceneDaily.com

Something new for Jacques to try?


---
28 Septembre 2007 - Jacques Villeneuve making good ole boys nervous?
Les 'good ole boys' dans la Chase du Nextel Cup semble pas trop contents que Jacques Villeneuve participera dans la course Talladega.
Kyle Busch est certainement pas content. Jeff Gordon(mon favori pour le championnat) est un grand fan de Jacques mais lui aussi pense que c'est pas le temps d'introduire un champion comme lui.
Je les comprends, Jacques peut tout changer dans le 'Chase' Nextel Cup.
Un accident, une bonne course... Quoi que ce soit, cela les enervent un peu.
Talladega Baby!
Beaucoup d'articles sur ca.
--
September 28, 2007
The good ole boys in Nextel Cup Chase may not be thrilled about Jacques Villeneuve participating in Talladega.
Certainly Kyle Busch doesn't like the idea. And, my favorite for the chase, Jeff Gordon also thinks timing is just not right.
Jeff is a big fan of Jacques Villeneuve but Nextel is down to the Chase. These last races are important and someone like Jacques can change the Chase standings.
Jeff and Kyle need all the points they can get. They also need to finish the race. In Nascar, every lap counts. So, what is it they are so worried about? JV winning? JV taking them out? Come on guys... You were rookies once too.
Right now, aside from my favorite rookie Juan Paul Montoya, Jeff and Kyle have others to be worried about so I'm thinking they are worried about Jacques' talent, not his mistakes. :-)
Talladega Baby!
---
September 6, 2007.
Jacques finishing up on the track at Kentucky Speedway, testing BDR's Car of Tomorrow(Cot).
No logistics of testing have been released yet. This may remain an unofficial test... Or, he beats track record(or Skinner's) and they publish it tonight. :-)
---
August 27, 2007
Go JV Go! Have fun in Chicagoland and show them what you've got!
---
Nascar Truck Series will see it's audience increse with the announcement of Jacques Villeneuve testing for BDR's Toyota Nascar Truck. And, rumors have it, Jacques will be the official tester of the great Nascar Car of tomorrow.


This is the journey into a great and long Nascar Nextel Career.
Please be sure to come back soon,,,
We'll be reviewing Nascar Truck Racing. The basics and by the time JV's riding the CH(still wishfully thinking) or Red Bull or as current events indicate, a new BDR Nextel Team.
And, we still believe -- Jacques Villeneuve WILL be the first to win all 4. Indy, F1, The Mans 2008 or 09, Nascar's Nextel and Busch championships. :-))
---
What is Nascar Truck?
There's great info in wikipedia and at Nascar.com Web site. In a nutshell...
- The NASCAR Craftsman Truck Series is a racing series featuring modified pickup trucks. It is one of the 3 national divisions of NASCAR(Busch Series and the NEXTEL Cup are the 2 others).
- Most early champions have become NEXTEL Cup regulars. So many younger drivers debuted in the series, using the series as a springboard for their racing careers. It WAS the springboard to Current NASCAR stars Scott Riggs, Greg Biffle, Kevin Harvick, Jamie McMurray, Kurt Busch, Carl Edwards, and Kyle Busch.
- Great past Nascar Nextel Champs/Veterans still love racing in Truck series. And they are still racing to win.
- Most last around 250 miles at larger tracks, 150 to 200 miles others, and 200-250 laps around short tracks. Races always finish on a 2 Lap Green.
- We're in the 12th season of the NASCAR Craftsman Truck Series season. It set off on February 16, 2007 at Daytona International Speedway with the Chevy Silverado HD 250, and ends on November 16, 2007 with the Ford 200 at Homestead-Miami Speedway.
- All races televised on Speed TV or Fox(2 races)
- Trucks identical with exception of nose with branding > branded Chevrolet Silverado, Dodge Ram, Ford F-150, and Toyota Tundra.
- Teams:
Darrell Waltrip Motorsports, Toyota
Green Light Racing, Chevrolet
Wood Brothers/JTG Racing, Ford 2 trucks
Red Horse Racing, Toyota
Kevin Harvick Incorporated, Chevrolet 2 trucks
Bobby Hamilton Racing, Dodge 2 trucks
Bill Davis Racing, Toyota 3 trucks
Roush Fenway Racing, Ford 3 trucks
Pennington Motorsports, Dodge
MRD Motorsports, Chevrolet
Germain Racing, Toyota 2 trucks
Circle Bar Racing, Ford 2 trucks
ThorSport Racing, Chevrolet
Billy Ballew Motorsports, Chevrolet 2 trucks
Xpress Motorsports, Ford
Key Motorsports, Chevrolet 2 Trucks
Morgan-Dollar Motorsports, Chevrolet
HT Motorsports, Toyota
Wyler Racing, Toyota
MB Motorsports, Ford
Spears Motorsports, Chevrolet
South Point Racing, Chevrolet
ThorSport Racing, Chevrolet
Upshaw Racing, Ford
25 Races > 9 Left this 2007 Season > BDR says Jacques should be racing last 7. :-)
Jv's first contact with the Crasftman truck series !
---
Jacques Villeneuve speaks exclusively about its first rounds in the NASCAR sport, its future plans and the car: "It makes fun real!"
Jacques Villeneuve For Jacques Villeneuve has the NASCAR experiment at present priority Zoom shot © xpb.cc (Motorsport Total.com) - on past Friday "Motorsport Total.com" revealed as world-wide the first medium that Jacques Villeneuve will go 2008 for Bill Davis Racing in the NASCAR Nextel Cup to the start, and today is we first, which spoke with the former Formel-1-Weltmeister about its debut in the NASCAR vehicle and on it to report.
Against 15:00 clock local time interrupted Villeneuve its test at the Chicago country Speedway in Illinois for a few minutes, in order to seize and to "Motorsport Total.com" exclusively the first impressions from its new implement to describe to the listener. Its new implement, which is a Toyota tundra Truck of Bill Davis Racing, with which it still this year sieve runs to the Craftsman Truck series to deny is. The first test with the Nextel Cup CoT for 2008 will take place only later.
Formel-1-WM, Indy 500, Le Mans - and now Daytona
During the discussion one became immediately clear: The 36-Jährige seems to rediscover - exactly like Juan Pablo Montoya before it - into the NASCAR its desire at the running driving, because even if it had only a few minutes time and engineers waited already nervously for it that it rises again in the car, came it accurately into swarms, when it concerned the car and the oval driving. If it would not have been a telephone interview, one would have surely a shining in its eyes seen…
"Now we test only once, then we continue to see." Jacques Villeneuve Question: "Jacques, you always said, you would like to become Formel-1-Weltmeister, win the Indy 500 and the 24 hours of Le Mans. Two of it you reached, in Le Mans were not missing so much. And I think, now can take up one still Daytona to this list, not truely?" Jacques Villeneuve: ", That would be naturally great. The whole championship would be still better, but that is difficult, like also in the formula 1. Now we test only once, then we continue to see."
Question: "It is now 15:00 clock. Like much you already drove?" Villeneuve: "A few rounds. The team and I become acquainted with us straight, and in the car I find straight out, what happens, if I change something. That is with this test the main thing."
Question: "Haste you already a feeling for the car develops?" Villeneuve: ". Like a genuine running car on and that feels is class! It is fast, it has enough Grip that one can carry much speed forward into the curve. It makes fun real!"
NASCAR is comparable with nothing
Question: "However I estimate, it am completely different than everything that you drove so far?" Villeneuve: "It is completely differently, clear. I already drove since eternities with no more switching club, but it is nice to have again one in the hand. If one is on speed, one gets a feeling for it, which makes the car, how one must react and how the car reacts. Today it concerns as said really only these first rounds, because the car is so different than everything that I drove so far."
Question: "Today also there Mike Skinner is, in order to support you, correct?" Villeneuve: ", Test a few cars. Good that he is there, because he has much experience. That is useful."
"We lie within a half second to the fastest car." Jacques Villeneuve Question: "I white, it is still early for it, but can you betray, as fast you so far compared with the other cars were?" Villeneuve: "I believe, we lie within a half second to the fastest car, for the moment are the Mike Skinner."
Question: "As now the schedule for your entrance is, as continues it in the NASCAR for you?" Villeneuve: "Depends much on this test. Up to now we talk once only about this test, but there is a prefabricated plan, if everything should run well."
Nextel Cup debut 2007 would be only one bonus
Question: "Is it correct that you could deny Cup running even in this year still another?" Villeneuve: "If everything well runs, then, but that does not have priority."
Jacques Villeneuve Return to oval racing: Jacques Villeneuve with its Indy-500-Sieg Zoom shotmore © IRL Question: "Juan Pablo Montoya hit a similar way as you. It missed, drives the Chase however a very good Rookiesaison. Do you believe that you can stop its achievements next year?" Villeneuve: "I hope it. It drives a very good first season. The most important in the first year is that one is accepted and that the people are not sour on one."
Question: "Haste you spoken with him already and/or you intend it?" Villeneuve: "I will converse surely with him, if I meet him. I already know it for many years."
Question: "You drove, at that time in the middle of the 1990er-Jahre already times oval courses with the IndyCars. Do you believe that this experience will help you?" Villeneuve: "Definite! After a few rounds it felt in such a way, as if I would have stopped never with driving oval running. It is really class. If one makes such a thing, then one forgets it not."
Villeneuve were missing the ovals
Question: "A little like a home coming, not truely?" Villeneuve: ". Honestly said this aspect of racing, was missing to me the ovals, in Europe. That is already exciting."
"With bad running I would have blocked myself perhaps future chances." Jacques Villeneuve Question: "There were already for some time rumors around you and NASCAR. Can you betray us, why it did not fold with your shrub start in Montréal?" Villeneuve: "Montréal was a load minute action simply too much. If one does not have enough time to prepare and find a winner car, it does not make a sense, because with bad running I would have blocked myself perhaps future chances. The risk was too large. I could have won there nothing, but everything lose. It would have made no sense. In addition one must drive on ovals and Speedways, in order to come into the NASCAR and get oval permission, because I come from the round course and may drive therefore on round courses anyway. It would have made thus simply no sense."
Question: "You next year again into Le Mans to drive or means your NASCAR commitment that that is put first times ad acta?" Villeneuve: "It would be great to drive again into Le Mans but that much on my program will depend here."
Question: "Does it still another contractual connection to Peugeot give or did apply the agreement only to running of this year?" Villeneuve: "It was only one annual contract. The thing functioned however well, therefore would be it to class to try it again together. But we concentrate now once on North America."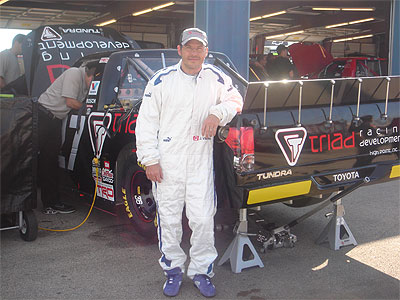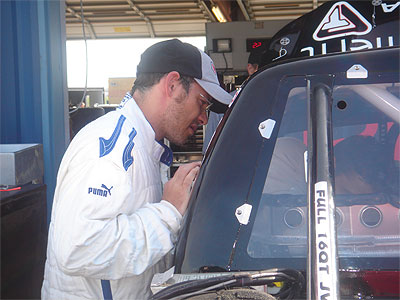 ---
Engine Displacement: 358in³ (5.8L) Pushrod engine V8>
Transmission: 4 Speed Manual transmission
Weight: 3,200 Kilogram Minimum with out driver; 3,400lbs. (1545kg) Minimum with driver
Power Output: Horsepower(485-522
Fuel: 98 Octane unleaded gasoline
Fuel Capacity: 22 U.S. Gallons (83.2 Liters)
Fuel Delivery: Carburetor Carburetion
Compression Ratio: 12:1
Aspiration: Naturally-aspirated_engine
Carburetor size: 390 Cubic Feet per Minute (184 Liters per Second) 4 Barrel
Wheelbase: 112in (2.8m)
Steering: Power steering Recirculating ball
More Nascar 101