Nascar Sprint Cup Bristol 2008


Aug 25, 2008
Just when I was starting to really like the wild-child... lol
Carl stole the show from Kyle in the last laps with a soft nudge. He stayed behind the #18 a longtime, patiently waiting for the right time to take the lead to finish the race at Bristol.
Kyle's ride wasn't as fast and talent can only do so much... He had to move over and if that was a problem, he needed help. :-)
Bravo Carl! And, thanks for showing grasshopper a 360 view of the finish line. :-)
Be sure to listen to the Nascar Newscast post-race.

--- 25 aout 2008
Nascar Sprint Cup - Bristol
Je commencais juste a bien aimer ce wild-child... :-)
Carl a volé la vedette à Kyle hier dans les derniers tours de la course à Bristol. Il a resté longtemps derrière la #18, et a attendu avec patience le moment idéale pour une petite pousette et un beau dépassement.
La voiture à Kyle n'était pas aussi vite et son talent n'était pas assez... Il fallait se tasser et si il y avait besoin d'aide a ce sujet, pas de problème - Carl l'a aidé. lol
Bravo Carl! Le jeune a surement aimé sa vue 360 de la ligne d'arrivée. :-)

Nascar Newscast - August 24, 2008

--- Aug. 20
They will be racing under the stars this weekend.
Several Nascar Sprint Cup 2008 racers will be doing double-duty but it won't be Sprint/Nationwide. At Bristol Motor Speedway, they wanted a ride in the Truck series.
Kyle, Jimmie, Pat C, are really looking forward to the Craftsman Series Truck and the Sprint Cup races.
I love Bristol... the fastest 1/2 mile oval in Nascar series racing. Think it's easy? Try turning on 36°. :-)
For Nascar's pre-race newscast, click on link below.


Nascar's pre-race newscast - Bristol


---
Bravo Pat pour sa premiere pole position Sprint Cup au New Hampshire
Super qualifs reuissit par Patrick Carpentier. Des points bonis et son nom dans l'histoire Nascar. :-)
Il termine 31 dans cette course du New Hampshire. Bon travail.
Ma photo préféré nous vient de Nascar, Pat et sa belle petite fille Anais.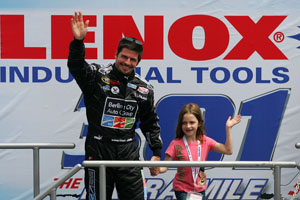 PC a aussi reuissit de gagner le premier lap. D'autres points bonis. :-)
Surement sa performance en fds l'aide au sein de son équipe. Bravo. Meilleurs des chances pour les prochaines courses.
Son premier lap,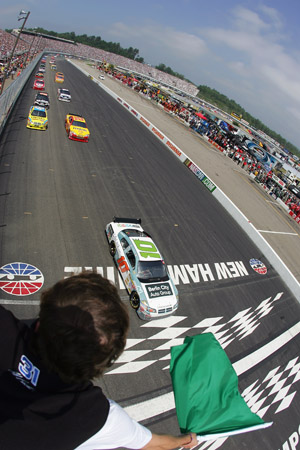 Nascar News 2008 while waiting for Jacques Villeneuve :-)






Jan. 20, 2008 5 AM
While watching the WorldCup Skiing yesterday(Bravo Cuche!), CBC announced JV was there in Kitzbuehel Austria attending a charity event.
He's with the Schumachers! That got me really nervous actually. Don't get me wrong, I'm glad Jacques has time during this week off to do his part for Michael's charity event. But... we all know he's a daredevil inside. lol
Be very careful Jacques. I'm sure it's great to be back with your old chums but please take it easy on the slopes. Keep the wins for Nascar Baby! :-)


Montreal Auto Show and Camry special guests...
Should be a great Auto Show in Montreal this year. Camry's unveiling of their new cars and a special Camry guest, #99 Nascar Ride.
Was a bit disappointing to read my newswires earlier... Seeing mentions of 'who cares' Carpentier and then #99.
I understand that JV cannot show his #27 until all deals are ready to be announced. Showing up at a car show during Preseason testing period, would simply be distracting if you ask me.
However, there's something that tells me JV will be there. If not with his car... for a visit to touch-base with Quebec Toyota guys. Just my feeling though. :-)
I can confirm JV is back home.(Jan. 16/08)
He'll be in Vegas at the end of the month. Enjoy JV your family, friends and hobbies. The Nascar frenzy is just beginning so enjoy your time home before you get back to work for that pole position for Daytona's race! :-)

Montreal Auto Show News


Great PreSeason Thunder Jacques Villeneuve!
I know it's a long road ahead but so far, for JV it's been great. He's 11th cummulative after first round of preseason testing at Daytona.
Very exciting indeed. Bravo Jacques and BDR for listening to his great feedback last year. :-)
Kudos to Toyota who will rule the world this year. lol

Preseason Thunder, First Round Testing, JV 11th!

J Villeneuve News on the WWW


---
Who's thinking about a Nascar future?
Dec. 18, 2007
For the past several days now, rumors and articles have Coulthard thinking about a possible future in Nascar just like his buddy Jacques Villeneuve.
The more the merrier but personally, I don't think he would fit in nor get the 'gist' of Nascar driving. :-)
Sorry DC, just being honest.
---
Depuis quelques jours on entend parler de Coulthard en Nascar tout comme son copain Jacques Villeneuve.
Le plus ils sont, le mieux ce sera mais personellement, je ne crois pas que cette serie de course et le style de course lui va du tout.

---


Dec. 16, 2007 Hornish the luckier open-wheeler?
With Nascar's decision of swapping Busch's point standings in 2007 to Hornish for 2008 does give a big advantage...
So what, he automatically qualifies for the first 5 Sprint 2008 races but after that, he has to qualify for every other race because I truly doubt Hornish will keep the car in top 35.
I have no doubt that Jacques Villeneuve is ready to qualify for every race, and do well in the rigourous qualifying races for the great Daytona. It will get easier as the season progresses. :-)
JV will slowly but surely bring his #27 to the top 35 status.
Best of luck Hornish and with such a privilege, please try finishing the 5 races.
Hold on to the wheel!


---Francais---
Avantage Hornish?
Avec la decision cette semaine de Nascar, Sam Hornish aura les points 2007 de Busch, mettant son automobile dans les Top 35. Eux, ils sont garanties qualification dans les 5 premieres courses de l'annee. Avantage?...
Non!
Bon, il se qualifie pour ses 5 premieres en 2008 mais par la suite, il va falloir se qualifier pour toutes les autres courses de la saison Sprint 2008. Je doutes que Sam gardera l'auto parmit les top 35 apres 5 courses.
J'ai pas de doutes que Jacques Villeneuve est pret et ce qualifiera chaque course, incluant le grand Daytona. Je vous dirais meme que la saison deviendra plus facile plus elle avance. :-)
JV va lentement mais surement conduire le #27 dans les Top 35.
Bonne chance Hornish et avec ce privilege, svp, essaies de les finirs au moins les 5 premieres. lol
Tiens ton volant!


Nascar Sprint 2008 Pre-Season testing... Here he comes Baby!
Nov 30, 2007
Having seen Jacques earlier this week, he's ready for Nascar's Sprint 2008... Here he comes Baby!
Pre-season test dates have been announced for awhile now but Nascar has updated 'getting ready for 2008'. Be sure to visit Nascar.com's link below.
As I mentioned, Jacques is happy. Johanna should be having their second child any day now. He was supposed to be up in Mont Tremblant for the charity ski benefit but I guess it will depend on how the Misses is doing. :-)
And, JV simply lights up when talking about his new career in Nascar. He says he's there for the longhaul. That's fantastic.
So, on to 2008...
Daytona Baby!

Getting ready for Daytona Baby!
The Great American Race and Speedway... Daytona Baby!
Be sure to visit Daytona Speedway's official Web site. You'll also find the pre-testing Nascar Sprint schedule there.
The Daytona 500 IS the great American Race and in 2008, it's not just for Americans anymore. :-)
Get to know moe about Daytona Beach, the Speedway, the Race and the lineup for upcoming year.





Daytona Speedway Baby! Get the Facts... and your Tickets!