Nascar Daytona 2009
The thrill of Nascar, hmmmmmm...
I knew before the Nationwide race in Daytona yesterday, that Tony Stewart was as ready to race as he ever was. He's looking great this year although Kyle may not think so. :-)
Kyle was the show to watch this year in the Nationwide. Starting 13th, and as he made his way up the lead pack, he's heard on the radio with his crew chief...
Wow, looking at the guys in front, it looks hard. They better move aside because I'm coming.
At least that's the gist of what Kyle said and a good indication we're in for another fantastic year of Nascar racing.
Bravo Tony, who won the Nationwide Daytona in the last seconds of the race. The veteran used the Ace in his pocket. Drafting. :-)
I don't think Kyle thought Tony or anyone would take him at the finish. But that Nascar Baby!
Good job stewart.
Enjoy the Daytona 500 2009 JVistes!.

Tony Stewart (No. 80) takes the checkered flag ahead of Carl Edwards (No. 60) and Clint Bowyer (No. 29) on Saturday in the NASCAR Nationwide Series Camping World 300. (Photo Credit: Chris Graythen/Getty Images)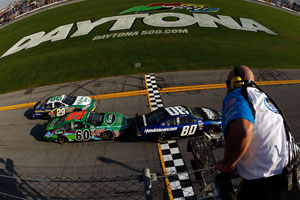 February 13, 2009
Bravo Todd Bodine who won the Camping World Truck Series Daytona race last night. He did it! 2 years in a row. Good stuff.
The Truck Series will be fun to follow this year. We'll be devoting a page just to it to offer JVistes, news in brief on the series.
And, I'm sure it will be a great Nationwide race. Can't wait.
Last but never least, the Nascar Daytona 500, 2009. The best is yet to come(he's busy racing Speedcars but his spirit is in Daytona as he works hard for a future ride in this great race... let alone win it! :-)).
Nascar Daytona Daytona 500 Entry List

1 1 Martin Truex Jr. Chevrolet Bass Pro Shops / Tracker 188.001 47.872 Leader
2 5 Mark Martin Chevrolet Kellogg's / Carquest 187.817 47.919 -0.047
3 24 Jeff Gordon Chevrolet DuPont - - -
4 18 Kyle Busch Toyota M&M's - - -
5 14 Tony Stewart Chevrolet Office Depot / Old Spice - - -
6 83 Brian Vickers Toyota Red Bull - - -
7 48 Jimmie Johnson Chevrolet Lowe's - - -
8 42 Juan Montoya Chevrolet Target - - -
9 20 Joey Logano* Toyota The Home Depot - - -
10 11 Denny Hamlin Toyota FedEx Express - - -
11 8 Aric Almirola Chevrolet Guitar Hero - - -
12 96 Bobby Labonte Ford Ask.com - - -
13 2 Kurt Busch Dodge Miller Lite - - -
14 88 Dale Earnhardt Jr. Chevrolet Amp Energy / National Guard - - -
15 9 Kasey Kahne Dodge Budweiser - - -
16 99 Carl Edwards Ford Aflac - - -
17 36 Scott Riggs Toyota Tommy Baldwin Racing - - -
18 41 Jeremy Mayfield Toyota All Sport - - -
19 98 Paul Menard Ford Quaker State / Menards - - -
20 44 A.J. Allmendinger Dodge Valvoline - - -
21 26 Jamie McMurray Ford Crown Royal - - -
22 33 Clint Bowyer Chevrolet Cheerios / Hamburger Helper - - -
23 47 Marcos Ambrose Toyota Little Debbie / Kingsford / Clorox - - -
24 12 David Stremme Dodge Penske Racing - - -
25 07 Casey Mears Chevrolet Jack Daniel's - - -
26 31 Jeff Burton Chevrolet Caterpillar - - -
27 55 Michael Waltrip Toyota NAPA - - -
28 00 David Reutimann Toyota Aaron's Dream Machine - - -
29 77 Sam Hornish Jr. Dodge Mobil 1 - - -
30 19 Elliott Sadler Dodge Stanley - - -
31 7 Robby Gordon Toyota Jim Beam - - -
32 29 Kevin Harvick Chevrolet Shell / Pennzoil - - -
33 6 David Ragan Ford UPS - - -
34 43 Reed Sorenson Dodge McDonald's - - -
35 16 Greg Biffle Ford 3M - - -
36 39 Ryan Newman Chevrolet U.S. Army - - -
37 34 John Andretti Chevrolet Window World - - -
38 82 Scott Speed* Toyota Red Bull - - -
39 17 Matt Kenseth Ford Dewalt - - -
40 21 Bill Elliott Ford Motorcraft - - -
41 28 Travis Kvapil Ford Golden Corral - - -
42 78 Regan Smith Chevrolet Furniture Row Racing - - -
43 66 Terry Labonte Toyota Window World - - -

Did Not Qualify

44 187 Joe Nemechek Toyota NEMCO Motorsports - - -
45 08 Boris Said Ford U.S. Chrome / Scotts Bonus S Max - - -
46 09 Brad Keselowski Chevrolet Miccosukee Resort & Gaming - - -
47 127 Kirk Shelmerdine Toyota Kirk Shelmerdine Racing - - -
48 171 Mike Wallace Chevrolet TRG Motorsports - - -
49 37 Tony Raines Dodge Long John Silver's - - -
50 73 Mike Garvey Dodge Jani-King - - -
51 175 Derrike Cope Dodge Blu Frog Energy Drink - - -
52 123 Mike Skinner Chevrolet Mahindra Tractors - - -
53 51 Kelly Bires Dodge BlackJack Racing - - -
54 146 Carl Long Dodge Romeo Guest Construction - - -
55 64 Geoff Bodine Toyota Gunselman Motorsports - - -
56 157 Norm Benning Chevrolet Norm Benning Racing - - -

+ Set by Owner Points
* Denotes Rookie
Nascar Daytona 2009 - Gatorade Duels
12 février 2009

Une super après-midi de course Nascar...
Les 2 Duels terminés et quel spectacle. Surtout la deuxième course. Et merci pour TSN et Speed pour la diffusion live.
Bravo à Jeff Gordon et Kyle Busch les gagnants de chaque course. Et, super! bravo Mayfield qui non seulement qualifie la #41 pour la Daytona 500 - Il a terminé 9ième dans Duel No. 2. Dire qu'il y a que quelques semaines et cette équipe n'éxistait pas encore. Dirt cheap comme on dit. :-)
Bravo.

---

Cette après-midi il a un Total de 17 courseurs qui essaieront de se qualifier pour la Daytona 500.



Quelques uns ont l'excéllent chance d'y réussir. D'autres ont peu de possibilités. Voici un bref regard aux Duels qui se passe plus tard aujourd'hui(sur Speed TV 14heures),
Gatorade Duel No. 1
Joe Nemechek (No. 87 Toyota): 186.807 mph, 19ième meilleur Temp. Il partira 9ième. Il a 2 fois terminé dans le Top 10 d'une Daytona 500.
Scott Riggs (No. 36 Toyota): 185.893, 32ième meilleur Temp. Il partira15ième. Riggs a finit 4ième en 2005.
Brad Keselowski (No. 09 Miccosukee Resorts Chevrolet): 37ième meilleur Temp. Il partira18ième.
Kirk Shelmerdine (No. 27 Toyota): 45ième meilleur Temp. Il partira 24ième. Ancien Crew Chief pour le grand Dale Earnhardt, Shelmerdine a
participer 1 fois en 2006, il partait 42ième et a finit 20ième.
Tony Raines (No. 37 Long John Silver's Dodge): 47ième meilleur Temp. Partira 25ième.
Mike Skinner (No. 23 Mahindra Tractors Chevrolet): 52ième meilleur Temp. Il part 27ième. Skinner a 2 Top 10 dans la Daytona 500 et il a gagné la Pole en 2001.
Carl Long (No. 46 Romeo Guest Construction Dodge): 54ième meilleur Temp. Il partira 28ième(dernier dans Duel No. 1).



Gatorade Duel No. 2
Regan Smith (No. 78 Furniture Row Chevrolet): 186.924, 14ième meilleur Temp. Il partira 7ième. Smith est le Raybestos Rookie of the Year 2008.
Boris Said (No. 08 Scotts/U.S. Chrome Ford): 20ième meilleur Temp. 186.780. Il partira 11ième. Said a de bonnes chances.
AJ Allmendinger (No. 44 Valvoline Dodge): 35ième Temp 185.770. Partira 19ième. A terminé 5ième Samedi dans la Shootout.
Jeremy Mayfield (No. 41 All Sport Toyota): 43ième Temp 185.082. Partira 21ième. Le dernier des récents driver/owner.
Mike Wallace (No. 71 TRG Motorsports Chevrolet): 46ième Temp 184.847. Partira 22ième.
Mike Garvey (No. 73 Jani-King Dodge): 48ième Temp 184.004. Partira 22ième.
Derrike Cope (No. 75 Blu Frog Energy Drink Dodge): 51ième Temp 182.020. Partira 25ième. A gagné la Daytona en 1990 dans le dernier lap ou le grand Dale Earnhardt a eu des problèmes de pneus.
Kelly Bires (No. 51 Dodge): 53ième Temp 181.701. Partira 26ième.
Geoff Bodine (No. 64 Toyota): 55ième Temp 180.810. Partira 27ième. Un come back à 59 ans. Il y a de l'espoir pour Jacques Villneuve. :-)
Norm Benning (No. 57 Chevrolet): 56ième Temp 177.396. Il partira 28ième - dernier dans le Duel No. 2.

(stats courtoisie de Nascar Media)


Nascar Daytona 2009 - Harvick wins Budweiser Shootout
After waiting too many weeks without a Nascar weekend, I was so looking forward to watching the Budweiser Shootout. Had it in my head all day. :-)
My partner in crime was busy as usual with his first love. ;-)
I had the TV on and was getting comfortable for the race. If I dreamt about it, I can't even remember the dream... Yes, I fell asleep. A very deep sleep. I woke up and thought "No, I didn't" but realised that I had missed the Shootout.
The live images of the Daytona at night. The best of the best racing in a pack at 190 miles an hour. Stuff that makes my heart flutter. Litterally.
Luckily, Nascar takes great care of everyone, especially the media. :-)
---
Trop de semaines a attendre la nouvelle saison Nascar 2009. J'avais hâte de regarder la Budweiser Shootout... dans ma tête, toute la journée.
Mon partenaire, était occupé comme d'habitude avec son autre amour. ;-)
Je m'installes comfortablement devant la Télé. Si j'ai rêvée,je m'en souviens pas. Et oui! je me suis endormit. Un gros dodo. Sommeil profonds. En me reveillant je penses ''Non, j'ai pas fait ça'' mais je savais que oui, j'ai belle et bien manqués la course.
Ah! Ces images de Daytona le Soir. Les meilleurs des meilleurs qui coursent en troupeau à 190 milles à l'heure. Les petites choses qui font vibrer mon coeur. Littéralement.
Par chance que Nascar prends bien soins de son monde, surtout le média. Merci Nascar. :-)

NASCAR Spring Cup Series drivers are introduced to fans before the start of the Budweiser Shootout at Daytona International Speedway on Saturday. (Photo Credit: Jerry Markland/Getty Images for NASCAR)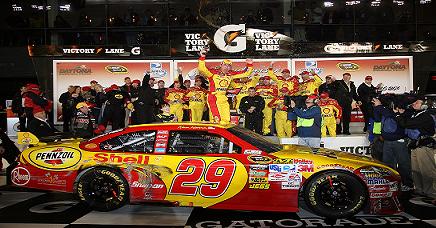 Thanks Nascar. And, I'll catch the Shootout when it's airs again this week. Then again, it's time for the Daytona 500. I'll catch up on my sleep early this week. Wouldn't want to miss any of the activities or The Race.
Have a good one JVistes!
Kevin Harvick Wins One Wild Budweiser ShootoutCourtesy Nascar Media

DAYTONA BEACH, FLA. -- Talk about a shootout. They'll be talking about this one for years to come.

Kevin Harvick drove his Richard Childress Chevrolet to the front of the field on the very last lap Saturday night to capture one of the wildest Budweiser Shootouts in the history of Daytona International Speedway.

Harvick cruised across the finish line after a split-second crash behind him and runner-up Jamie McMurray wiped out a group of contenders, including defending Sprint Cup Champion Jimmie Johnson, contenders Kyle Busch and Brian Vickers, as well as Casey Mears and pole-sitter Paul Menard.

The stage was set for a 190-mile-an-hour showdown. when a caution fell with three laps remaining in the two-part 75-lap race. David Stremme nipped Greg Biffle coming out of turn four sending Biffle into the outside wall. Biffle had to realize it just wasn't his night since he had been a victim of several other miscues by various drivers earlier in the race.

When the green flag fell for a green/white/checkered finish, McMurray was leading with Harvick second. Harvick ducked low coming out of turn two on the final lap and passed McMurray. By the time Harvick got to turn three, all heck broke loose behind him.

Johnson was tapped by someone, who was tapped by someone else and the next thing you knew, cars were spinning all over the place with smoke covering the track like a late-night campfire. When it cleared, the bright yellow No. 29 of Harvick was home free.

Trailing the winner and runnerup was Tony Stewart and Jeff Gordon, two former champions who gave it their all to win. AJ Allmindinger was fifth, followed by Kasey Kahne, Carl Edwards, Matt Kenseth, Kurt Busch and Kyle Busch.

This was one of those races you absolutely had to watch every minute of every lap because drivers swapped the lead faster than you can imagine.

Constant side-by-side racing filled 75 laps of action Saturday at NASCAR Sprint Cup Series Budweiser Shootout at Daytona International Speedway. The race had a record lead changes with 23. (Photo Credit: Geoff Burke/Getty Images for NASCAR)





Lap 26, Edwards leads. A couple of laps later, Kahne's in front. Then Gordon takes the lead. Then McMurray. Next thing you know, Hamlin's out front. Then Kyle Busch. Then fan favorite Dale Earnhardt Jr. streaks to the front. The lead changed so fast, the announcers had a hard time talking that fast. Matt Kenseth took a turn in front, as did Vickers, until it came down to the end. It was a night every manufacturer could brag a little about because every different make had its moment at the front of the pack.
Paul Menard drew the pole position for the start of the two-segment, non-points race. Menard, however, fell back after one lap in front, and Denny Hamlin charged to the lead.
The fireworks started on lap four when cars checked up in front of David Ragan, who was turned sideways, triggering a multi-car spin that involved Mears, Robby Gordon, Joey Logano, Scott Speed and Greg Biffle.

During a fourth lap crash, David Ragan, driver of the No. 6 UPS Ford, and Robby Gordon, driver of the No. 7 Jim Beam Dodge,collide while Raybestos Rookies of the Year drivers Joey Logano, driver of the No. 20 Home Depot Toyota, and Scott Speed, driver of the No. 82 Red Bull Toyota, lose control of their cars during the NASCAR Sprint Cup Series Budweiser Shootout on Saturday night at Daytona International Speedway. (Photo Credit: John Harrelson/Getty Images for NASCAR)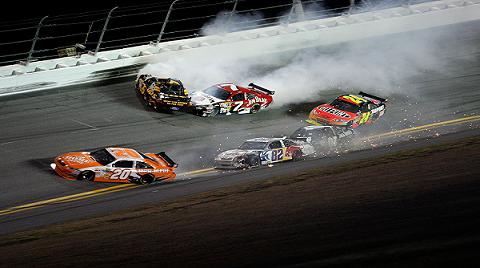 Jeff Gordon zig-zagged through the accident, moving his DuPont Chevy back and forth dodging cars like he was playing hopscotch on the high-banked pavement.
The race restarted on Lap 8 with Earnhardt out front. He was followed by Elliott Sadler on the outside and Hamlin on the inside. Sadler broke free and went to the front on Lap 10 with Hamlin in tow.
Kurt Busch was next with Tony Stewart fourth. Stewart took the lead on lap 13 and Carl Edwards had roared into second.
NASCAR's best drivers were duking it out as though it were the last lap of the Daytona 500 and the fans were loving it.
By Lap 17, Edwards was in front with Hamlin second. Allmindinger shoved his Dodge into the second spot a couple of laps later, and Johnson drove his Chevy into the ring, moving from back in the pack to third place. Jeff Gordon was in fourth.
McMurray showed his hand on Lap 21 by moving into the top five.
On Lap 22, Hamlin made contact with David Reutimann, who gathered up David Stremme. Both Reutimann and Stremme plowed sideways off through the dirt on the inside of the backstretch but managed to keep their machines off the retaining wall.
At the end of the first segment at 25 laps, Edwards was first with McMurray second. Johnson was third, followed by Kahne, Kurt Busch, Kyle Busch, Vickers, Gordon, Allmindinger and Earnhardt.
Logano, Robbie Gordon and Ragan were done for the night.
Nascar Daytona 2009 - Budweiser Shootout
Feb. 7, 2009
It's Nascar 2009 and we're only days away from the Daytona 500!
The season began this week with great Speedweek activites. The Budweiser Shootout always starts the real countdown to the D500.
And it's a great race. This year the Top 6 Teams' Top drivers with wildcard options makeup the Budweiser Shootout field of participants.

Entry List - Alphabetical
Daytona International Speedway
Budweiser Shootout at Daytona
Provided by NASCAR Statistics - Thu, February 05, 2009

Car Driver Team Name Hometown D.O.B. Age

1 44 A J Allmendinger Valvoline Dodge Los Gatos, CA 12/16/1981 27
2 16 Greg Biffle 3M Ford Vancouver, WA 12/23/1969 39
3 31 Jeff Burton Caterpillar Chevrolet South Boston, VA 06/29/1967 41
4 2 Kurt Busch Miller Lite Dodge Las Vegas, NV 08/04/1978 30
5 18 Kyle Busch M&M's Toyota Las Vegas, NV 05/02/1985 23
6 88 Dale Earnhardt Jr National Guard / AMP Energy Chevrolet Kannapolis, NC 10/10/1974 34
7 99 Carl Edwards AFLAC Ford Columbia, MO 08/15/1979 29
8 24 Jeff Gordon DuPont Chevrolet Pittsboro, IN 08/04/1971 37
9 7 Robby Gordon Jim Beam Dodge Orange, CA 01/02/1969 40
10 11 Denny Hamlin FedEx Express Toyota Chesterfield, VA 11/18/1980 28
11 29 Kevin Harvick Shell / Pennzoil Chevrolet Bakersfield, CA 12/08/1975 33
12 48 Jimmie Johnson Lowe's Chevrolet El Cajon, CA 09/07/1975 33
13 9 Kasey Kahne Budweiser Dodge Enumclaw, WA 04/10/1980 28
14 17 Matt Kenseth DEWALT Ford Cambridge, WI 03/10/1972 36
15 96 Bobby Labonte ASK.COM Ford Corpus Christi, TX 05/08/1964 44
16 20 Joey Logano Home Depot Toyota Middletown, CT 05/24/1990 18
17 26 Jamie McMurray CROWN ROYAL Ford Joplin, MO 06/03/1976 32
18 07 Casey Mears Jack Daniels Chevrolet Bakersfield, CA 03/12/1978 30
19 98 Paul Menard Menard's Ford Eau Claire, WI 08/21/1980 28
20 6 David Ragan UPS Ford Unadilla, GA 12/24/1985 23
21 00 David Reutimann Aaron's Dream Machine Toyota Zephyrhills, FL 03/02/1970 38
22 19 Elliott Sadler Stanley Tools Dodge Emporia, VA 04/30/1975 33
23 43 Reed Sorenson McDonald's Dodge Peachtree City, GA 02/05/1986 23
24 82 Scott Speed Red Bull Toyota Manteca, CA 01/24/1983 26
25 14 Tony Stewart Old Spice/Office Depot Chevrolet Columbus, IN 05/20/1971 37
26 12 David Stremme No. 12 Penske Dodge Dodge South Bend, IN 06/19/1977 31
27 83 Brian Vickers Red Bull Toyota Thomasville, NC 10/24/1983 25
28 55 Michael Waltrip NAPA Toyota Owensboro, KY 04/30/1963 45

*required to qualify on time

Dale Jr., the reigning champion seemed serious as he watched his crew get his ride ready for the Shootout's Practice sessions yesterday in Daytona.

Defending race champion Dale Earnhardt Jr. watches his team work on his car before practice for the Budweiser Shootout practice at Daytona International Speedway. (Photo Credit: Jason Smith/Getty Images for NASCAR)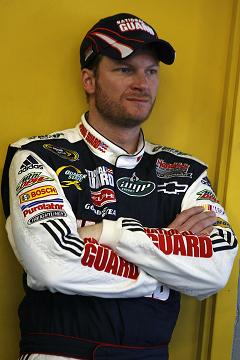 Kyle Busch had the best first Practice Session time and 4 time winner Jimmie Johnson the fastest in the Final Practice. And, bravo Allmendinger who did well in both. I was personally surprised. :-)
Carl, yes my Carl :-)... ready to get back to work. Gotta love a guy who's there to win.
As Jacques Villeneuve prepares his luggage for his next trip overseas, I hope he's watching the Race tonight.

Carl Edwards, who was runner-up in both the NASCAR Sprint Cup Series and NASCAR Nationwide Series, prepares to take the track for Budweiser Shootout practice at Daytona International Speedway. (Photo Credit: Jerry Markland/Getty Images for NASCAR)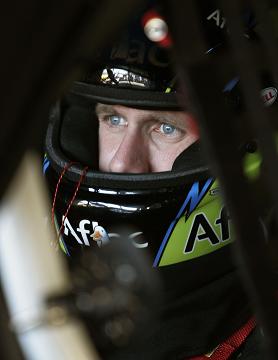 Daytona is a beautiful place and the Budweiser Shootout has kicked off the new Nascar season's for the last 30 years.
That's Nascar Baby! A great lean-mean-racing-business machine.
Best of luck tonight guys! And JV, you'll be nightracing soon too in Qatar, can't wait to read your comments on JVWAP.

Cars line up to take to the track during Budweiser Shootout practice at Daytona International Speedway. (Photo Credit: Rusty Jarrett/Getty Images for NASCAR)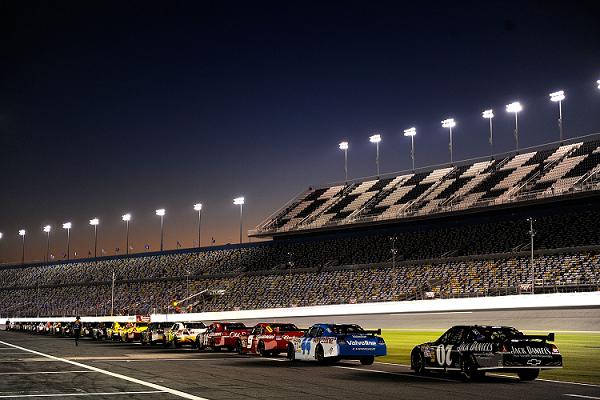 A pack of cars draft during practice for the 31st running of the Budweiser Shootout at Daytona International Speedway. (Photo Credit: Jerry Markland/Getty Images for NASCAR)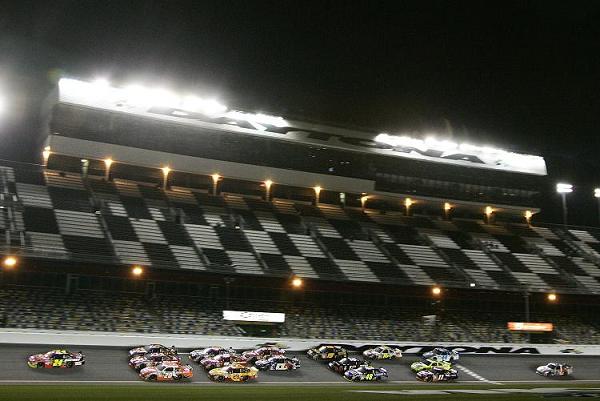 Scott Speed signs autographs before practice for his first Budweiser Shootout at Daytona International Speedway. (Photo Credit: Jerry Markland/Getty Images for NASCAR)