Nascar 2009 - The Best is Yet To Come...
February 25, 2009
I'm back. :-)
Sorry for the hiatus, as JVistes are well aware of, it's Flu season. We've been a bit under the weather but luckily Nascar 2009 has kept us entertained.
Since we last wrote... Bravo Matt Kenseth who won both the Daytona 500 and again in Fontana last weekend. Can he make Nascar history and win 3 in a row? Best of luck Matt.
I was so happy for Jack Roush who finally has a Daytona 500 win.
The 3 Nascar lead series have been fun to watch so far. Looks like Nascar 2009 will be a great season. And, before it's over, JVistes will enjoy seeing Jacques race in Nascar. A few races would be a great way to get ready for next year. :-)
In the meantime, Kyle Busch kept us on the edge of our seats last weekend in Fontana. He won the Camping World and Nationwide races and Nascar fans around the World were hoping he'd win the third jewel of a triple crown weekend.
Obviously, it didn't happen but the best is yet to come!
Enjoy the Nascar race weekend and the Speedcar Series Round 4 races in Dubai. Ola! :-)
February 4, 2009
While waiting for a pleasant surprise all day, I couldn't help but feel good about the future.
Until...
A reliable source didn't bring home a surprise for our Anniversary(which he completely forgot about again lol), he came home with confirmation that Jacques Villneuve would NOT be participating in the Daytona 500.
No Nascar 2009 so far.
I'm disappointed but something tells me the best is yet to come. :-)
Nascar rocks! Jacques, keep on truckin. :-)
Merci.
En francais, Jacques Villeneuve confirmes qu'il ne participes pas au Daytona 2009.
Mais, gardons espoir et revez grand les JVistes.
---
February 3, 2009
We'll know soon. :-)
Nascar 2009? We will only know when Jacques can confirm... As I write this, I'm hoping he's shaking hands with Mr. France and his new Team. lol




G. Bodine, Mayfield and many other new owner/drivers. Ah the possibilites for Nascar 2009. The best is yet to come...
I don't mean to tease but that's the reality. Hey, we've been waiting this long. lol Just a few more hours or days.
When the news hits the fan, they'll be Jacques-talk around the WWW, Wire services, print, radio, television, JVWAP, and personal responses to e-mail interviews. If there's a press conference, it would have to be in Daytona?
I think the Mrs JV is also anxious to know. She's a great lady and his biggest supporter. Looking forward to her reaction. :-)
JVistes... The Nascar 2009 Season has begun. It's Daytona baby!
--- Feb 3, Nascar 2009 Nascar Media
DAYTONA BEACH, Fla. (Feb. 3, 2009) – Amid much anticipation, the Nascar 2009 Sprint Cup Series officially returns to the track Saturday night.
The 31st annual Budweiser Shootout At Daytona – the non-points precursor to the season-opening Daytona 500 on Feb. 15 – snares the spotlight first at Daytona International Speedway.



This year, the event will have changes in its format, with a slightly longer distance and an expanded field designed to showcase the four manufacturers competing in NASCAR's premier series.
And come Saturday, no one will be more eager to mash the gas than the Budweiser Shootout's defending winner – Dale Earnhardt Jr. (No. 88 AMP Energy/National Guard Chevrolet).
"Winning the first race of the year – whether it's for points or no points – is always pretty special," Earnhardt said. "There's no better way to start a season than by winning the first one right out of the gate."
Doing so may be especially important this season, given NASCAR's 2009 suspension of testing at tracks that hold NASCAR-sanctioned events. Instead of the usual January tests at Daytona and Las Vegas Motor Speedway, NASCAR Sprint Cup teams concentrated energy in shops and engine rooms to prepare for the season.
For the Budweiser Shootout's 28 eligible participants, Saturday night's race means the first opportunity to gather data under race conditions, a crucial component for Daytona 500 preparations.
Last year, Earnhardt used his victory to jump-start his first season at Hendrick Motorsports. The momentum carried over to a victory in the first of two 150-mile qualifying races for the Daytona 500 (the Gatorade Duel), and an eventual ninth-place finish in the Daytona 500.
"It doesn't necessarily determine how the rest of your Speedweeks will go, because we run different cars for the Daytona 500," Earnhardt said. "But it's the opening act of a new season, and everyone wants to start off with a bang. I guess it's more important for bragging rights."
He cites a "good car; good motor; being in the right place at the right time," for his 2008 Budweiser Shootout win – his third overall.
"Everything was clicking," Earnhardt added. "I had teammates up front, and we worked together quite a bit. It was just a good race where everything went right."
A New Format for Nascar 2009 … The Budweiser Shootout race distance has been increased from 70 laps to 75 laps for 2009. That's a total of 187.5 miles on Daytona's high-banked, 2.5-mile layout.
As has been the case since 2003, the event will be run in two segments; only the first segment increases in distance from 20 to 25 laps.
Following the first segment, a 10-minute "pit stop" gives crews the opportunity to make normal adjustments to their cars. That means tweaks they would do on a normal pit stop during a regular NASCAR Sprint Cup Series event.
All work must be done on pit road or in the garage. Teams may not change springs, shocks or rear-ends. All green- and yellow-flag laps in both segments will count. Following the 10-minute "pit stop", the event's second segment remains a 50-lap sprint for the win.
A New Field … As announced last August, the Budweiser Shootout field now includes the top six teams from each manufacturer based on the final 2008 car owner standings. Another change announced on Jan. 16: Each manufacturer also has a "wild card" entry, which increases the field from 24 to 28 teams.
Here's the criteria for including a seventh car, or "wild card" entry:
Any owner outside the top six for each manufacturer, whose driver is a past NASCAR Sprint Cup champion who attempted to qualify for all 2008 events. Each manufacturer is permitted only one of these positions, which will be based on the most recent champion per manufacturer.
If an owner/manufacturer doesn't have a past NASCAR Sprint Cup champion, the next highest eligible owner outside the top six, per manufacturer, in the final 2008 owner standings, will be eligible to fill that manufacturer's wild-card position. Note: This year's 28-team Budweiser Shootout field is the largest in event history. Last year's 23-team field was the previous high.
The Nascar 2009 field includes five former Daytona 500 champions – including one three-time winner in Jeff Gordon (No. 24 DuPont Chevrolet), one two-time winner in Michael Waltrip (No. 55 NAPA Toyota), 2007 winner Kevin Harvick (No. 29 Shell/Pennzoil Chevrolet), 2004 winner Dale Earnhardt Jr. and 2006 winner Jimmie Johnson (No. 48 Lowe's Chevrolet), also the reigning and three-time NASCAR Sprint Cup champion.
First-time Budweiser Shootout Nascar 2009 participants include AJ Allmendinger (No. 44 Valvoline Dodge), Robby Gordon (No. 7 Jim Beam Dodge), Joey Logano (No. 20 Home Depot Toyota), Paul Menard (No. 98 Menard's Ford), David Ragan (No. 6 UPS Ford), David Reutimann (No. 00 Aaron's Dream Machine Toyota), Scott Speed (No. 82 Team Red Bull Toyota) and David Stremme (No. 12 Penske Racing Dodge).
Participants with previous Budweiser Shootout experience include Greg Biffle (No. 16 3M Ford), Jeff Burton (No. 31 Caterpillar Chevrolet), Kurt Busch (No. 2 Miller Lite Dodge), Kyle Busch (No. 18 M&M's Toyota), Carl Edwards (No. 99 AFLAC Ford), Denny Hamlin (No. 11 FedEx Toyota), Kasey Kahne (No. 9 Budweiser Dodge), Matt Kenseth (No. 17 DEWALT Ford), Bobby Labonte (No. 96 ASK.COM Ford), Jamie McMurray (No. 26 Crown Royal Ford), Casey Mears (No. 07 Jack Daniels Chevrolet), Elliott Sadler (No. 19 Stanley Tools Dodge), Reed Sorenson (No. 43 McDonald's Dodge), Tony Stewart (No. 14 Old Spice/Office Depot Chevrolet) and Brian Vickers (No. 83 Red Bull Toyota).
The Schedule … The NASCAR 2009 Sprint Cup garage at Daytona will be open from 9 a.m. until 5 p.m. on Thursday for inspection of Budweiser Shootout cars. That's followed by the traditional draw party at 6:30 p.m., which determines the starting lineup. On Friday, teams will practice twice – from 4:15-5 p.m. and 6:30-7:30 p.m.
Fast Facts
What: 31st annual Budweiser Shootout At Daytona
Where: Daytona International Speedway
Track Layout: 2.5-mile tri-oval.
When: Saturday, Feb. 7
Time: 8:10 p.m. (ET)
TV: FOX, 8 p.m. (ET)
Radio: MRN; SIRIUS Satellite Radio, Channel 128
Distance: 75 laps/187.5 miles (25 laps in first segment; 50 laps in second segment).
2008 Winner: Dale Earnhardt Jr.
Nascar 2009 Drivers: AJ Allmendinger, Greg Biffle, Jeff Burton, Kurt Busch, Kyle Busch, Dale Earnhardt Jr., Carl Edwards, Jeff Gordon, Robby Gordon, Denny Hamlin, Kevin Harvick, Jimmie Johnson, Kasey Kahne, Matt Kenseth, Bobby Labonte, Joey Logano, Jamie McMurray, Casey Mears, Paul Menard, David Ragan, David Reutimann, Elliott Sadler, Reed Sorenson, Scott Speed, David Stremme, Tony Stewart, Brian Vickers, Michael Waltrip


Nascar 2009! - Guest Article by Cathy Elliot/Nascarmedia
January 30, 2009 Nascar 2009

Let There Be Light – In the Form of Speedweeks

I can't think of any single sporting event in America that has a bigger build-up than the Daytona 500.
Preliminary activities in general are very important. When I go on a movie date, for instance, I always want to show up at the Cineplex early so I won't miss any of the coming attractions. There's something about schlepping through the theater lobby, checking out the 3-D displays and the movie posters so large that you can count Brad Pitt's pores, hauling your vat of Diet Coke and your 16-pound box of Junior Mints around, that enhances the experience.

It builds anticipation. It makes you excited about Clint Eastwood, albeit not all that optimistic about the prospects of whomever he is squinting and shooting at this week. It's fun.

The more trailers they show before the movie begins, the better I like it. I can munch my popcorn, settle into my seat and get myself into the proper mindset, so when the feature film's opening credits roll at last, I am pumped up and ready for some major action.

And all that groundwork is just for the sake of watching a movie starring the same folks I saw in a similar movie on cable two weeks ago. Can you imagine what I would feel like if I'd been forced to wait two months or more between matinee dates with my favorite stars?

Oh wait; forget I asked. We're NASCAR fans, and we know exactly how that feels. Bad. Lonely. Dull.

But there is light at the end of this tunnel. Speedweeks is almost here.

Even the higher-ups at the NFL, bless their hearts, get into the act by staging a little football game to serve as a nice preamble for the advent of each new NASCAR racing season. I think it's called the Super Bowl or something like that.

Regardless, once the final seconds have ticked off the clock and that particular game is over, a new one begins. It is long. It will not end until mid-November. It gives new meaning to the phrase "Never a dull moment." It is the 2009 NASCAR Sprint Cup Series season, and Speedweeks, to give a nod to the terminology of those aforementioned football folks, kicks it off in style.

Speedweeks is the single name given to the nearly three weeks of activity leading up to and culminating with the Daytona 500. It's a whirlwind of sensory overload, similar to what Dorothy might have felt when she stepped out of that black-and-white farmhouse into a new and exciting Technicolor world.

Initially, after NASCAR hits Daytona, you have lots of practice. This is when you focus on housekeeping items like the condition of Jimmie Johnson's finger (he accidentally cut a tendon with a kitchen knife during the running of the Rolex 24 Grand Am race Jan. 24 and 25), and aesthetic stuff like how Mark Martin (driving the No. 5 Kellogg's car this year) looks in red.

On Saturday, Feb. 7, we will hear those four little words that have been missing from our lives for far too long -- "Gentleman, start your engines" -- and hallelujah, we will get to hear them twice in the same day. The earlier race will be the ARCA/Remax Series event, followed by the super-exciting and ultra-competitive Budweiser Shootout.

The format for the Shootout has changed. In past years, the field was composed of pole winners from the prior season plus former champions. This year, each of the four auto manufacturers will enter their top six cars from last year, plus one wild card entry.

Long story short, even though Tony Stewart will be driving a Chevrolet rather than a Toyota in 2009, by virtue of the wild card rule, he will still be competing in the Budweiser Shootout.

On Sunday, Feb. 8 we'll get to see first-round qualifying for the Daytona 500. These are the only time trials of the season that last five days. No one really seems to fully understand the intricacies of Daytona 500 qualifying, but no one seems to care, either, because the first round on Sunday is followed up with the fabulous Gatorade Duel at Daytona. This pair of no-holds-barred 150-mile races on Thursday afternoon sets the final starting grid for the big race. They are barnburners, to put it mildly.

The NextEra Energy Resources 200 NASCAR 2009 Camping World Truck Series race hits the track on Friday, Feb. 13. On Saturday the Nationwide Series drivers, including defending champion Clint Bowyer, will battle it out in the Camping World 300. This race will be run on Valentine's Day; I can practically smell the love already.

You have to hand it to NASCAR. They know we're hungry, and they don't make us wait another few months for a rib-sticking dinner. Instead, they bring us directly to the flashiest restaurant in the Sprint Cup Series chain and serve us the best meal in the house – Nascar 2009 Speedweeks and the Daytona 500. It's show time, and Heaven forbid we should miss even a single second.

What a great first date.

Jan. 9 2008
Paul Morris wants Jacques Villeneuve.
Everyone's talking about Jacques Villeneuve racing in V8 Australian Supercar series in 2009.
Are we excited? What about Nascar 2009?
Personally, I'm excited that Jacques will be in Daytona at the end of the month... or at least Barry Green will be there. Paul Morris of Super Cheap Auto Racing will be in town for his participation with Boris Said in the Daytona 24-Hour Sportscar race and he's hoping for further discussions with the JV Team.
The better news is, it ain't over until other options fail. :-)
Don't get me wrong, V8 Australian Supercar series is fun, alot of fun. Even more fun are Nascar series races and that remains his priority. Is it getting down to the wire?
Yes, of course but when times are tough, the tough get going.
Be sure to read Paul Morris' latest comments,
Paul Morris trying to lure Jacques Villeneuve to V8 Supercar Series


---


Hello Nascar 2009!
The fourth annual Bodine Bobsled Challenge - Lake Placid, New York, January 2 - 4, 2009.
Time again for racing. Where's uncle Jacques. Hey! And, where's JV! lol
I love Lake Placid. A great place and what a fantastic idea for Speed TV to televise 4 hours of the event later this month on January 18th at noon and on the 25th at 2PM.
Don't miss it.



Bravo Bodine who was the fastest qualifying and he did go on to win Race 1. He finished 2nd in Race 2.
A great race was had by all.
-- Boris Said has captured five Bodine Bobsled Challenge titles in the first three years of the event. (Photo Credit: Todd Bissonette)



-- Boris Said takes a practice run Saturday morning. (Photo Credit: Todd Bissonette)




Recently-crowned NASCAR Camping World Truck Series Champion Johnny Benson heads a list of 8 NASCAR drivers set to slide into bobsleds this weekend. Todd Bodine, Joey Logano, Brian Loftin, Philip Morris and Boris Said will round out the Nascar 2009 contingent.
The event will once again be sponsored by Whelen Engineering, title sponsor for three of NASCAR's weekly and touring series – the NASCAR Whelen All-American Series, the NASCAR Whelen Modified Tour and the NASCAR Whelen Southern Modified Tour.
"We take great pride in being a longtime sponsor of the Bo-Dyn Bobsled Project, Inc.," said Phil Kurze, Vice President of Motorsports for Whelen Engineering and President of the Bo-Dyn Bobsled Project. "When the title sponsorship of this event became available, we were very excited about the opportunity to support such a wonderful event."
The Bodine Bobsled Challenge will see NASCAR drivers pilot specially-made bobsleds down the track in Lake Placid's Olympic Sports Complex, site of the 1980 Winter Olympics. In Race 1, all the drivers will be compete against the clock as they take two runs down the track. Race 2 will feature head-to-head racing between NASCAR and NHRA drivers, with the winner from each division set to square off in the final heat for bragging rights. The NHRA will be represented in the challenge by POWERade Pro Stock Champion Jeg Coughlin Jr. and Top Fuel drivers Morgan Lucas, JR Todd, and Bob Vandergriff.
Also set to compete in the event is road course racer Eric Curran and Sprint Car driver Tom Tolbert.
Hey! where's the asphalt! :-)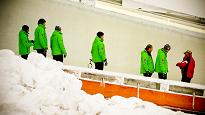 -- The Bodine Bobsled Challenge competitors walked the track Friday prior to practice to get a feel for the racing surface. (Photo Credit: Todd Bissonette)
Said, a part-time NASCAR driver and analyst for ESPN's NASCAR coverage, will enter the event as the favorite. A five-time Bodine Bobsled Challenge winner, Said's only loss in the first three years of the event, either during the timed or head-to-head portions, came in a match-up against Kevin Lepage in 2005.
Benson, who captured his first NASCAR Camping World Truck Series title in 2008, will compete in the Bodine Bobsled Challenge for the second year in a row. The same can be said for Logano, who will be a NASCAR 2009 Sprint Cup Series Raybestos Rookie of the Year contender.
-- Joey Logano, Nascar 2009 Sprint Cup Raybestos Rookie of the Year contender, is participating in the Bodine Bobsled Challenge for the second year in a row. (Photo Credit: Todd Bissonette)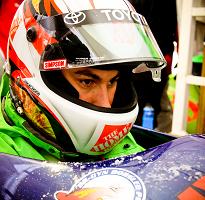 Todd Bodine, brother of event founder and former NASCAR driver Geoff Bodine and 2006 NASCAR Camping World Truck Series champion, has competed in the Bodine Bobsled challenge each year of its existence.



Champion drivers Loftin and Morris will represent NASCAR's touring and weekly ranks. Loftin captured his first NASCAR Whelen Southern Modified Tour title in 2008 and will make his debut at Lake Placid this weekend. Morris, who also participated in the 2007 Bodine Bobsled Challenge, earned his second career NASCAR Whelen All-American Series crown this past season.
"Getting to compete in the Bobsled Challenge was one of the highlights of my 2006 NASCAR Whelen All-American Series championship," Morris said. "To be able to go to Lake Placid and run the same courses that the Olympic guys do and experience what they experience is pretty outlandish for me."
NASCAR Whelen Modified Tour Champion Ted Christopher was extended an invitation, but will not participate due to prior commitments.



The Bodine Bobsled Challenge is geared to raise money for the Bo-Dyn Bobsled Project, which was started in 1992 by Geoff Bodine. The Bo-Dyn Bobsled Project has built American-made bobsleds for United States athletes competing in the World Cup, World Championships and Olympic Winter Games. Funds raised from the Bodine Bobsled Challenge go directly to this project.
Don't miss it on Speed TV January 18 and 25, 2009.
Hello Nascar 2009!