NASCAR Media Gossip Helps Fuel The NASCAR Nation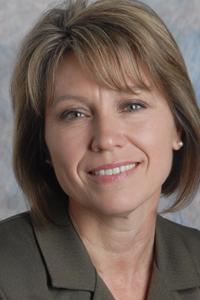 Guest Column By Cathy Elliott

When I was a kid, there was a popular game we often played. It goes by several different names depending on where you live, but in our neck of the woods we called it "Gossip".

You've probably played this game. One person whispers a story into the ear of the person sitting alongside, and that person in turn passes it along to the next ear in line. When the story has traversed the entire room, the last person in line must repeat it out loud to everyone. Usually, the story is barely recognizable as its former self. Verbal plastic surgery performed during its travels has filled in a few cracks here and there, enhanced some parts, and eradicated others. The skeleton of truth is in there, but you'd need the archeological skills of Indiana Jones to dig it up.

Apparently, some folks over at Michael Waltrip Racing were engaged in their own version of the game recently. Here's what happened. Kenny Wallace was preparing to run the #00 car for MWR in the NASCAR Sprint Cup Series race at Talladega, so he went over to the shop to be fitted for his seat. According to an article by Wallace, which was posted on SPEEDTV.com, several MWR crew members approached him while he was there and told him a rumor was going around that Rusty Wallace, Kenny's brother, would be driving for Dale Earnhardt, Inc. next season.

You can't help but wonder at this point whether Kenny told the car builders that seat was feeling a little hot.

Here's an edited version of Kenny's comment: "Everyone wants to know if my brother Rusty Wallace is coming out of retirement to drive for Dale Earnhardt Inc. next season ... All I can say is that where there's smoke, there's fire. And he is definitely considering stepping back into a racecar. He's considering this huge move because he watched Brett Favre come out of retirement in the NFL and his good friend Mark Martin is giving it another shot next year at Hendrick ..."

This was on a Tuesday night. Imagine what the story began to sound like as it worked its way into the ears and out of the mouths of various media outlets and everyone who reads, watches and listens to them – people like you and me, in other words.

Not to mention the NASCAR garage, where rumors and opinions fly around so fast and furiously you need a crash helmet to ensure the safety of your sanity, and even that isn't a completely sure thing.

On the Wednesday morning following Kenny's comment, Rusty Wallace released his own statement, which might be construed as somewhat of a rebuttal: "I love Kenny to death; he's been trying to get me back in a car ever since I retired after 2005. While any rumors like this are certainly flattering, they're untrue. I have a long-term commitment to ABC and ESPN and I really love what I'm doing right now,"

Phrases like "I love so-and-so to death" or the perennial favorite "Bless his little heart" are like those lipstick-wearing pigs and pit bulls we've been hearing so much about lately. They're trying to be one thing, but they're really something else altogether. Often they serve as disclaimers, refuting the words of others without coming right out and saying they were wrong. Rusty's rejoinder seemed pretty definite, but when I put my power of perspicacity to work, I have to admit I'm leaning more toward Kenny's version of the story. It seems nearly surreal that some folks may be familiar with Rusty only in his current role as a television broadcaster. I do realize, however, that there are some very new fans who may not have those cherished NASCAR memories of classic battles between Wallace and guys like Darrell Waltrip and Dale Earnhardt. So here's the Rusty Wallace primer.

Rusty had 55 career NASCAR wins. He was the 1989 NASCAR Sprint Cup champion, and in 1998, he was named one of NASCAR's 50 greatest drivers of all time. He was handsome, brash, mouthy and pure adrenaline-filled fun to watch on the track. He retired after the 2005 season, after winning a race that year and finishing eighth in the Chase for the NASCAR Sprint Cup standings. He went out on top, as a great athlete should, celebrating his departure from the No. 2 Miller Lite car with a final season branded "Rusty's Last Call". He was controversial and cool, and NASCAR lost a great personality the day he ran his final race. Lipstick on a pig, indeed. In the immortal words of Cyndi Lauper, those true colors will always come shining through. Brett Favre came out of retirement and threw six touchdowns in a single game. Michael Jordan came out of retirement and won three additional NBA championships. Lance Armstrong is coming out of retirement, and I don't know about you, but I can't picture him in any color jersey other than yellow.

As for Rusty Wallace, who knows? We can't predict what might happen, but we know for sure that one thing never changes. You can take the boy out of the race car, but you can never, ever take the racer out of the boy.

The Miller Brewing Company and its various products grace the hood of another driver now, but no matter. Whatever Rusty Wallace is serving us next year, bartender, set me up. I'm ready for another round.

Cathy Elliot's Guest Columns for Nascar are fantastic. We'll be featuring more of her articles so be sure to come back soon. Thanks Nascar. Thanks Cathy... I want what Rusty's serving in 2009 too! :-)


Talladega Baby! Nascar Sprint Cup Chase - Race #4 Oct. 3, 2008
This is a big one folks... Talladega is a must win for any of the Top 4 in the Chase Standings(see standings below on this page).
Jeff Gordon is one to watch out for but I'm wishfully thinking Carl takes back the lead with Race #4. It's going to be great.

---

Nascar Sprint Cup Chase - JJ wins #3.

Nascar Sprint Cup Chase - Biffle is 2 for 2 with 8 more to go...

Race #2 of the Chase in Dover may have been Biffle's best.
Kenseth and Edwards were on his heals. Everyone keeps an eye on #99 who still leads in the standings. Biffle's second win gives him a solid 3rd position in the Chase. Jimmie still second but Greg now has same amount of points(less bonus points than JJ keeps him third).
The final laps of the NASCAR Sprint Cup Series Camping World RV 400 were a back-and-forth battle between Greg Biffle, Matt Kenseth and Carl Edwards. And that's the order they finished Sunday's race at Dover International Speedway. (Photo Credit: Jason Smith/Getty Images for NASCAR)
The final laps where what Nascar Sprint Cup Chase is all about.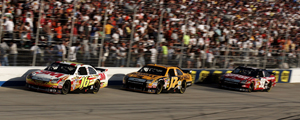 Nascar Sprint Cup Chase - Race 1 in New Hampshire
Sept. 15, 08
Carl takes the Chase lead with a good run, finishing 3rd in Nascar Sprint Cup Chase Race 1 in New Hampshire yesterday.
A great start but a tough day for Kyle but even the best have bad races. This certainly helped the other chasers out. Kyle pitted early and was penalized for a swaybar that wasn't on properly.
Biffle had a tremendous race yesterday taking the lead from Jimmie to win the race.


Greg Biffle (right) passes Jimmie Johnson (left) for the lead with 11 laps left in the first race in the Chase for the NASCAR Sprint Cup, the Sylvania 300 at New Hampshire Motor Speedway on Sunday. Biffle held on for the win, Carl Edwards (background) took the point lead. (Photo Credit: Todd Warshaw/Getty Images for NASCAR)

It's only the 1st of 10 races and it will go down to the wire this year.
And kudos to Joey L. Great first Sprint Cup race. It was tough starting 40th but he finished 32nd right behind Carpentier.

Nascar Sprint Cup Chase Race 1, top 3 finishers, video

Sept. 10, 2008
Nascar Sprint Cup Chase 2008 is On!
It's official... the Nascar Sprint Cup Chase 2008 is on!
It's the beginning of the Chase and all Chasers were in New York City yesterday(Sept. 10) for media day. Of course that meant many would be busy with the live morning shows in the Big Apple.
Non-stop work for the boys but alot of fun too. We got the invite but it was bad timing and we couldn't make it. Everyone had a great time at the Hard Rock Cafe.
May the Chase begin!