The politics of NASCAR !


10/10/07
Very good article from Tom Bowles,I agree 100% ! The politics of Nascar

---
Villeneuve, BDR consider competing in COT race at Phoenix
9/10/2007 Jacques Villeneuve and Bill Davis Racing, coming off positive results in the former Formula One champion's Cup debut Sunday at Talladega, are contemplating running another Cup race before the end of the season.
Mike Brown, general manager at BDR, said the team had several meetings Monday to discuss the feasibility of Villeneuve competing in the Car of Tomorrow race at Phoenix International Raceway on Nov. 11. Villeneuve, who also has an Indianapolis 500 win on his resume, qualified sixth at Talladega and finished 21st.
Villeneuve, who will drive in the remaining NASCAR Craftsman Truck series races this year, will drive in the Cup series for BDR next season.
"We've talked to Jacques about it, and he wants to do it and we want to do it," Brown said of adding Phoenix. "We're kicking it around, and we really want to do it."
Brown said the team wants Villeneuve, who will participate in the two-day COT test later this month at Atlanta, to get in some testing time at a track comparable to the one-mile Phoenix track. Villeneuve has raced an open-wheel car at the track, so it's not a completely unknown entity to him.
Villeneuve possibly could test at Nashville or New Smyrna.
"We're just looking for that one true test for him," Brown said.
Angelique S. Chengelis is a contributor to ESPN's NASCAR coverage.
Très bonne nouvelle pour les Jvistes ! full story

---
Jacques Villeneuve in his first Nextel Cup Race.
Canadian Thanksgiving - October 8, 2007
Sometimes it's the unexpected moments that really move you to tears, when you least expect it. Personally, yesterday's Talladega Nextel Cup Race will forever be among my favorite moments. Nascar is a great metaphor of life. lol
Watching it live(well few laps live) and hearing only great positive comments concerning Jacques gave us chills... It was even better the second time around on tape. I can't tell you if it was seeing JV finally doing what he loves and having fun doing it. Was it about a fellow Canadian we're so proud of? Or was it about that last piece of the puzzle, that made everything alright again? For me it was the latter and on this Thanksgiving, I am thankful for the abundance I have. I've been very fortunate.
Bravo Jacques Villeneuve! Finishing 21st, he could not have ran a better first Nextel race. A little brush with the wall did not stop him from staying in the lead lap and racing with the pack. Beeeeeeuuuuuuteeeeeful. :-)
What a race. The big one came late in the race and it took 10 out, Chase runners included. Man, finger-crossed and smoke cleared, "Where's JV?". "Did he make it through?"
Yes! There he was! Okay, he's almost home, another accident taking a few more out but again, JV's fine and keeps on rolling with the leaders at approx 200 miles an hour. 500 miles of Nascar excitement.
Kudos to Jeff Gordon, our pick this year for the Championship. And of course, great race by Juan Paul Montoya. Would love to have been a fly on the wall when he and JV caught up. lol
Who knows if Jacques gets another Nextel in before season's end. I hope so but if not, thanks Jacques for the memories. :-)
He'll be testing CoT on the Gateway Oct. 16 with his teamate Blaney.
Joyeuse Action de Grace.

Resultats/Results Talladega UAW-Ford 500


---
Villeneuve incroyable! 6ème a sa première qualification.
Resultat complet de la qualification.

Bravo Jacques ,Go JV Go!
---
October 6, 2007
Rest easy JV fans... Jacques is now sitting 2nd fastest in qualifying with his 50.878.
Of course there are about 30 other drivers yet to qualify but for sure as is now, Jacques will have done very well and will be starting the race with the top drivers.
The Speed TV guys have nothing but admiration for him. Everyone who know autoracing does. From his crew chief Slugger to us here at home and across the globe. :-)
---
6 otobre 2007
On peut respirer... Jacques presentement est 2ieme avec son temps de qualifs 50.878.
C'est pas finit bien sure, mais ce temps est fantastique et incroyable. Il partira parmit les meilleurs demain en Nascar.
Les annonceurs et ex-courseurs a Speed connaissent tres bien que Jacques est un grand champion. Ils ne sont pas inquiet de sa participation.
Que de bonnes choses a dires.
Et, drole d'anectdote... "I've never in my life seen a Nascar driver put his helmut on in pitroad(perhaps maybe the great Earnhart Sr). Jacques was ready to race, will he start a trend." lol
---5 oct.Jacques Villeneuve etait 21 ieme aux essaies Nextel. Bravo Jacques et bonne qualifications!


---
There she Is ! pas beau ca !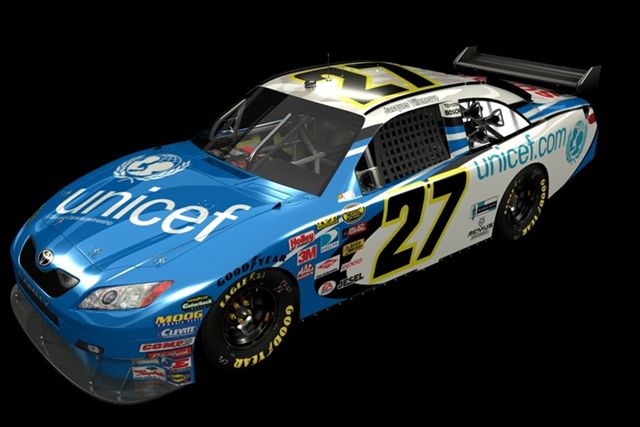 ---
4 Octobre 2007
Jacques Villeneuve coursera avec le Logo de Unicef Canada, unicef.ca, ce weekend en Nascar.
Bravo Jacques et Unicef Canada.


---
Here's the truck 27 for Jv ,Voici le camion 27 de Jv ,Nice!
---
Unicef Canada - Jacques Villeneuve - Nascar Nextel

October 4. 2007
Unicef.ca just announced that Jacques Villeneuve's #27 car will be wearing the Unicef Canada logo.
Thanks Jacques and Unicef.

Press Release - Unicef.ca through Newswire


---
October 3, 2007,
3 afterall...
And, of course, all the google alerts and news has been about JV entered in the Talladega race. It's not just the Chase drivers who don't like the idea of upsetting Chase with a rookie first timer in most important race of the Chase yet. Go Jeff Gordon. And, Go Jacuqes. I wish you a great race.
Next week, they'll all be talking about how great the race was WITH Jacques Villeneuve in it. Stir the pot JV!
---
Le 3 Octobre, 2007 et le 3 fait le mois!
Bon bien, pas 3 courses back to back to back. :-)
Et... tous les alertes Google, Nascar, etc... parle que de JV. Les gars du 'Chase' ne trouvent pas ca une tres bonne idee d'avoir un nouveau pour deranger 'the big chase'. Talladega est une tres importante course ce temps ci de la saison.
Pas Grave, la semaine prochaine, on parlera que la Nextel Cup Talladega etait parmi les meilleurs courses cette saison grace a la participation de JV. :-)
Brasse la soupe Jacques! Talladega Baby! ---
Sept, 24 Looks like it's true, 3 races in a row and the third just happens to be Nascar's Nextel! Wooooohoooooo!
October 7, 2007 folks, be there. :-) Great article below about JV entered for 1 of BDR's 3 entries for Talladega.
---
Jacques Villeneuve coursera sa premiere course Nascar serie Nextel le 7 Octobre, 2007. Wooooohooooo!
Super article. Trois courses de suites les amis!
Talladega Baby!
Evidement, Nascar causera peut etre des situations familiale... Il en a beaucoup beaucoup de Nascar televise. :-)
La solution, un certificats achats pour votre douce ou votre epoux. Envoyer les magasiner, certificats en main et voila les deux sont combles.
Et chez Canadian Tire, les gars et filles, come-on, mieux que ca c'est le Daytona 500. :-)

Un achat enligne qui lui fera plaisir... Cliquer et offrer lui our offre elle un apres-midi de magasinage bien merite(de course lol)